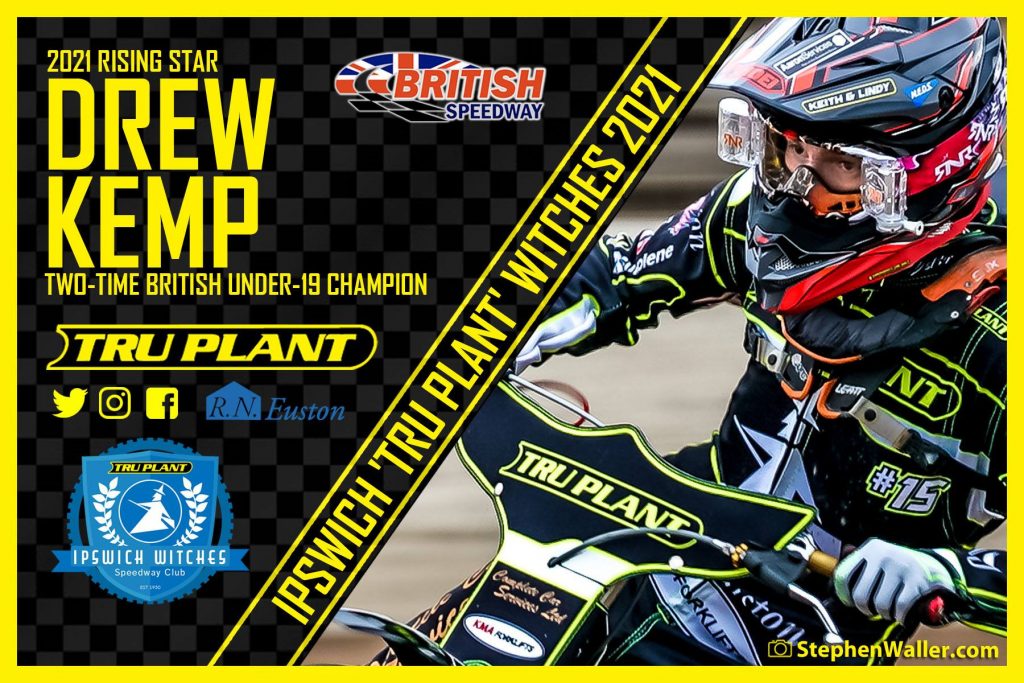 The Ipswich 'Tru Plant' Witches have signed club asset Drew Kemp as their 'rising star' for the 2021 Premiership season.
The new programme introduced this winter provides a clear pathway for young British riders and means that one rider in each Premiership team this season must be from the 'rising star' scheme with this increasing to two riders in each team from 2022. The riders involved in the scheme are given a 1 to 4 star rating based on the criteria (which can be found at the bottom of this article) before progressing to Pro Star status.
The 18-year-old was due to be part of the 2020 Witches side before the season was cancelled and it was an easy decision for the management to bring him back for the new campaign.
The signing of the two-times British Under-19 champion completes the 2021 Ipswich side as he takes his place alongside Danny King, Jason Crump, Nicolai Klindt, Cameron Heeps, Jordan Stewart and Anders Rowe. The Witches start their 2021 season on Monday 3rd May with a Premiership meeting against Peterborough in the Premiership.
'Rising Star' Criteria
Rising Stars riders are 24 as of the 1st January of the current year or have less than three years professional league experience to also allow other motorbike sport crossovers ie: motocross, grasstrack etc, have an average under a Premiership League CMA (Calculated Match Average) of 5.50, or under a Championship League CMA of 6.50.
Riders whose average is above a Premiership League CMA of 3.00 and a Championship League CMA of 3.50 are classified as a 4-star rider.
Riders whose average is below a Championship League CMA of 3.50 and above 3.00 are classified as 3-star rider.
Riders whose average is assessed or has a minimum Championship League CMA of 2.00 and below 3.00 are classified as a 2-star rider.
Riders who have not competed in any professional league are classified as a 1-star rider.
Digital Media Manager at Ipswich Speedway