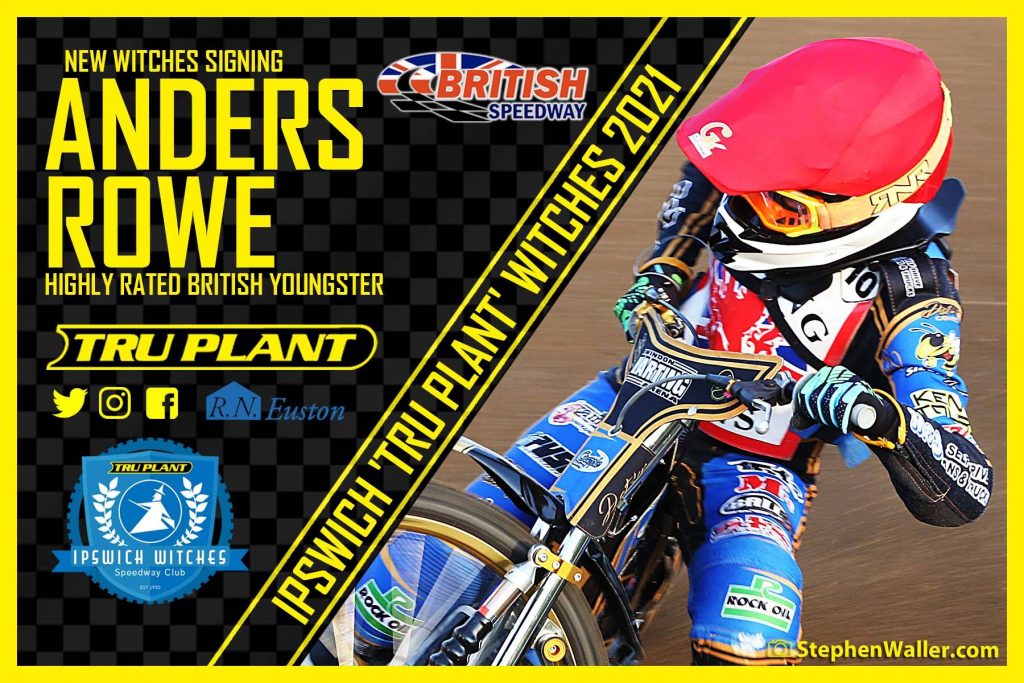 By Henry Chard
The Ipswich 'Tru Plant' Witches have signed highly rated British youngster Anders Rowe for the 2021 Premiership season.
The club have been forced to make two changes to the team that was due to ride in 2020 with both Jake Allen and Nico Covatti sitting out the 2021 season in Britain due to the ongoing global pandemic. The management have moved quickly to sign talented youngsters Rowe and Jordan Stewart to replace the duo and the two new recruits join Jason Crump, Nicolai Klindt, Danny King and Cameron Heeps in the 2021 side with the club's 'rising star' to be announced soon.
Rowe was due to ride for Swindon and Somerset in the 2020 season that never got started due to the pandemic with both sides then deciding not to run in 2021 due to the uncertainty surrounding the Covid-19 restrictions. However, it wasn't long before the British youngster was snapped up and Rowe admitted he was relieved to get new contracts sorted in the Premiership and Championship.
"It was awesome to get the call from Ipswich to come and ride for them," said Rowe. "They are a really well known club in the speedway world and after I got told that Swindon wasn't running, I got told whilst I was in hospital, I thought hopefully I might pick something up throughout the year if someone doesn't come back or something.
"A couple of days later I got told Somerset wasn't running and then I started thinking I'm not in the best place here, I haven't got a middle league either. Then obviously I got the call from Redcar which was awesome and then next day I got the call from Ipswich. It was a massive relief for me, and I had a couple of other calls from clubs in both leagues, but I thought the best two for me were going to be Redcar and Ipswich.
"Ipswich is a really well-run club and they always put a strong team together and the management seem to be awesome. I think I have ridden the track maybe once and I seemed to really like it. It is going to be a track that will be good for me to learn and progress on. I think it was my first ever time going to that sort of track when I competed in the British Under-19 Championship in 2018 and I think I did ok, but I have progressed a lot since then."
Despite no league racing in Britain in 2020, the 18-year-old got the call to ride in Poland last summer where he gained some valuable experience on the bike.
"I did the Ben Fund at the start of 2020 and after that Covid knocked us down and it wasn't the best situation for anyone really but I was lucky enough to get two phone calls to go to Poland, one of them being Torun and one being Unia Leszno and I would race for their second division club in Poland to bring the youngsters on.
"I got the call on a Monday and on the Thursday morning they arrived and picked my bikes up and, on the Friday, I was on a flight to Poland and I lived over there all summer. It was really good, and I learnt a lot, I had the ups and downs along the way as you do. The crashes, the engine failures and all that sort of stuff but other than that it was brilliant.
"This year I'm racing again in Poland and I know what to expect this year. I've got two bikes ready to go, the same as England where I have two brand new bikes ready to go and I can't wait to get going now really."
The Dorset-born rider believes he can learn a lot from his 2021 Witches teammates and revealed it was an important factor in deciding to join the club.
"A big decider for me was the team with the experience that is in it to bring me on as a rider. You've got Danny King, Jason Crump, Nicolai Klindt and Cameron Heeps. Everyone there in that top five are experienced riders and it should be really good for me to progress and it is good to have that much experience in the team to bring me on."
2021 will be Rowe's first full season in the Premiership and he is doing everything on and off the track to ensure he continues his progression in the sport.
"I did a guest booking in 2018 for Swindon when I first turned 16 and I'd never raced in the middle league or the top league before. I'd only raced in the National League for Kent and I think I scored one point, but I was a number two in the National League. I was really proud of scoring that point and doing that top meeting opened my eyes to how much I needed to progress.
"Before then I didn't do much fitness as I was a kid still at school and I was only 16 and you don't really think much of the gym aspect of it while you are still at school. After that I started training and ever since then I have trained every day really. I've just got off my Zwift to talk to you and I will go back on it for a couple of hours!"
2021 team: Danny King ©, Jason Crump, Nicolai Klindt, Cameron Heeps, Jordan Stewart, Anders Rowe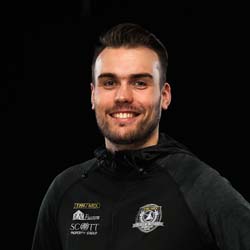 Digital Media Manager at Ipswich Speedway