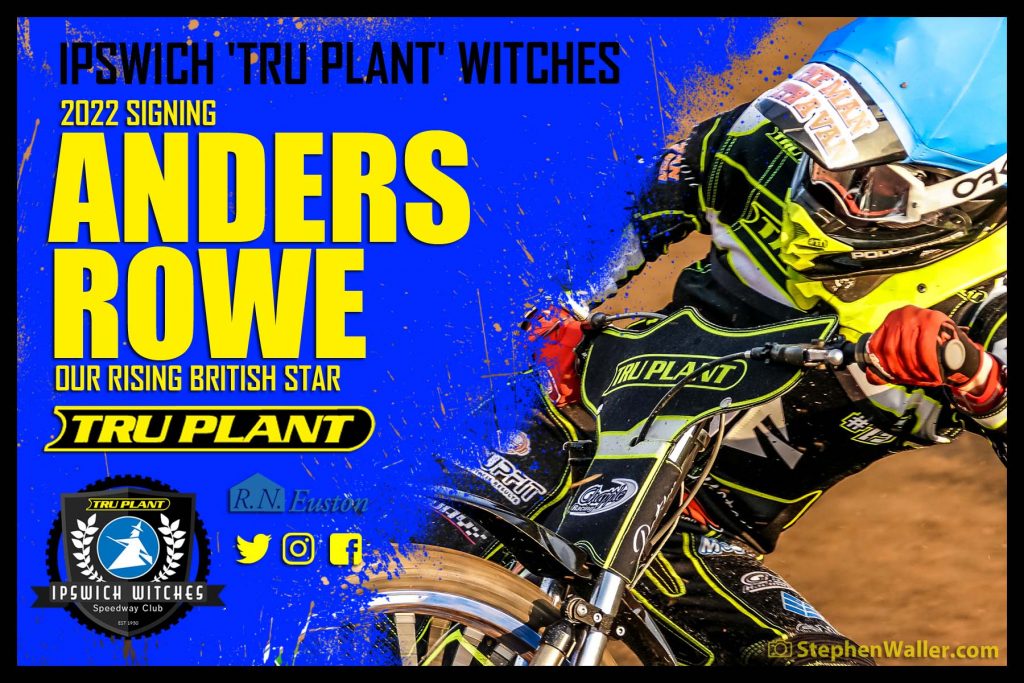 By Henry Chard
The 'Tru Plant' Witches have snapped up Anders Rowe as their 'Rising Star' rider for the 2022 season.
Rowe joined the club last winter and had an impressive first full season in the top-flight and this time comes in as the 'Rising Star' rider. The programme was introduced last winter to provide a clear pathway for young British riders and means that one rider in each team must be from the scheme.
The 19-year-old expressed his desire to return to Suffolk in 2022 to the management midway through 2021 and is delighted to be joining as the 'Rising Star' this time around.
"It was quite a quick decision," said Rowe. "I wanted to get my teams sorted as soon as possible and halfway through the year I told Ritchie (Hawkins) and Chris (Louis) that I wanted to come back next year as I liked it there. They knew I wanted to come back and wanted me back as well, so we waited for the season to finish and for the numbers game to happen and they gave me a call and I said 100% I want to come back.
"In 2022 I will be coming in as the 'Rising Star' rider which last year I didn't, I came in at number six. It will be cool to come in as a 'Rising Star' and I can't wait, it is a cool club, everything was easy, and everything happened quickly, and I felt I went really well there at the start of the year. I had some good races for my first ever season in the league and I am looking forward to progressing and being even better and being a consistent points scorer."
The Dorset-born rider was proud of his performances in 2021, a year in which his form led to him qualifying for the British Final.
"It was my first year in the league and to be honest I think I did really well. I started the year like a house on fire and then had a couple of bad crashes and got a knee injury that put me back. Even with that I had some good races and still scored some good points for my first year in the division. I didn't get into the British Final for no reason, I got in because I was racing well, and I had a high average.
"I think halfway through the year for my first year I had a 5.5/6-point average in the top league, and I was really proud of that. I'm happy I have been given the chance to go in as a' Rising Star' because that is where it will be good to progress. I was really happy with the start of my season and I know what I did wrong, so in 2022 I will be going out and having fun and scoring big points like I did at the start of the year."
The 'Rising Star' is a big fan of the Foxhall track and says that winning races early on in his Ipswich career made him feel confident at his home track.
"As soon as I got on the track at press day, I knew it was going to be a good track for me, it is a fun track to ride. I got on straight away with it and was making good starts and getting out in front, I think I won my first race there so that was cool for me and a really big confidence booster. I'm a confidence kid, if I am confident, I am going to win races and then I am going to do well but if I'm not confident I'm not going to.
"It's about learning, learning about myself and what I can do and my limits. I soon found a couple of my limits but at Ipswich I felt really confident, and I felt I could easily win races. That was my first year of hard, proper racing in England and it was a big learning curve and I think I have progressed a lot. I started the year like a house on fire, but I was always going to be due a bit of a bad patch, so you live and learn and I'm only 19."
Rowe is pleased to have his contracts sorted nice and early ahead of the 2022 campaign and can focus on preparation for the new season.
"I'm happy I'm back at Ipswich, that was one of my targets to get my teams done as soon as possible because sometimes it is left quite late in the year. I signed for Swindon and Somerset in 2020 and the season didn't happen, and I signed for them again in 2021 and then a couple of weeks before the start of the year it all fell through. I'm happy that this year it is all sorted before Christmas and I haven't got to stress about it, and I can focus on having fun and training.
"I want to do what I was doing at the start of the year and I know I can do. I have bought some new engines for next year so I will be coming in with all the best equipment and I will see if I can go and do what I did at the start of the year which I know I can. I have aims and it should be pretty cool, I want to go and have fun and see what I can do."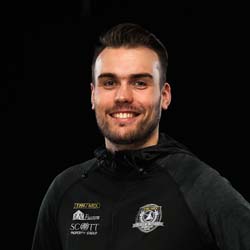 Digital Media Manager at Ipswich Speedway