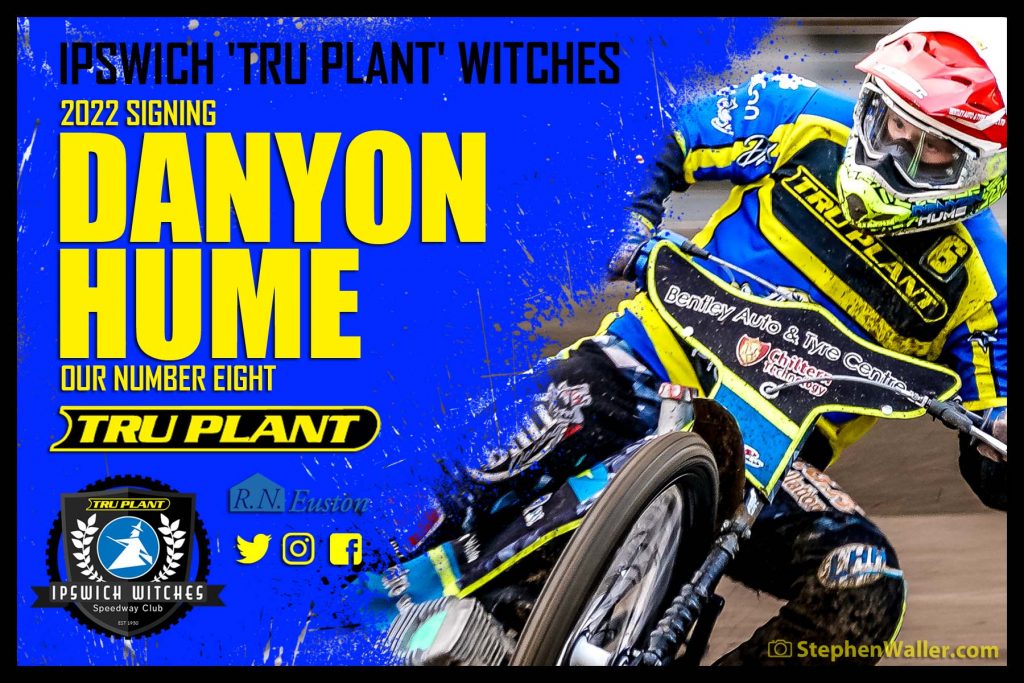 By Henry Chard
The 'Tru Plant' Witches have confirmed club asset Danyon Hume will return to Foxhall as the club's number eight rider for the 2022 season.
The number eight rider has been added to squads in the Premiership next year so that young riders can gain more experience at the top level of British speedway. It has not been a common practice in British speedway in recent years, but the rider can be used in varying scenarios such as replacing injured riders or rotating riders based on form should the team manager wish to do so.
Hume last rode for the club in 2017 but has gained plenty of experience elsewhere during his time away and was part of the Championship winning Poole team in 2021.
"It will be nice to go back," said Hume. "In the time I've been away I have been at Poole and have been in the National League with Leicester and I feel I have matured as a rider. Now is the right time to go back home as they say.
"Hopefully I can echo what we did with Poole this year with my new team next year. I just want to hit the ground running at the beginning of next season. A lot of work happens behind the scenes in the off-season, and I am gearing up to do the Premiership and Championship. It's just one of those things, hopefully I'll get a ride in the top league."
The 25-year-old believes he has become a more consistent rider and highlighted the importance of having the right people around you to succeed in the sport.
"I have been on the bike a lot more and my scoring home and away has been more consistent. I have gone past the stage of crashing every five minutes, something just clicks. Riding with better riders every week pulls you along no end. Danny (King) has been there at the start of my career and nearly every year since I have been involved in a team with him and he is always on the end of the phone. To have him in the background is great and if you are having a bit of a bad meeting, he is someone who will be there to help you out.
"It's about having the right people around you. I have now got a mechanic who I have used all season and it is something less you need to worry about. When you go to a track, you know how everyone is going to work and that plays a small part. I have been really enjoying my racing and it will be nice to be back at Ipswich. I have a sponsor; Lee at Bentley Auto & Tyre Centre and we have developed a really good friendship. He said wherever I go he will always support me. Ipswich is his home track, and he goes every week, it will make it for him! Without him I wouldn't have the equipment I do."
The Buckinghamshire-born rider secured a Premiership spot at Sheffield during the 2021 campaign and is keen for more top-flight experience.
"I signed for Sheffield at the back end of last season when they were fighting for the play-offs and I had some really good meetings. It is a track I'd only been to once or twice and it felt like I fitted into that league. You are basically riding against the same riders in the Championship anyway, so when your confidence is high in that league it just continues.
"Away from home, like at Belle Vue, I struggled a bit but since then I have invested in some newer engines which are quicker and since I have got them, I can't get off them! At the back end of last season, I bought a couple of engines off Bjarne (Pedersen) and you have got to keep with the times, and I did need a new engine and that was a perfect buy for me."
Hume cannot wait to get started in 2022 and is stocking up the workshop in preparation for a busy year.
"I finished the season and jumped back into work but after Christmas I will be back in the gym every other day and building up the bikes. That takes a lot of preparation, but I am going to gear myself up to do the two leagues just in case that team spot becomes permanent, and I will be ready for it. It is about getting organised and planning for being as busy as you can.
"If I can do that and have some stock in the garage like clutch plates and chains, the bits you use quite a bit. Now is the time to do it as you can financially chip away at the bits you need and when the racing is here it takes a bit of pressure off. It is little things like that, that make a big difference and I am looking forward to racing again, I have only been at work a couple of weeks but roll on March!"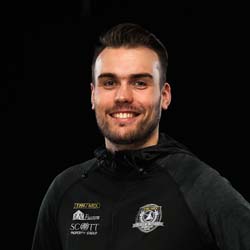 Digital Media Manager at Ipswich Speedway