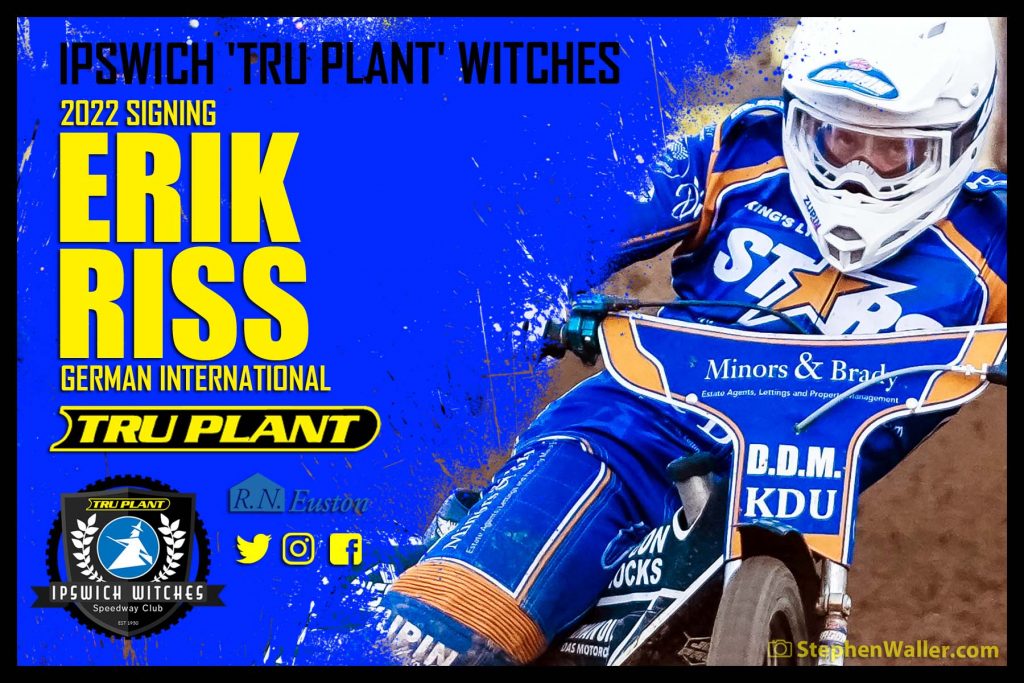 By Henry Chard
The 'Tru Plant' Witches have signed Erik Riss for the 2022 season.
Riss has spent the last few seasons with East Anglian rivals King's Lynn but has made the move across the border in search of a new challenge in Suffolk.
"I joined King's Lynn in 2018 halfway through the year and became an asset at the end of that season," said Riss. "So, I've spent two and a half years there and last year didn't really go to plan. I had big aspirations and expectations of myself and it didn't go to plan for several reasons.
"At the end of the season both sides agreed it would be good for me to go elsewhere and have a new challenge. I had other offers, but Ipswich was my first choice as I really like the track and have always scored well there. It will be important for me to ride a track I enjoy as when I enjoy my riding I do well."
The German rider has had many fruitful visits to Foxhall as a visiting rider and is eager to come back stronger after a difficult 2021.
"Every time I have been to Ipswich as a visiting rider, I don't think I have ever scored any lower than eight. I have always done well there and enjoy riding it, it is always well prepared, and it is a nice racetrack. I can't wait to ride it every week and especially after the season I had, I am really eager to get going next year.
"I am making some changes with equipment and I feel confident. Last year was probably the worst I have had so far in my UK career and it was probably the year I had the biggest aspirations for. Going into the season with King's Lynn my goal was to end up as number one which I was, but I ended up dropping my average at the end of the year which was hard to take. I'm not going to give up, that's life you have ups and downs. When you have downs you are even more motivated to do better, and I feel confident I will come back next year better than ever."
The 26-year-old is solely focused on winning races next year and does not mind what position he is riding at in the team.
"I do have goals; everyone would like to be number one in the team but personally I just go into every meeting wanting to win every time I go on track. I focus on that and what's in front of me and don't think about being number one, although that is always in the back of my mind, I want to be the best that I can.
"If you are number one you are best in the team but I'm not going into the team saying I want to be number one because there is no competition in our team, we are a team and we have to work together. It doesn't matter which number I am I want to go out on track and win my races and that is the goal all the time."
Riss is back in his homeland for the winter and is beginning to start training again after an operation.
"I had surgery three weeks ago on my groin as I had a problem there, so I am still recovering from that but am slowly taking up training again. I will spend my winter in Germany, I might be working a bit for my dad who has a carpentry business, so I will probably help him out.
"The focus will be on training as always; the off season is the time to make a step ahead and get better than you were the year before. The more work you put in in the off-season the better you will be when the season starts. It's always the same, after every season you try to get better, fitter, lighter, it is always the same in speedway."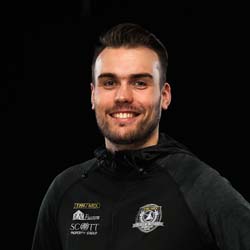 Digital Media Manager at Ipswich Speedway