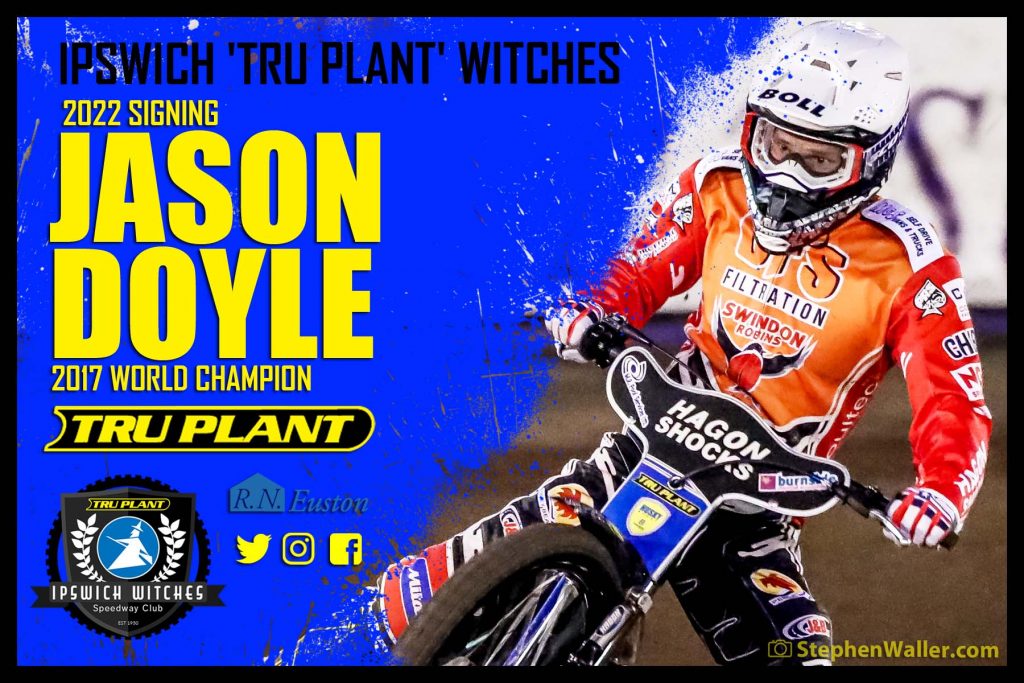 By Henry Chard
The 'Tru Plant' Witches are delighted to announce the signing of Grand Prix star Jason Doyle for the 2022 season.
The Australian former world champion will spearhead the side next year and says a move to Suffolk has been close on previous occasions, but he believes now is the right time to make the move.
"I've been speaking to Chris Louis for many years now, but it just never worked out," said Doyle. "I went to Sweden and then obviously the pandemic happened so the last two years I have been over in just Poland and Sweden. I made the decision after this year that I wanted to come back to British speedway and Chris was the first one I spoke to and obviously from the years before where we were close to signing contracts, I thought it was time to go to Ipswich for the first time."
The world number nine says that a liking for the Foxhall track played a big part in his decision and already being based in East Anglia sealed the deal.
"I had a few offers, so I had to sit down and pick through the pros and cons and the main pros are that I like the Ipswich track and have rode well there so that was a big plus point. Plus, living so close to Ipswich as well and going to airports after a Thursday meeting for Grand Prix was another major factor. The final one was being so close to home; I can get back to home from Ipswich within an hour and I'm back in my own bed and not travelling through the night."
Whilst many top riders have decided not to ride in British Speedway in recent years, the 2017 world champion feels that being busy in the UK helps your form over the course of the season.
"For myself racing in England is a massive plus because I'm riding all the time on the bike. The young kids always speak about being in Poland and Sweden but if you're on the bike you are getting a lot more confidence and a lot more money if you are riding twice a week compared to only doing one in Sweden and one in Poland.
"Sometimes if you are not in the top five in the team, you are probably in and out of the team all year. For myself, riding a lot in England helps me riding in Poland and in the Grand Prix and I seem to go a lot better when I'm on the bike and not thinking as much as perhaps I have the last couple of years when I have been doing Poland and Sweden. The young kids they really need to look at the way I do it because for myself I think it benefits my racing when I do go to other major competitions."
Doyle is now enjoying a couple of weeks off after a long hard season before he will begin preparations for the 2022 campaign.
"I was lucky enough to be picked to do jury service so that has just finished now, and it is nice to get away and not think about Speedway for a couple of weeks and spend some time with my wife Emily and get things sorted in Norwich and for next year's Grand Prix and Poland. There is still a lot of work to be done in the off-season, we spend a lot of time trying to find sponsors and organise our racing. I have got a couple of weeks off before I have to get back into sorting things out so I will take it easy for the next couple of weeks and then I will start training when it gets a bit closer to the start of the season."
The Australian international last rode in the top-flight with the Swindon Robins in 2019 as they beat the Witches in the play-off final to lift the trophy and Doyle is hoping for a similar success story in 2022, only in Witches colours this time.
"Firstly, for Ipswich, they haven't won the championship for a while so that is the main goal for myself and the team. Obviously, we beat Ipswich when I was riding for Swindon so hopefully, I can be in the team with Ipswich to lift the title next season. That's the main goal for us, just get to that final and then we can go for it. For myself, I just want to enjoy my racing again and hopefully have fun with my new teammates and the club and have some fun times."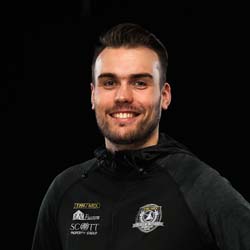 Digital Media Manager at Ipswich Speedway