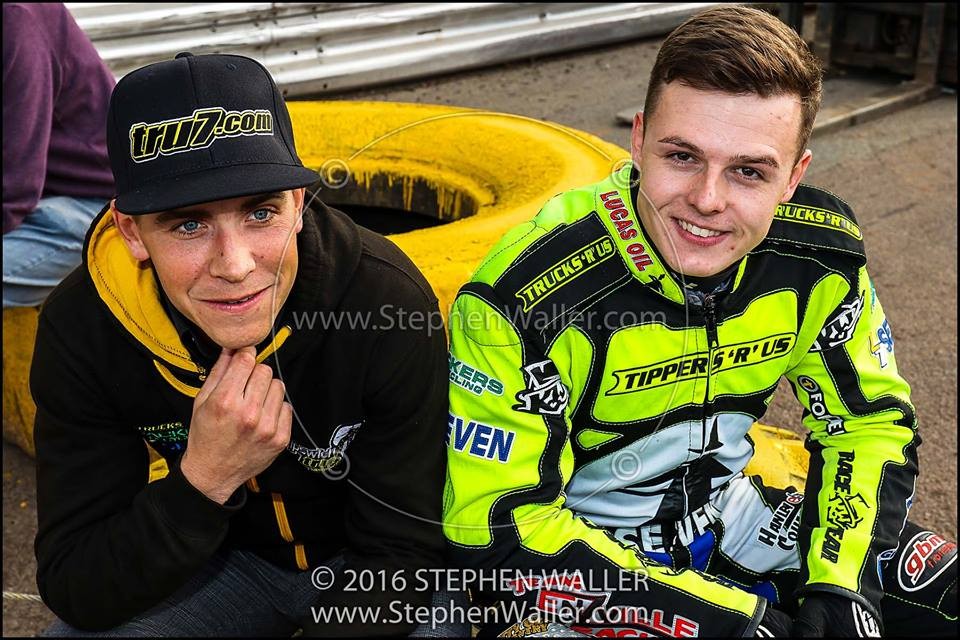 It wasn't a perfect season, it was difficult in many ways but I think we made great strides forward in different areas as a team and a club this year. From such a bad start to then get a feel-good factor about the club mid-season onwards and improve the atmosphere with a lot of sponsors getting on board was great and it seemed to lift everybody.
I've learnt a lot throughout the year. Overall, I'm reasonably pleased with how everything has gone. We didn't win the league so we didn't achieve our goal but I felt like I did a decent job and it was hard work for me but I enjoyed it and I'm glad I took the opportunity.
Everyone knows I love being at the club and love everything about it so to be involved still has been a massive boost for me. It was a big change from not racing as I've been racing since I was five years old so it was a big difference to suddenly not be out there on the track. To be able to use that knowledge and experience was great for me and I think I've done a good job but we'll try and do better next year.
As for the worst part of the job, unfortunately we weren't doing well enough at the start of the season and you have to make changes, that's life. It's not nice to lose your mates from the team especially when we have a really good relationship with Lewi (Kerr) and Paco (Castagna) but I'll always do the best for Ipswich Speedway and that was the right thing to do. Every team change that was made improved us and I could justify every decision that was made throughout the season.
Being new to the role with no experience, the support from Chris (Louis) has been brilliant, it's been first class. His backing of my ideas and his support has helped me a lot. Luckily we agree on most things which makes life easier but to have the support he has given me, I couldn't have asked for more and it made my job easier even through the difficult periods.
One of the highlights of the year was being with Danny (King) and seeing him win the British title and everybody knows how close we are. We are close friends and to be a part of that was a highlight of the year. I think he went on from that to lead the team well and that run of race wins at Foxhall got people talking. After a tough start he showed his class.
Sarj (James Sarjeant) took a lot of stick last year before the season started and he turned his form around half way through the year and played a massive part in us making the Play-Offs and I'd love to work with him again as he has a lot of potential.
Nico (Covatti) has had a good season with a lot of European commitments. I think he took on a lot of meetings in Europe with the SEC and GP Qualifiers and now he has done that I think he will learn from it and will take that experience and be better for it. He has been really solid as a heat leader for us and established himself.
Morten (Risager) was our most consistent rider this season and every team needs a rider like that. He was a solid part of the side even when everyone around him was being inconsistent. His experience is much needed in the side and every team needs a rider like Morten.
I loved having Ben (Barker) in the side and he was a breath of fresh air when he came in. Ben gets a lot of stick from people but he has never been a problem for us and he was brilliant to have in the side. He is a massive team player and he sacrifices himself a lot to get his teammates points and I know how determined he was to help us win the league and it's been a joy having him in the team.
When Joe (Jacobs) arrived it boosted everyone because we knew we had a rider capable of scoring good points at reserve. I think he struggled to cope with the pressure of being such an important part of the team and lost his form and maybe that is something he has got to work on.
Danyon (Hume) was part of the side all year even though we only named him as a full-time member at the end of the year. His injury affected us a lot and he was the key to our number seven issues that we had suffered all year. He has massive potential and I'm sure we will see him next year.
Chris and I are spending a lot of time looking at next year and what to do and my goal will remain the same as it has this year; to bring a league title to Ipswich. It's been far too long since we had one. That was my goal as a rider here and it was this year as manager. We need to build on this year and take all that experience we got from this year and improve and come back stronger. We are making provisional plans for different scenarios next season and we are looking to put out the best side possible as always.
I'd like to thank Chris for giving me the job and for his support throughout the year. I'd also like to thank the fans for backing me during the tough times. They always backed me as a rider so to have that as a manager too was brilliant. All the staff have been brilliant towards me at the club and everyone who has rode for us has accepted my ideas and it's been a good year with a good group of lads so I'd like to thank them too for not causing too much trouble! Not forgetting Henry (Chard) for all of his chats on the phone throughout the season for the website!
See you all soon,
Ritchie