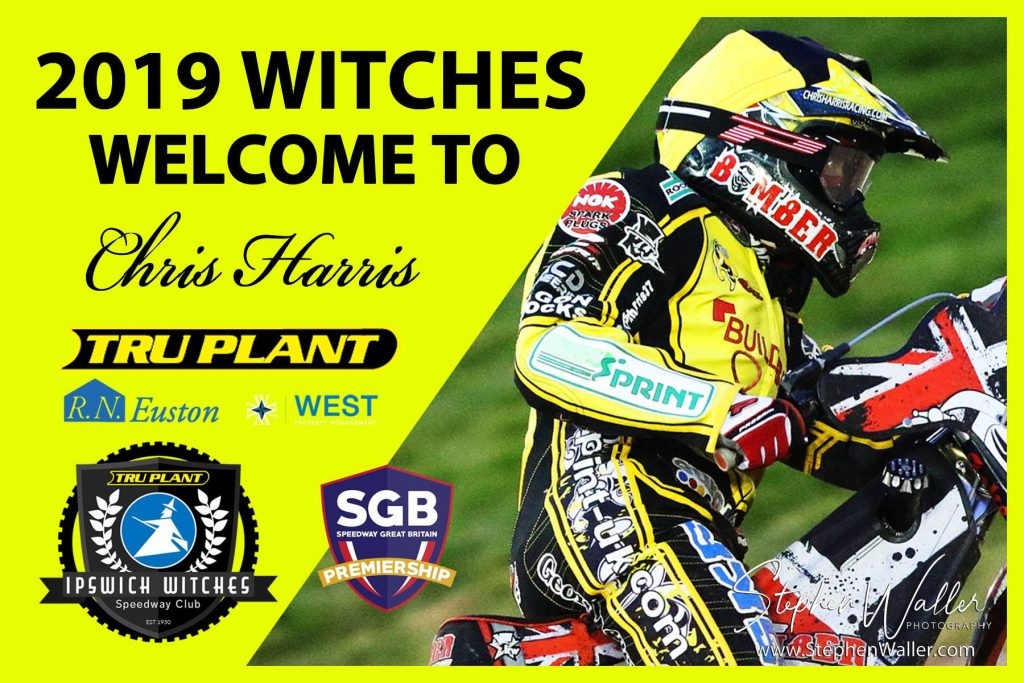 The 'Tru Plant' Witches have completed their side for the 2019 Premiership season with the addition of Chris Harris.
The Ipswich management have moved quickly to sign the former Grand Prix star and three-time British Champion who won the Premiership title with Poole last season and he finished the campaign with an average of 7.78. Promoter Chris Louis is delighted to have Harris wearing the Witch in 2019.
"As soon as I heard the news that Chris 'Bomber' Harris may become available I was immediately on the phone to him," said Louis. "We have been considering a number of very credible options from around Europe, but to have a British rider of his standing suddenly becoming available has made our decision so much simpler."
The Cornish rider is highly experienced at the top level, having competed in 103 Grand Prix, famously winning in Cardiff in 2007 and Louis is hoping his exciting style will provide some memorable moments at Foxhall in the new season.
"Chris has proven his loyalty to British Speedway over a number of years and we'll be hoping that his impressive record of winning league titles can continue as we strive for the play-offs.
"Nobody needs reminding of the flair and skill that took him to that thrilling Cardiff GP success in front of 45,000 screaming fans and those breath-taking moves he makes when the pressure is on. I can think of no better rider than Chris to lead this team out and inspire not only his team mates, but our loyal fans too."
Harris is joined by David Bellego in the new side and Louis is looking forward to working with the Frenchman having had his eye on him for quite a while.
"This move has also enabled us to add popular Frenchman David Bellego to the side. David's first ride on these shores was at Foxhall when he travelled over with his compatriot Mat Tresarrieu and although we were unable to snap him up that time, it is great to finally see him at Foxhall.
"His experience of the Premiership will stand him in good stead as we travel away from Foxhall, but it is his determination to become a Foxhall specialist that is most pleasing."
Your 2019 Witches team will be: Chris Harris, Danny King, Richard Lawson,
Krystian Pieszczek, David Bellego, Cameron Heeps and Jake Allen.
With team building now complete, attentions turn to the start of the season with fixtures to be released soon as well as news on our sponsors for the new season and Louis can't wait to get started.
"With further announcements to make in the coming days and weeks the momentum is really building, and I can't wait to get started with these guys."
2019 Season Tickets are now available to purchase, all the details can be found here.