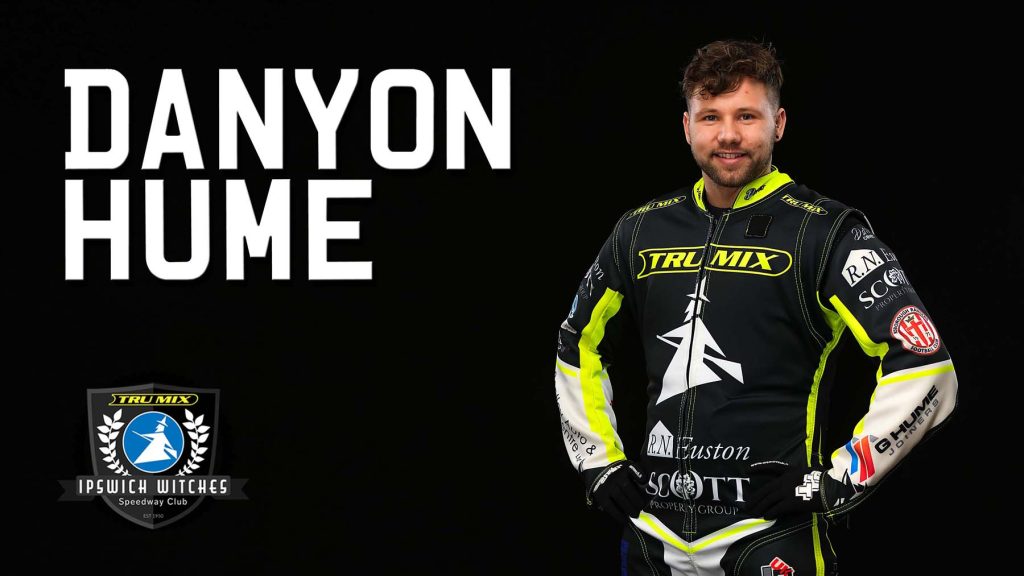 By Mike Bacon
Ipswich 'Tru Mix' Witches reserve Danyon Hume experienced an unsettling close season.
The 26-year-old was a key component in the Suffolk side's attempts to seal the deal with former world No. 3, Emil Sayfutdinov.
Get the Emil deal over the line – Plan A – and Danyon had his deserved start in the Witches septet for 2023 – the points tallying nicely.
Don't get it over the line and Plan B was set to be put into place – one that could well have seen Danyon looking for another club – and with not much time to do so.
A bit of a gamble then for the amiable Buckinghamshire-born racer who, on Thursday hopes to star on what will now be opening night at Foxhall Stadium, as the Witches entertain Leicester Lions in the Knockout Cup.
So, did he worry he could be left high and dry as the weeks ticked down?
"Yes, of course because as time went on it was getting closer and closer to the start of the season and everyone was waiting on Emil," he said.
"So, it was a bit worrying, but Chris got it over the line, and I trusted he would. He said he would.
"I remember it was three weeks before the start of the season and still nothing was finalised, but overnight it all happened. And here I am."
Hume is popular with the Foxhall crowd and teammates. A carpenter by trade, family man and ice hockey fan, he wants nothing more than to chase his dreams – dreams of becoming British champion and racing speedway full-time.
"Of course, I want to be a top-flight rider, race on the continent more," he said.
"I'd love to push to be British champion. You have to believe you can. If I keep progressing as I have done, there is no reason I can't do that."
Hume certainly gives it 110% and few would begrudge him more success in the sport.
He's fully committed to speedway, gives up his carpentry work each March to prepare and then race full-time in the summer.
But it's hard work for him, not that he ever worries about that.
"I wash my bikes myself, but I have someone helping me for meetings," he said.
"I don't want any distractions, that's why I give up my carpentry. I'm that focused to where I want to get to in the sport. If I can earn a living doing something I really love, then I will do everything to try and do that.
"I love riding speedway. Everyone I speak to who doesn't ride a motor bike can't understand the thrill you get. But the thrill of speedway is something else, it's why I love it."
Danyon has a young son, Leo, who is five years old. He loves spending time with him, as well as watching ice hockey, with partner Jade.
"In the off season, me and Jade got into ice hockey at Milton Keynes, which is not far from where I live," he said.
"We were going past Guildford one day and stopped to watch a game, then got the bug. And we discovered Milton Keynes have a team, so we go all the time. It fits in well as it's a winter sport."
Back on the shale and recovering from a collarbone injury that curtailed 2022 for him, the former Sheffield and Glasgow racer is keen to make his mark in the Premiership. And with the teammates he is surrounded by in the Witches pits, he knows he has a great opportunity to make 2023 count.
"I'm determined to grab this opportunity," he said.
"Having riders like Jason Doyle, Emil and Danny King around me can only bring me on as a rider. When you are in that group of people it is only going to bring you on. And they've all been such a help.
"Last year when I was pitted up next to Jason, you pick up little things, if I was struggling with a set-up, just ask and they're there. Their experience is massive.
"Same with the mechanics, they all get involved. It's a really good spirit.
"And now we have Emil. It feels like he's always been part of the team and he's only been here a few weeks. He's so chilled and it's great to have him with us.
"You turn up as a team and look around and realise how strong it is, that's such a big plus, straightaway you're high on confidence."
Danyon knows being a late starter to the sport at 17, he needs to make his chances count, and as soon as possible.
"Hopefully this is a big breakthrough season for me," he said. "I have new equipment this year, as well.
"I want to just keep digging deep, get stuck in, especially on that first bend.
"I don't mind getting stuck in. It's early days this season as yet but I'm confident and looking forward to it immensely."
Ipswich take on Leicester on Thursday 6th April at Foxhall Stadium, from 7.30pm, tickets available here.