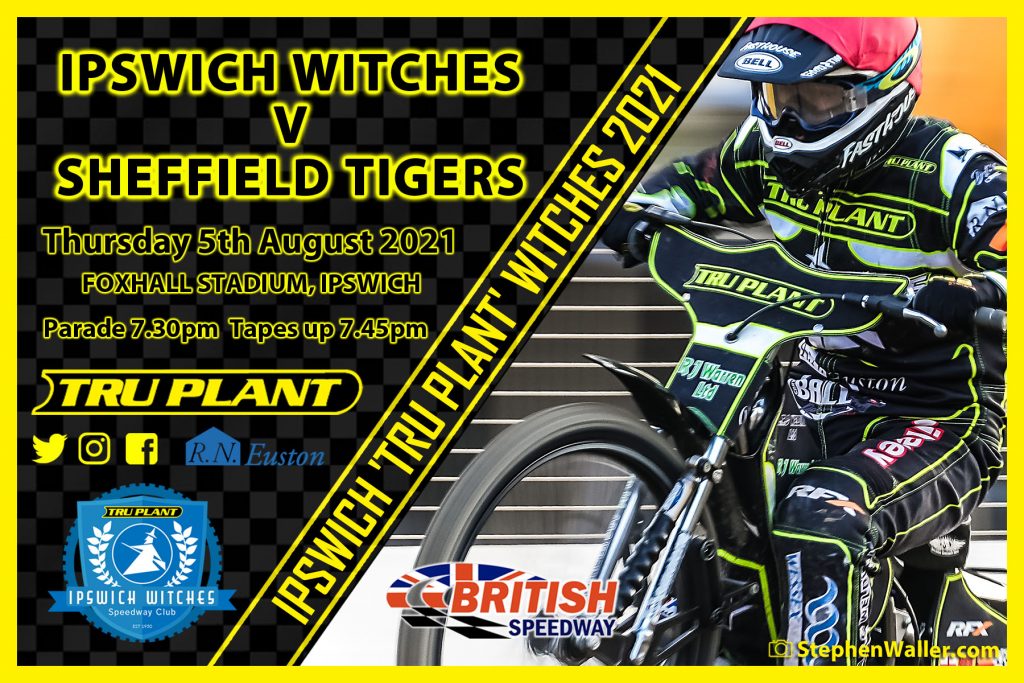 By Henry Chard
All the details ahead of our Premiership fixture with Sheffield.
WHEN & WHERE
The 'Tru Plant' Witches host the Sheffield Tigers at Foxhall Stadium on Thursday 5th August in a Premiership fixture that starts at 7.30pm.
MEETING SPONSORS
Tru7.com – Experts in construction and demolition, they have thousands of successful projects under their belts with skills in value engineering, operations management, highways and contracting. Their fast-growing portfolio, which now offers plant hire, demolition and aggregates, as well as vehicle hire and sales, ensures they can meet a wide range of needs.
RN Euston – RN Euston Limited has supplied steel framed buildings in East Anglia for over 40 years. Established by Ray Euston the business has grown steadily over the years and now Ray works in partnership with his son Mark. The company is based in Suffolk and work all over East Anglia where they have gained a reliable reputation.
TEAMS
IPSWICH: 1. Jason Crump 8.00 2. Jake Allen 5.15 3. Danny King 7.10 © 4. Anders Rowe 5.38 5. Craig Cook 7.56 6. Drew Kemp (RS) 7. Paul Starke 4.82. Team Manager: Ritchie Hawkins
SHEFFIELD: 1. Jack Holder 8.08 2. Josh Pickering 4.98 3. Troy Batchelor 7.39 4. Kyle Howarth 6.39 © 5. Adam Ellis 7.25 6. Danyon Hume (g) (RS) 7. Stefan Nielsen 3.00. Team Manager: Simon Stead
REFEREE: S.H.Kennett
PREMIERSHIP TABLE
| | | |
| --- | --- | --- |
| Team | Meetings | Points |
| Wolverhampton | 11 | 30 |
| Belle Vue | 13 | 28 |
| Peterborough | 11 | 27 |
| Sheffield | 11 | 18 |
| Ipswich | 15 | 18 |
| King's Lynn | 11 | 8 |
TICKETS
Tickets are available to buy online (until 7pm on raceday) and on the gate and are priced at £19 for adults, £17 for concessions (65+), £5 for students (16-17). Children 15 and under go free. Official programmes are priced at £3 and are available at the stadium. Car parking is free for all supporters. Debit and credit card payments are accepted. Turnstiles open at 6.40pm.
COVID-19 UPDATE & GUIDELINES
Following the government's relaxation of Covid-19 restrictions, we can confirm that the pits will be open as usual for fans to get autographs and photos with the riders. Turnstiles open at 6.40pm and the home straight Grandstand will be open on a first come, first served basis with limited numbers. Alcohol will be served at our beverage outlets. Regular touch-point cleaning will continue at key areas including the turnstiles and toilets. We also ask that you maintain social a sensible social distance where possible and recommend wearing a mask in crowded areas if you feel comfortable to do so. Please respect your fellow fans and staff by employing common sense and we can all enjoy the path back to normality. Thank you for your continued cooperation and support.
THE STORY
The Witches host the Sheffield Tigers in a must-win fixture on Thursday night at Foxhall. Ipswich fell out of the top four on Monday night after a heavy defeat at Belle Vue, whilst Sheffield won away at King's Lynn, meaning they went above the Witches on points difference. The Tigers also have four meetings in hand and the home team know they can afford no slip-ups on Thursday and must send the visitors home empty-handed as we approach the business end of the season.
Ipswich welcome back Jason Crump to the side at number one and will track their full 1-7 for the first time since 28th June. The former world champion has had a difficult return to the sport due to injuries, but it is now hoped he can play an important role in the final five fixtures. Team manager Ritchie Hawkins has tweaked the regular riding order with Jake Allen moving to number two and Anders Rowe riding at number four. The Witches will be keen for a repeat result from earlier this season at Foxhall as they picked up a 51-39 victory, their biggest win of the season so far.
HAWKINS PREVIEW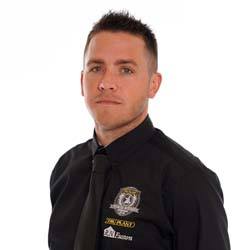 Ipswich 'Tru Plant' Witches team manager Ritchie Hawkins gives us his pre-match thoughts…
"It is must-win for us on Thursday to keep our hopes alive for the season and we need to win by seven or more. Our slim hopes depend on it and we need to win as our fans have not seen enough wins this season.
"I think it will be nice for us to have two home meetings in two weeks. With the fixtures how they are this year you are not at home every week and you get out of touch. To race two meetings in a row at home and to have the opportunity to bounce back from Monday straight away is a plus point.
"From our regular line-up we have been racing with in recent weeks, I have moved Jake to two and hopefully he should perform there, he is a really strong number two. Anders is going to have to show he can handle racing at four. It will be nice to see him racing with Danny so it will be nice to try that pairing as well."
THE OPPOSITION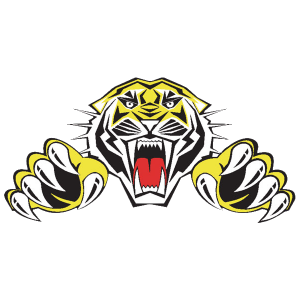 Sheffield were heavily fancied pre-season and it is fair to say they are yet to reach the heights that many expected of them in 2021. The Tigers are currently fourth in the Premiership table and will be hoping to take advantage of their meetings in hand to put some distance between themselves and Ipswich to secure their spot in the play-offs. The visitors picked up their first away win of the season on Monday at King's Lynn which took them above Ipswich in the table and they will be in confident mood heading to Suffolk.
The Tigers have made a team change in the last week with Stefan Nielsen replacing James Wright at reserve. Since the clubs last met, there has been another change to their line-up with Justin Sedgmen being released and Josh Pickering taking his spot in the side. 'Rising star' Josh Bates has struggled with injuries all season and misses this fixture with Ipswich asset Danyon Hume guesting in his place. Jack Holder is at number one for the Tigers and he will perhaps provide them with the top end strength they missed at Foxhall earlier this season as he was unable to travel to the UK at that time. Troy Batchelor is one of the best riders in the division on his day but has not found his form on a consistent basis in 2021 and has dropped to the number three position since the start of the campaign. Adam Ellis meanwhile is enjoying a strong campaign and he scored 16 on his last visit to Suffolk with the Tigers.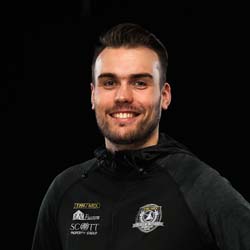 Digital Media Manager at Ipswich Speedway