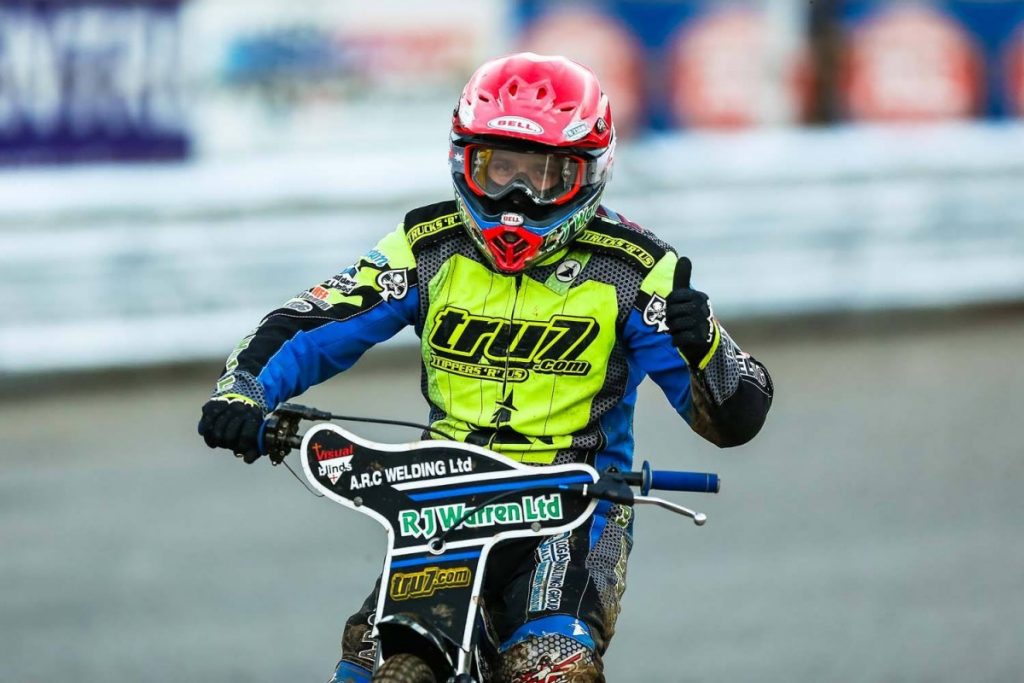 'Tru7.com' Witches captain Danny King issued a passionate rallying cry to his teammates ahead of their Play-Off semi-final clash with Edinburgh.
King has been with the Witches for nine seasons in his career and admits winning a trophy would be a special moment for him.
"It would mean a lot to me. Ipswich is a club close to my heart and we might not ever be in the position we are now ever again, so we need to step up, take it and make it ours," said King. "We need to leave nothing out there and literally it has to be like that. Everyone has got to give everything because we are taking this no matter what."
The captain says the team are in good form going into the Play-Offs and believes the title is there for the taking although he revealed he prefers a league format to decide the champions.
"It is a strange format really, you work hard all year to do well in the league but it all means nothing when it comes down to it. It is 0-0 for everyone now. We are looking forward to it and we are in good form and there are a lot of good signs. It is ours for the taking that is for sure.
"Personally, I think a league format is fair. You work hard all year with the team you have built and then you get nothing for it at the end. The Play-Offs, you can have a bit of bad luck or something and that is it. I go back to when I was with Birmingham. We won the league with the team we had, it wasn't the strongest team in the league but we worked hard and won it. Then Poole strengthened up for the Play-Offs and brought in Greg Hancock and someone else and we ended up losing the final. It is unfair when you look at it that way and I think the winner of the league should be the winners."
The 31-year-old has had previous title successes in his career but none through the Play-Offs and says this is the best chance the team will have to win a trophy.
"I've won the National League with Peterborough and Premier League with Rye House but that wasn't through the Play-Offs. After previous experiences with Coventry and Ipswich in the Play-Offs, I think this opportunity now with Ipswich does not come around very often and it is ours for the taking.
"I am happy with the form I am in and Nathan (Greaves) and Connor (Mountain) are riding brilliantly at reserve at the minute. Kyle Newman has really impressed me of late and he is scoring points everywhere. Then you have Rory (Schlein) and I and hopefully Cam (Heeps) can come back fit at some point. If not we have a great guest and we have been doing really well from r/r. I think we are in a good place at the minute and this is the best chance we will have to take it and we need to do it."
The Maidstone-born rider says the team must treat it like any other meeting and try and build a lead to take to Edinburgh on Friday.
"You can't feel the pressure at this stage and you just have to treat it like any other meeting. I will probably have a chat with the other boys and I will just say it's another meeting. We treat them one at a time and we will go into it relaxed, enjoying it and we will have fun. It would be nice to get a big win on Thursday to go to Edinburgh with but I believe we can win there too."
King says the team have not targeted a specific number of points to take to Armadale and is glad to have ironed out some mechanical issues of late.
"We just want to win by as many as we can and I am not overly fussed as I believe we can win there. It would just be nice to go there with a lead and do our thing.
"I am happy with my form now. I have had a few minor problems of late which I have not been happy with but I think I have got to the bottom of that now and I had a really good one on Sunday at Leicester. I am hoping everything is back to how it should be going into the Play-Offs."
Ipswich take on Edinburgh at Foxhall this Thursday at Foxhall Stadium in the first leg of the semi-final.
Words: Henry Chard
Championship Play-Off semi-final
21.09.17 Ipswich v Edinburgh
22.09.17 Edinburgh v Ipswich
King profile
Date of birth: 14 August 1986, Maidstone, Kent
British Career
2001 Peterborough II
2002 Peterborough II, Swindon II
2003 Peterborough II, Ipswich, Reading, Mildenhall, Arena-Essex
2004 Ipswich, Mildenhall
2005 Rye House, Ipswich
2006 Mildenhall, Ipswich
2007-08 Peterborough
2009-10 Ipswich
2011-13 Birmingham
2014 Birmingham, Lakeside, Newcastle
2015-16 Coventry, Ipswich
2017 Leicester, Ipswich
Major Honours
British Under-18 Champion: 2004
British Champion: 2016
Club Honours
League Championship winner: 2002 (Peterborough II), 2005 (Rye House)
Knock-Out Cup winner: 2003 (Mildenhall)
Premier Trophy winner: 2005 (Rye House)
Elite Shield winner: 2007 (Peterborough)
Pairs Championship winner: 2015 (Ipswich)
Grand Prix Record: 1 GP ridden, 7 GP points
World Cup Record: 9 meetings, 51 points, 1 Silver medal