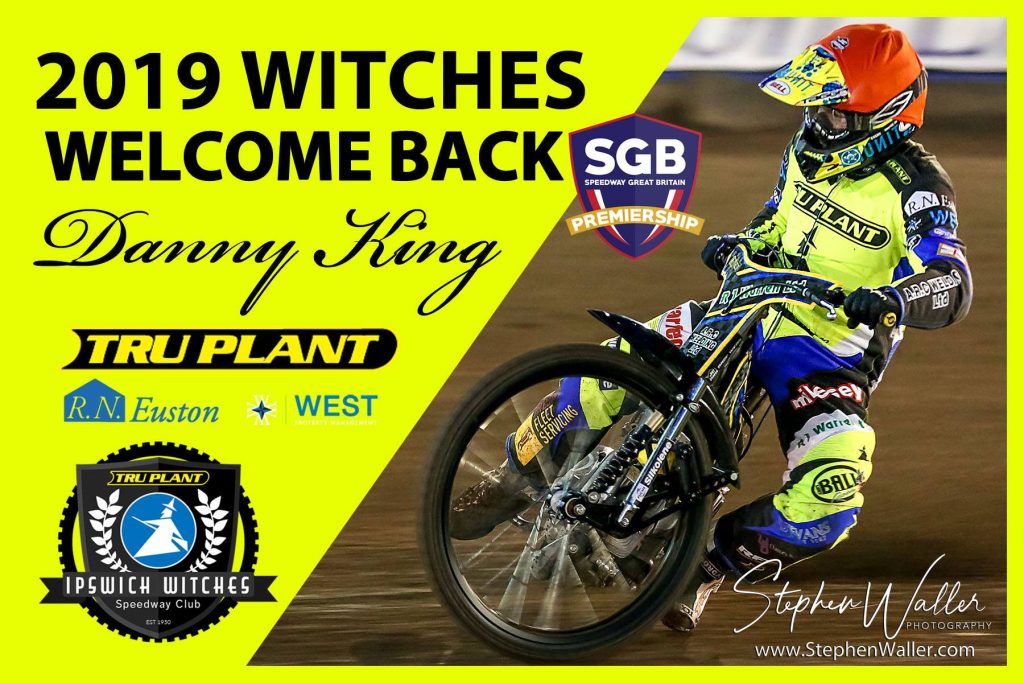 By Henry Chard
Danny King will be back for the Ipswich 'Tru Plant'  Witches in 2019 and will captain the side as they return to the Premiership.
King has been with the club for the past four seasons in the Championship and next year will be his eleventh at Foxhall, a place he very much calls home despite not being a club asset.
"It's really exciting for me, it's where I have always wanted to be; in the top league with Ipswich," said King. "It's a club with a lot of history and we are back where we belong at the highest level. It is nice to be back representing them and we will try and get some silverware.
"I have moved about, I have had years away and I have always said that it can be healthy as you can get stuck in a rut and that is why I left when I was a bit younger. I always knew I would come back and I did. To be honest, if Ipswich had stayed at the highest level I probably would have stayed to this day but unfortunately, they dropped down a few years back and I wasn't ready to do that. I needed to keep pushing and I carried on, but I was pleased to re-unite with them a few years ago and now we can carry on in the Premiership."
The 2016 British champion endured a frustrating 2018 season as he was ruled out for the bulk of the year with a severe nerve injury in his arm, riding in just seven meetings for the Witches. The skipper underwent successful surgery in October and is now well on the road to recovery.
"The injury is doing great; the operation went fantastically, and the recovery is going quicker than expected. At the rate it is going, I am hoping to get on a bike in January depending on the weather."
The 32-year-old will ride for Sheffield in the Championship and says it was an easy decision to join the Tigers.
"It was quite exciting when I got the phone call for that, the Bates boys called me up and I straight away thought it was for Leicester having rode there the last two years, but it was for Sheffield! It didn't take long to do a deal and it is certainly a track I like, everyone knows I like the big fast tracks. To get the chance to ride a track like that every week is an easy decision for me."
The Team GB rider is already raring to go in 2019 and is training hard ahead of the new season after sitting out most of the previous campaign.
"The winter has been good, I have been training hard. Normally at this time of year I have had enough of speedway and I want to rest and enjoy Christmas and not think about speedway until after. I have had my rest though, I have not ridden a bike since July, so I have been training hard and I am really eager to get back on a bike. As I say, the injury is going well, I don't call it an injury anymore as it is healing. I am in a good position and I can't wait to get back on a bike in January hopefully."
2019 Season Tickets are now available to purchase, all the details can be found here. Supporters wishing to buy their ticket in person can do so on Saturday 22nd December between 10am-1pm at Foxhall Stadium with hot drinks and mince pies on offer.