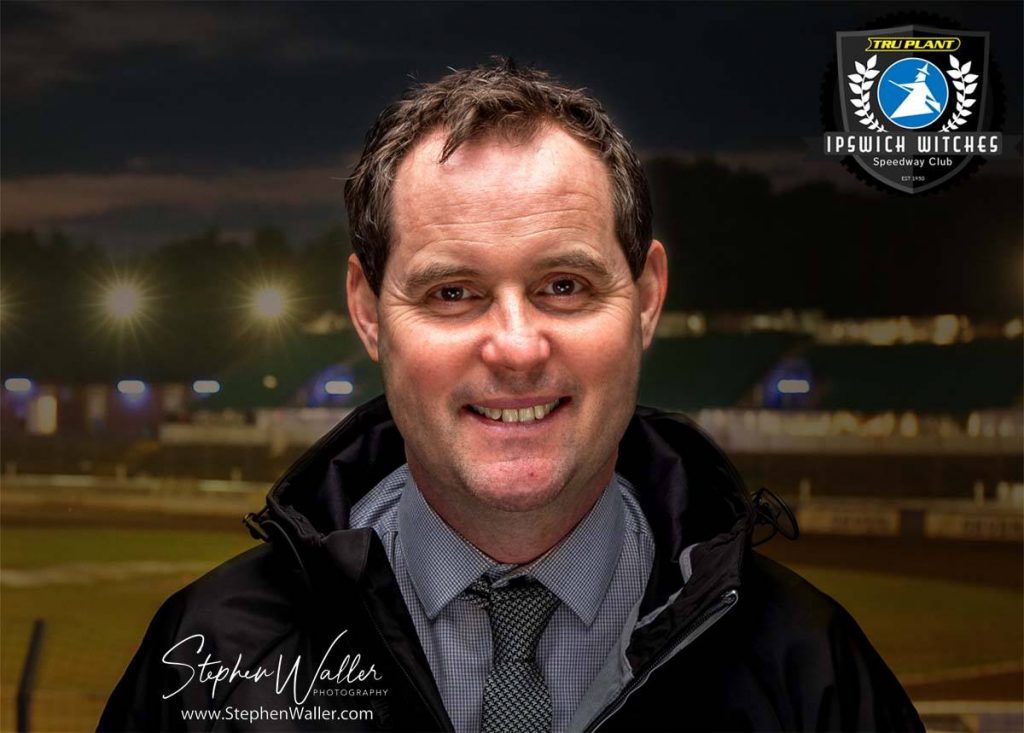 By Henry Chard
'Tru Plant' Witches Promoter Chris Louis was left frustrated after he felt refereeing decisions prevented his side from winning at Newcastle after a 45-45 draw on Sunday in the Championship.
The Witches were ahead most of the meeting but the home side fought back in the latter part of the meeting to avoid defeat following a controversial decision by the referee to penalise Josh Pickering after he felt Cameron Heeps didn't do enough to clear the track after a fall in heat 10 with the home side on a 5-1. Pickering had to go from 15 metres in the re-run and Louis was far from pleased with the decision.
"We're pleased to take two points but also a little frustrated that we felt it was taken away from us by an interpretation of the rules and rules that don't appear right," said Louis. "It's the first time we have experienced it this year and it seems too open to interpretation and it's going to be too inconsistent and it penalises the wrong person because Josh had to go off 15 metres in the re-run. It does not make any sense at all to me, none."
Despite the frustration the promoter was pleased with the character shown in the last few meetings and says things are heading in the right direction.
"We showed great character and we showed it on Thursday when things were not very good at all in many ways. We showed it again at Lakeside where the team knuckled down and gave it their best and it carried on tonight.
"Cam got three wins from his rides and it was a battling performance and he was thinking well and has made a lot of improvements the last couple of weeks. A lot of things are heading in the right direction. Rory (Schlein) was great and handled the pressure and had to make a smart first turn in the final heat to make sure we got the draw.
"The reserves had a difficult night but Connor (Mountain) kept working at it and thinking about it and picked up a vital point at the end which made a big difference. The guests were outstanding and gave 100% and I can't fault anything, it was a really good effort. We are frustrated because we were the better team and should have won but we got two points and we are happy with our league campaign so far.
The scores
Newcastle 45: Ludvig Lindgren 17+1, Tero Aarnio 9+3, Ashley Morris 7+1, Kevin Doolan (g) 7+1, Carl Wilkinson 5, Matthew Wethers 0.
Ipswich 45: Rory Schlein 14, Cameron Heeps 11+1, Josh Pickering (g) 9+1, Ben Barker (g) 8+1, Danyon Hume 2, Connor Mountain 1.
Championship table
| | | |
| --- | --- | --- |
| Team | Meetings | Points |
| 1 Peterborough | 3 | 6 |
| 2 Ipswich | 2 | 5 |
| 3 Scunthorpe | 1 | 3 |
| 4 Glasgow | 1 | 3 |
| 5 Lakeside | 2 | 3 |
| 6 Berwick | 1 | 3 |
| 7 Edinburgh | 1 | 3 |
| 8 Newcastle | 2 | 1 |
| 9 Sheffield | 2 | 1 |
| 10 Workington | 0 | 0 |
| 11 Redcar | 3 | 0 |
Rider of the Night
Plenty of contenders for this one but Schlein led from the front dropping just a point all night away from home and ensured the Witches took two points back to Suffolk.
Next meeting
The 'Tru Plant' Witches are back in action on Saturday 12th May as they travel to Berwick in the Championship.