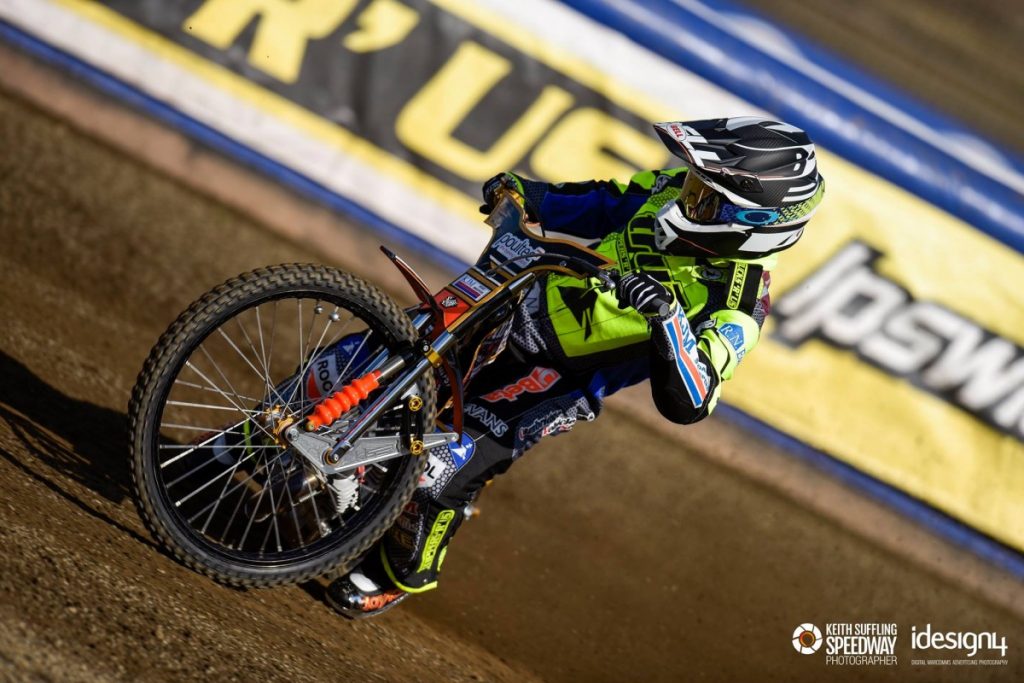 The 'Tru7.com' Witches head to Berwick for their first away meeting of 2017 on Saturday as they look to progress in the Knockout Cup (7.00pm).
The two sides met at Foxhall on Thursday in the first leg with the Witches coming out 60-30 winners in a dominant display and Ritchie Hawkins' side will be looking to defend their lead at Shielfield Park.
The Witches make one alteration to the riding order with Connor Mountain and Danyon Hume switching positions at reserve as boss Hawkins had promised before the season got underway.
Berwick are again without Dany Gappmaier due to concussion and the Bandits have drafted in Redcar's Richard Hall at number six on Saturday. The home side are also without Ryan Blacklock who injured his ribs at Foxhall on Thursday. Sheffield's Jack Parkinson-Blackburn deputises at number seven.
Team Manager Hawkins says the team will not be complacent going into the meeting after past experiences in the Knockout Cup.
"It's about being professional, not falling asleep," said Hawkins. "I've been part of Witches sides that have fallen asleep and been knocked out unexpectedly. It's about going there and doing our jobs and if we can get to 30 points we can start to relax.
"In my first meeting back for Ipswich a few years ago, we were at Workington and we had won big at home but then got knocked out so we won't be getting complacent at all."
The boss is hoping his heat leader trio can lead the way on Saturday as he explains the riding order change at the bottom end.
"We have got three solid heat leaders so we have got to look at them to show the way for the other four really.
"It's something I said I would do with the riding order – give them equal opportunities. Number six is a bit tougher so we are giving them a fair chance."
Words: Henry Chard
'Olympus Marquees' Berwick Bandits:
1. Lewis Bridger 8.53
2. Liam Carr 4.69
3. Dimitri Berge 6.91
4. Claus Vissing 6.80
5. Kevin Doolan (c) 6.99
6. Richard Hall (g) 3.53
7. Jack Parkinson-Blackburn (g) 2.00

Team Manager: Gary Havelock
Ipswich 'Tru7.com' Witches:
1. Danny King (c) 9.57
2. James Sarjeant 5.66
3. Nico Covatti 7.49
4. Cameron Heeps 5.07
5. Rory Schlein 7.17
6. Danyon Hume 2.00
7. Connor Mountain 2.00
Team Manager: Ritchie Hawkins
Referee: M. Breckon
Parade: Saturday, 7.00pm
Venue: Shielfield Park, TD15 2EF
Witches Knockout Cup history:
2016 R1 Lost v Rye House
2015 R1 Lost v Berwick
2014 Runners Up v Edinburgh
2013 QF Lost v Workington
2012 Runners-Up to Newcastle
Berwick in 2017:
KOC Ipswich 60-30 Berwick
TTT Newcastle 55-35 Berwick
TTT Berwick 45-45 Newcastle
Last five results at Berwick:
18.06.16 L33-60
11.07.15 W48-42
09.05.15 L43-47
17.05.14 L41-49
08.06.13 L45-48

Berwick Factfile
Main Sponsor: Olympus Marquees
Team Colours: Black and gold
Race-Night: Saturday (7.00 pm)
Website: www.berwickbandits.co
Track Length: 368 metres
Track Record: 62.8 seconds (Craig Cook, August 15 2015)
Admission Prices:
Adults: £15
Senior Citizens: £11
Students: £11
Kids: Free
Stadium Address
Shielfield Park Stadium, Tweedmouth, Berwick-upon-Tweed, Northumberland, TD15 2EF
Telephone: 01289 307707 (race-nights only)
By Train: The nearest station is Berwick-upon-Tweed, which is on the main East Coast London to Edinburgh line.