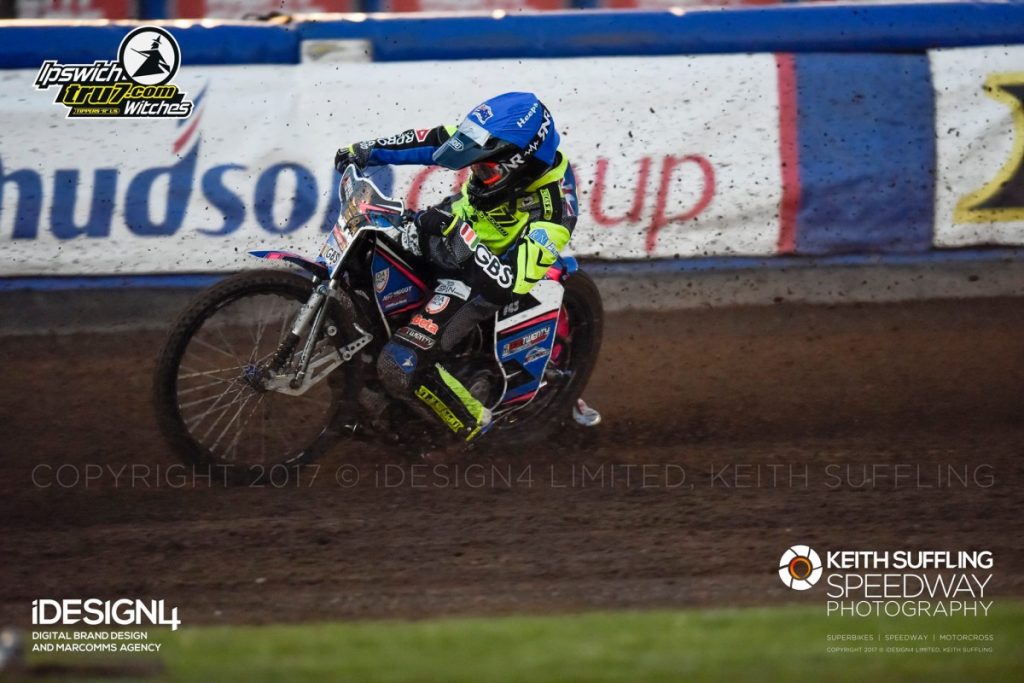 The 'Tru7.com' Witches welcome the high-flying Glasgow Tigers to Foxhall on Thursday in a Championship fixture (7.30pm).
The visitors are currently joint top of the table at this early stage but the Witches can go top with a win over the Scottish side on Thursday.
The home side come into Thursday's side full of confidence after recording their first away win of the season at Berwick despite having been hit by injuries at the start of the new season. With Nico Covatti a long term absentee, the management have swooped to sign Justin Sedgmen as a replacement and the Australian will make his debut on Thursday subject to BSPA approval. Danyon Hume will also miss some period of time and as the management continue to work hard on a replacement, guests continue to be used as James Shanes deputises on Thursday.
The Tigers are always much fancied to challenge for honours with sound financial backing behind them and this season is no different. The Tigers have started the campaign well and have kept their strong heat leader trio of Aaron Summers, Richie Worrall and Richard Lawson for 2017. Exciting youngster Dan Bewley continues to make big strides in the sport and is in the main body of the team. Tom Perry and Jack Smith are at reserve as the Tigers run rider replacement in place of the injured Nike Lunna.
The visitors have a good record in recent times at Foxhall and have not lost since 2013 as the Witches look to put that right on Thursday.
Team Manager Ritchie Hawkins believes it will be a closely contested meeting and says that Justin Sedgmen will fit in nicely at the club should the move be approved by the BSPA.
"We've dealt with everything thrown at us well so far this season," said Hawkins. "Glasgow have a strong top end and it should make for a competitive match.
"These things take a little bit of time with visas but he's not missed too many meetings and he will fit well into the side. We have a great bond in the team and you have to pick someone who is going to fit that. Knowing Sedgy, he will fit in well with everyone and he is also mega keen to race at Ipswich. He would have liked to have come in the winter but that was impossible but he is the man for the job now."
The boss says that Shanes is a rider who he has tried to book on previous occasions and that the team are raring to get back on track.
"We've got James Shanes and it would have been nice to have him guest for us last year but I'm looking forward to seeing him wear the Witches race jacket and I think the fans will be excited to see him too. He is an exciting British talent.
"Everyone was buzzing after Saturday night and all three of them did well on Sunday at the British semi-final too. Everyone wants to get back out on track and carry on our good form."
Words: Henry Chard
Meeting Sponsor: Teng Tools
Ipswich 'Tru7.com' Witches:
1. Danny King (c) 9.57
2. Cameron Heeps 5.07
3. Justin Sedgmen 7.60 TBC
4. Kyle Newman 6.31
5. Rory Schlein 7.17
6. Connor Mountain 2.00
7. James Shanes (g) 2.00
Team Manager: Ritchie Hawkins
Glasgow 'Allied Vehicles' Tigers:
1. Aaron Summers (c) 8.57
2. Dan Bewley 3.90
3. Richard Lawson 8.22
4. R/R for Nike Lunna 4.90
5. Richie Worrall 8.49
6. Tom Perry 3.76
7. Jack Smith 2.00 
8. Danno Verge
Team Manager: Stewart Dickson

Referee: A. Steele
Parade: Thursday, 7.30pm
Venue: Foxhall Stadium, IP4 5TL
Championship Table
| | | |
| --- | --- | --- |
| Team | Pl | Pts |
| Edinburgh | 6 | 16 |
| Glasgow | 6 | 16 |
| Witches | 8 | 14 |
| Redcar | 6 | 11 |
| Scunthorpe | 10 | 10 |
| Sheffield | 5 | 9 |
| Peterborough | 5 | 9 |
| Workington | 4 | 8 |
| Newcastle | 4 | 6 |
| Berwick | 8 | 0 |
Last five home results v Glasgow:
09.06.16 L44-46
23.07.15 L43-47
17.07.14 D45-45
27.06.13 W63-29
14.06.12 W64-29
Glasgow's last five:
CH Glasgow 57-34 Edinburgh
CH Glasgow 46-44 Workington
CH Berwick 44-46 Glasgow
CH Scunthorpe 47-43 Glasgow
CH Glasgow 51-42 Newcastle