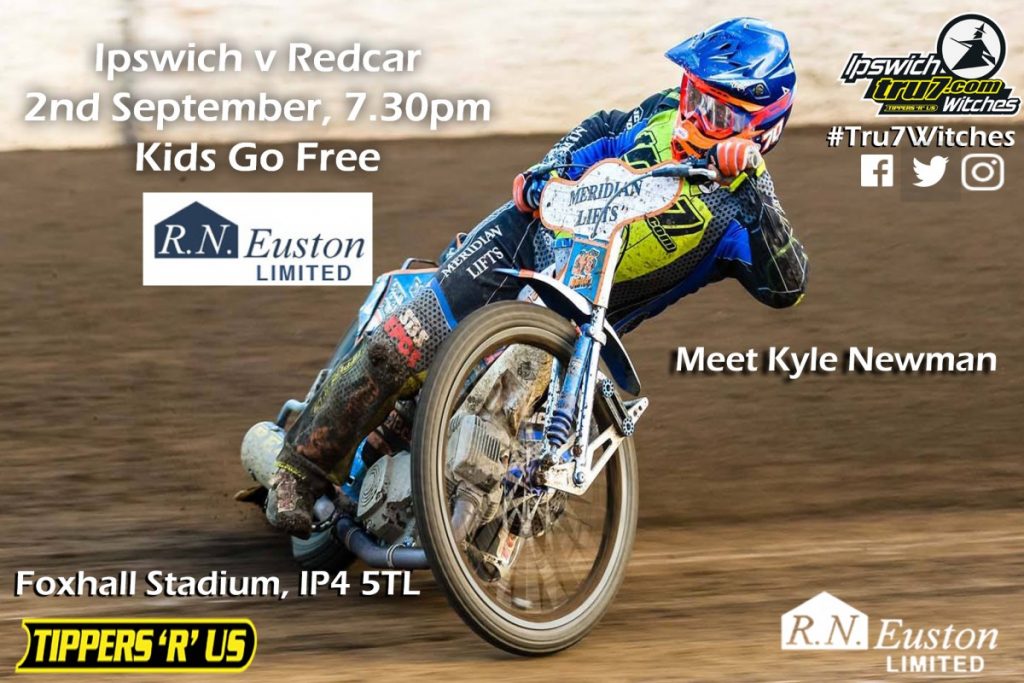 The 'Tru7.com' Witches entertain the Redcar Bears at Foxhall this Saturday in the Championship (7.30pm).
The two sides met at the Media Prima Arena on Thursday as a patched-up Witches side fell to a 55-38 defeat. That win saw the Bears enter the top four at the expense of Edinburgh with the Witches staying second in the table.
The home side are once again without Cameron Heeps and Justin Sedgmen due to injury and that is likely to be the case over the coming weeks. Heeps has a fractured shoulder blade whilst Sedgmen has ongoing shoulder problems. Rider replacement will be used for Heeps whilst Edinburgh's Mark Riss comes in to cover Sedgmen. Nathan Greaves returns at reserve after missing Thursday due to his Premiership commitments.
The away side are on the charge after three wins at home saw them enter the play-off spots as the season gets down to the business end. Ben Barker returns to Foxhall after leading the score charts on Thursday as Jason Garrity looks to recover from illness to take his place in the side. Scunthorpe's Tero Aarnio guests for Ellis Perks who is away on world U21 duty for Team GB and Max Clegg guests for the injured Tobias Busch.
It was a comfortable win for the Suffolk side earlier in the season at Foxhall when the two sides met and the Witches have won the last five encounters on home shale against the Bears.
Team Manager Ritchie Hawkins says guest Riss will be keen to win and the boss expects his side to get back to winning ways.
"We need to win at home on Saturday to secure our play-off spot," said Hawkins. "We have Mark Riss in the team and he will be desperate for us to win because that will help Edinburgh's cause for the play-offs. We are a very strong side around Foxhall and I would expect us to get back to winning ways."
Hawkins says that defeat on Saturday would make their position less secure in the top four and is keen to avoid any slip ups at home.
"If Redcar manage to win at our place on Saturday then it will mean they are closing in on us but they won't overtake us. It would make those three tough away meetings even tougher if we needed points from them. We need to make sure we win those remaining two home matches."
The boss says the team are still relaxed about their play-off position and has been working hard with Chris Louis to try and plan the best way to cope with the current injuries.
"There are no nerves yet as we have got ourselves into a solid position and we are relaxed and focused on what we need to do. For me and Chris it has been a lot of work to figure out a plan on what we are going to do with riders, guests and r/r and how best to do it. That has been our conversations the last week!"
Meanwhile the former skipper provided an update on injured duo Cameron Heeps and Justin Sedgmen, with mixed news for both.
"Cam saw a specialist yesterday and there is hope for him to be back for the play-offs, that is the ambition. Sedgy has seen a specialist as well but that is not looking so good and I expect him to be out for the year. You never know in speedway but the reports are not good on his shoulder. We are hopeful on Cam but not expectant on Sedgy."
Kids go free to this meeting and fans will have the chance to meet Kyle Newman prior to the meeting up by the turnstiles.
Words: Henry Chard
Meeting Sponsor: RN Euston Construction
Ipswich 'Tru7.com' Witches:
1. Danny King (c) 9.03
2. R/R for Cameron Heeps 6.94
3. Mark Riss (g) 6.34
4. Kyle Newman 6.15
5. Rory Schlein 8.34
6. Nathan Greaves 4.48
7. Connor Mountain 3.18

Team Manager: Ritchie Hawkins
Redcar 'SG Petch' Bears:
1. Ben Barker (c) 8.06
2. Jonas B Andersen 6.79
3. Charles Wright 7.31
4. Tero Aarnio (g) 5.21
5. Jason Garrity 7.52
6. Max Clegg (g) 4.53
7. Danny Ayres 4.19

Team Manager: Jitendra Duffill
Referee: C. Gay
Parade: Saturday, 7.30pm
Venue: Foxhall Stadium, IP4 5TL
Championship Table
| | | |
| --- | --- | --- |
| Team | Pl | Pts |
| Sheffield | 29 | 73 |
| Witches | 31 | 66 |
| Glasgow | 27 | 59 |
| Redcar | 30 | 55 |
| Edinburgh | 28 | 54 |
| Newcastle    | 28 | 40 |
| Peterborough | 27 | 37 |
| Workington | 24 | 34 |
| Scunthorpe | 32 | 31 |
| Berwick | 32 | 21 |
Last five home results v Bears:
22.04.17 W54-38
04.06.16 W61-32
30.05.15 W65-25
21.05.14 W41-34 (A-A after 12 heats)
10.08.13 W59-31
Bears' last five:
CH Bears 55-38 Ipswich
CH Bears 52-41 Edinburgh
CH Bears 47-42 Glasgow
CH Workington 48-42 Bears
CH Bears 41-49 Sheffield