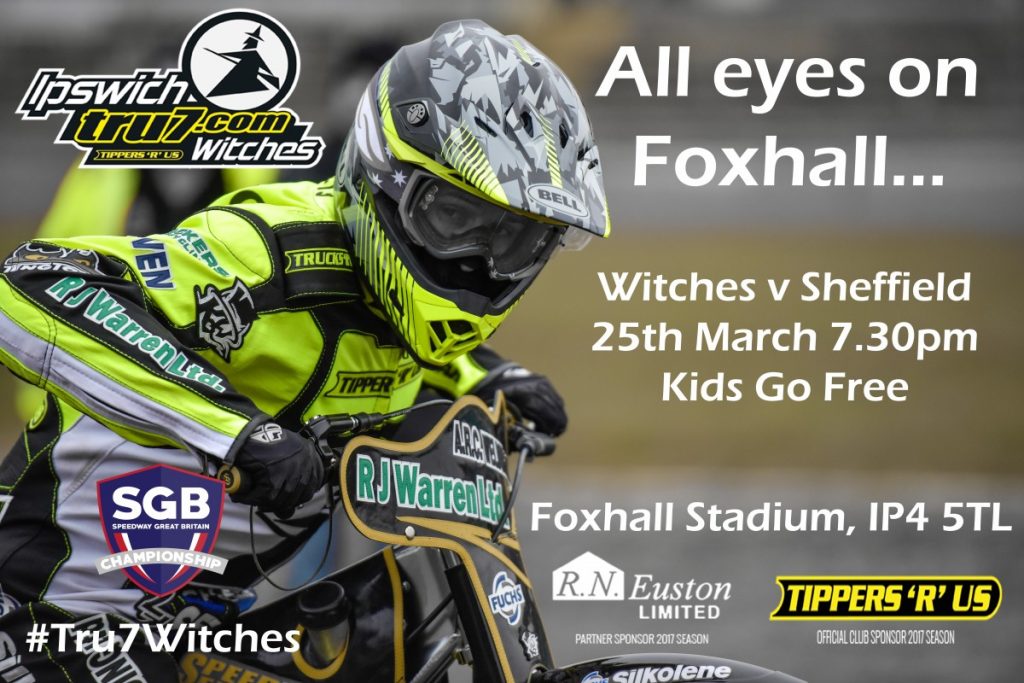 The Ipswich 'Tru7.com' Witches open their 2017 campaign on Saturday night at Foxhall as they host Sheffield Tigers in the Championship (7.30pm).
After a long winter, it is a mouth-watering clash to open the new season with both teams much fancied amongst experts and fans to challenge for honours this year. After losing out in last year's play-off semi-finals to eventual winners Somerset, the Witches have made four changes in 2017.
British champion Danny King will lead the Witches into the new campaign and is joined again by Nico Covatti and club asset Danyon Hume. Australian club asset Cameron Heeps returns after a year away at Rye House and Connor Mountain gets a full time spot after some impressive guest appearances for the club in 2016. Australian Rory Schlein has got many fans talking and many will be keen to see him in action on Saturday. Sadly Witches fans will have to wait to see Kyle Newman in action after he was ruled out of the meeting following a crash at Poole on Friday evening during which he injured his shoulder. Rider Replacement will be used to cover his absence.
Saturday's opponents will be looking to go one better in 2017 after losing last year's final to Somerset. The Tigers have replaced the retired Simon Stead with Somerset's title winner Josh Gracjzonek in one of the biggest winter signings with Stead taking over the managerial reigns. Former Witch Lasse Bjerre makes the switch from Redcar whilst British youngster Kyle Howarth and British U21 champion Josh Bates are back with the Yorkshire side for another season. Todd Kurtz, Robert Branford and Jack Parkinson-Blackburn complete the side who are sure to provide a stern test at Foxhall.
Saturday will be the first meeting at Foxhall since the winter track changes with Promoter Chris Louis hoping for even more entertaining racing whilst captain King believes it will encourage riders to take more risks.
The club have decided to start the season with our 'KIDS GO FREE' offer for this meeting as the Witches look to start 2017 in front of a bumper crowd.
Team Manager Ritchie Hawkins says the side can't wait to get started and is hoping for a positive start to 2017.
"As expected everyone is really keen to get going," said Hawkins. "It was disappointing not to be able to get out on the track Monday but hopefully we will have been out on Tuesday. We've played a bit of squash instead on Press Day and it is nice to spend time together as a full team and have a laugh but everyone is raring to go.
"It's not ideal going straight into competitive action without a challenge match but we were a victim of circumstance with that. It's an opportunity to get three points on the board and a win on Saturday gives everyone a boost and gets the momentum going early on."
The boss believes Saturday's opponents will be a tough test but says the track changes will not affect home advantage for the Witches.
"Sheffield look a strong side like we do but the same applies to them as it does to us – it doesn't matter how you look on paper it is how you do on the track that matters. It's a really tough test early doors and hopefully we will have a big crowd backing us.
"Hopefully the boys will have been out and seen the new track a few times before Saturday but I'm not sure they will notice a massive difference. Maybe as the season goes on they'll learn how to use the extra space a bit better. It certainly is not an excuse for Saturday or anything like that though and I don't think it will make a huge difference to either side. Hopefully it will improve the racing and we have got a team of racers so we should benefit throughout the season."
Hawkins says changes will be made to the riding order if needed and the two reserves will share number six and seven in the early weeks.
"Danny had to go at number one and you have the choice between the other four and this is how I feel we will perform best at the moment. We are happy with it but if we feel the need to change it we will. The reserves will share six and seven until one of them gets an average and the one with the lowest average will have to go at seven. We are giving them equal opportunities at the early stages and we will see how they get on."
The former captain is hoping to see a big crowd at Foxhall to open the campaign with plenty of support for the team.
"We want to carry on the momentum we built up towards the end of last year with bigger crowds coming in and if there is a big crowd on Saturday it will give everyone a boost and the new boys will know how they are going to be supported at Ipswich.  It would be nice to see a big crowd and get the result and everyone will go home happy!"
Words: Henry Chard
Ipswich 'Tru7.com' Witches
1. Danny King (c) 9.57
2. R/R
3. Nico Covatti 7.49
4. Cameron Heeps 5.07
5. Rory Schlein 7.17
6. Connor Mountain 2.00
7. Danyon Hume 2.00
Team Manager: Ritchie Hawkins
Sheffield 'Window Centre' Tigers
1. Josh Grajczonek 8.90
2. Josh Bates 4.89
3. Lasse Bjerre 6.64
4. Todd Kurtz 5.76
5. Kyle Howarth (c) 7.18
6. Robert Branford 4.60
7. Jack Parkinson-Blackburn 2.00
Team Manager: Simon Stead
Referee: B.Horley
Parade: Saturday, 7.30pm
Venue: Foxhall Stadium, IP4 5TL
Championship Table
| | | |
| --- | --- | --- |
| Team | Pl | Pts |
| Peterborough | 1 | 3 |
| Berwick | 0 | 0 |
| Edinburgh | 0 | 0 |
| Glasgow | 0 | 0 |
| Witches | 0 | 0 |
| Newcastle | 0 | 0 |
| Redcar | 0 | 0 |
| Sheffield | 0 | 0 |
| Workington | 0 | 0 |
| Scunthorpe | 1 | 0 |
Last five home results v Tigers:
08.09.16 W59-34
23.04.16 W51-39
23.07.15 L43-47
17.07.14 D45-45
27.06.13 W63-29