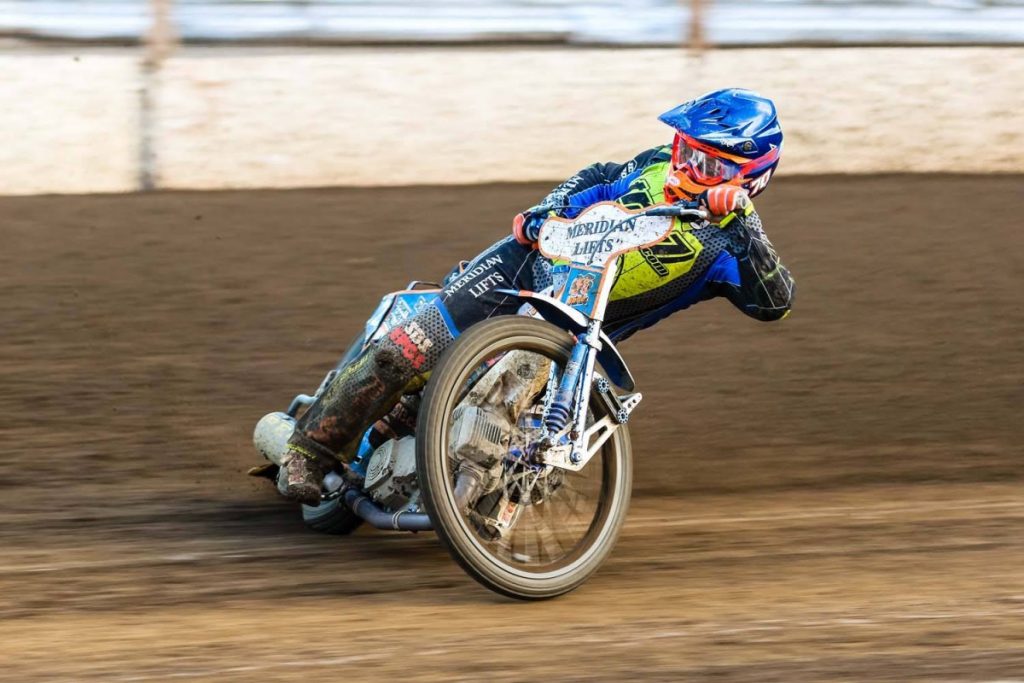 'Tru7.com' Witches rider Kyle Newman says that his season with Ipswich has been the most enjoyable season in the sport ahead of the Championship Play-Off final.
The 25-year-old says that on and off the track it has been a great year, no matter what the result of the final.
"It has been awesome, whatever the result of this weekend, I have been saying it to sponsors and family that this has been my most enjoyable year of speedway because the team has been that much fun," said Newman. "It is not just on raceday, there is always jokes and banter on the group chat, it is constant! It is a great bunch of lads to be a part of and I want to thank them for the year.
The Witches overcame Edinburgh in the semi-final after two tight encounters and Newman says that the rain made things difficult for the Suffolk side at Foxhall.
"The rain levelled the track out a little bit for both teams, which gave them a little bit of an advantage as if the track is a bit different to usual it always benefits the away team. We realised they were running us close and dug deep and got our backsides into gear and built up that gap towards the end of the meeting."
The Poole-born rider says that a points target was not set ahead of the first leg of the semi-final.
"We didn't really speak about it to be honest, we knew what we were capable of with how we have been going at home this season and it was just a case of doing our jobs as usual. Edinburgh seem to like our place and beat us earlier this year but we just had to do our jobs to the best of our potential and get as bigger gap as we could. We would have liked more but we didn't get it, so just had to go and complete the job away from home."
Newman says that the team showed great mental strength to complete the job in Scotland after the home side started strongly.
"We just needed to regather ourselves and it shows the mental strength of our team. It is not a team that after a couple of 5-1's will roll over, it is a team that will stand up and fight and we got into the play-offs because of that and we want to win them."
Newman says it is business as usual ahead of the final and reveals his relaxed approach to pressure races.
"It is business as usual really, I will be in the gym and making sure the bikes are alright this week. The moment you start thinking 'this is a final, we've got to do this and that extra' is the moment it all goes wrong. You have to turn up and take it as another meeting, that is the best preparation. As soon you start overthinking or overworking that is when it will come back to haunt you.
"I love pressure races. Rory (Schlein) experienced it a bit at Edinburgh ahead of heat 14. He came over and was trying to pump me up and I was just there totally relaxed and chilled out. I think he thought I should have been more up for it but I like to go into races like that relaxed and calm and that is the way I work personally. If you go into it with no pressure or extra stress then you'll ride to the best of your ability."
The Dorset based rider has had a tough year with injuries but says he is happy with his form going into the final, which is likely to be against Sheffield.
"It has been tough this year with injuries but you just have to ride through it. I feel like I have got it together now and hopefully I can continue that in our last few matches and get the wins needed to get that trophy for Ipswich. It has been a long time coming for the club and we definitely deserve it and I want to be a part of that.
"I was flying at Sheffield the other day and had ignition problems but it was the best I have ridden there and I am really looking forward to it."
Words: Henry Chard
Championship Play-Off final
28.09.17 Sheffield/Glasgow v Ipswich TBC
30.09.17 Ipswich v Sheffield/Glasgow
Newman Profile
Date of Birth: 14 December 1991, Poole, Dorset
British career
2007-08 Weymouth
2009 Bournemouth, Newport
2010 Newport II, Birmingham
2011 Newcastle, Poole, Dudley
2012 Peterborough, Somerset
2013 Somerset
2014-16 Poole, Plymouth
2017 Leicester, Poole, Ipswich
Major Honour
Queensland State Under-21 Champion: 2011
Club Honours
League Championship winner: 2008 (Weymouth), 2009 (Bournemouth), 2011 (Poole), 2013 (Somerset), 2014 (Poole), 2015 (Poole)
Knock-Out Cup winner: 2009 (Bournemouth), 2013 (Somerset)
Premier Shield winner: 2011 (Newcastle)
Premier League Cup winner: 2012 (Somerset)
Elite Shield winner: 2014 (Poole), 2015 (Poole), 2016 (Poole)
Four-Team Championship winner: 2016 (Plymouth)
2017 Witches form
Meetings: 29
Rides: 134
1st: 24
2nd: 46
3rd: 44
4th: 21
Points: 206
BP: 40