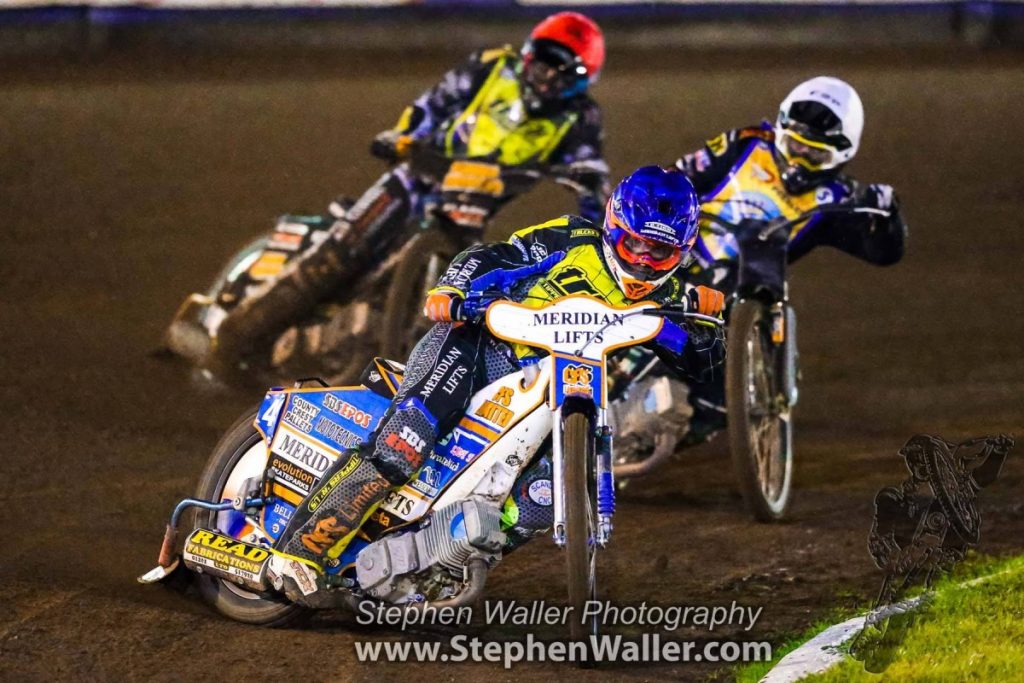 The 'Tru7.com' Witches take on Edinburgh Monarchs in the second leg of the Championship Play-Off semi-final on Friday at Armadale (7.30pm).
The two sides battled it out at Foxhall on Thursday in the first leg with the Witches taking a 50-40 win on an action packed night in Suffolk. A rain shower looked like favouring the visitors but Ipswich fought back to build up a 10 point lead to take into the second leg.
It is the same side for the Witches in the second leg as the impressive Mason Campton guests again for Justin Sedgmen. Rider replacement remains in operation at two for Cameron Heeps as the Australian nears a return to action.
The Monarchs hope to welcome back Mark Riss into the side after he missed Thursday's meeting following a fall on Wednesday whilst riding for Wolverhampton. Sam Masters will hope to continue his good form after he dropped just a point from five rides at Foxhall.
The Witches do not boast a successful record at Armadale but have been involved in two tight meetings in Scotland this year losing 48-40 in the first away meeting and then claiming a point after a 48-44 defeat a few weeks ago in the second away meeting of the league campaign.
Team Manager Ritchie Hawkins says he is ignoring the first leg result and is looking to win at Armadale but expects another tight meeting.
"I think we go there looking to win," said Hawkins. "We decided before the first leg that we are going into that second leg to win no matter what the first leg result was. It is a tough place to go and I thought both meetings would be close. I always feel confident in this team whether they are at home or racing at Edinburgh. I always felt we had a good chance in both meetings and both meetings were always going to be tight. We need to go there tomorrow and perform and if we don't we will get beat."
Hawkins says that Heeps is almost fit to take his place back in the side.
"Cam's fitness is improving every week and he is desperate to ride but we can't chuck him in at 80% fit in the Play-Offs. He would have ridden after the meeting on Thursday but with the conditions and the weather it wasn't worth it. He is looking positive to be back for the final if we make it."
The boss says the quick turnaround from first leg to second leg does not leave a lot of time for riders to prepare.
"With Thursday being a wet meeting it makes life really difficult as there is no time for bike preparation really with the travelling too. It is going to be a long night for some of them but we will try and be as fresh as we can going into Friday's meeting."
Words: Henry Chard
Edinburgh 'Parsons Peebles' Monarchs:
1. Ricky Wells 8.77
2. Josh Pickering 4.87
3. Sam Masters (c) 8.73
4. Mark Riss 5.91
5. Erik Riss 8.11
6. Max Clegg 4.23
7. Mitchell Davey 2.95

Team Manager: Alex Harkess
Ipswich 'Tru7.com' Witches:
1. Danny King (c) 9.03
2. R/R for Cameron Heeps 6.93
3. Mason Campton (g) 6.17
4. Kyle Newman 6.25
5. Rory Schlein 8.60
6. Nathan Greaves 4.45
7. Connor Mountain 3.26

Team Manager: Ritchie Hawkins 
Referee: R. Allan
Parade: Friday, 7.30pm
Venue: Armadale Stadium, EH48 2PD
Championship Play-Off Fixtures:
Semi-Finals:
Edinburgh (40) vs Ipswich (50)
Glasgow (31) vs Sheffield (59)
Last five results at Edinburgh:
08.09.17 L44-48
16.06.17 L40-48
30.09.16 L37-53
10.06.16 L39-52
14.08.15 L34-56

Edinburgh Factfile
Main Sponsor: Parsons Peebles
Team Colours: Blue and Gold
Race-Night: Friday (7.30pm)
Website: www.edinburghmonarchs.co
Track Length: 260 metres
Track Record: 54.8 seconds (Craig Cook, May 30 2014)
Admission Prices:
Adults: £15 in advance
Senior: £12 in advance
Students: £12 in advance
Children (12-16): £5 in advance
Children (5-11): £1 in advance
Children (under 5s): Free
Stadium Address
Armadale Stadium, Bathgate Road, Armadale, West Lothian, EH48 2PD.
Telephone: 01501 734404
By Train: There is now a station at Armadale with a regular service from Edinburgh, about 20 minutes' walk from the station.