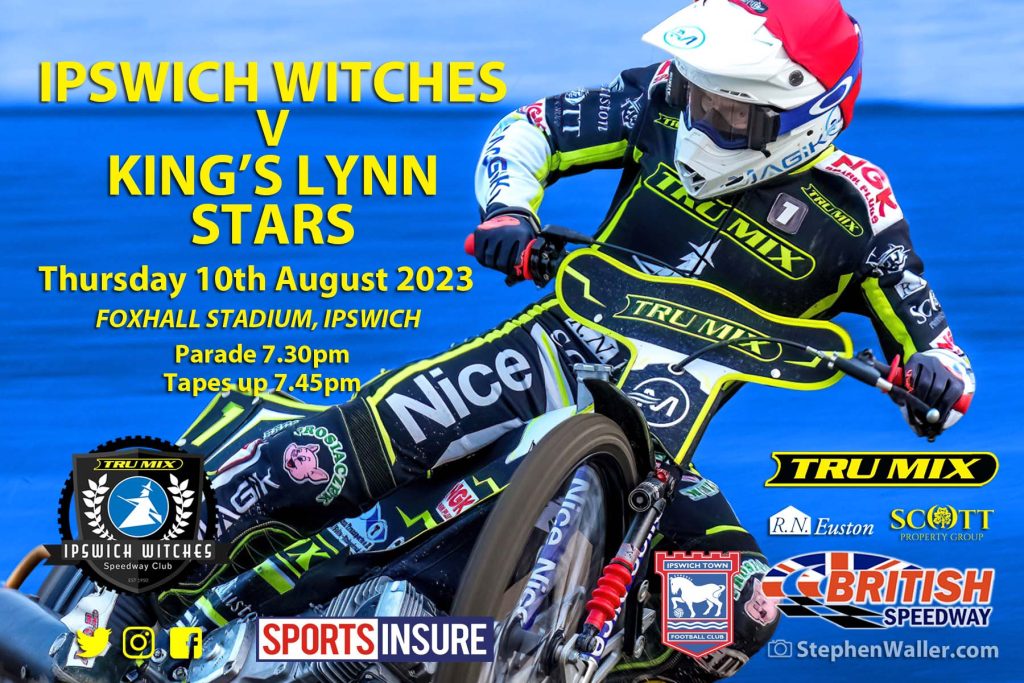 By Henry Chard
All the details ahead of our Sports Insure Premiership R2 fixture with King's Lynn.
WHEN & WHERE
The Ipswich 'Tru Mix' Witches host the King's Lynn Stars at Foxhall Stadium on Thursday 10th August in a Sports Insure Premiership R2 fixture that starts at 7.30pm.
MEETING SPONSORS

Tru Mix – Tru7 is the leading supplier of ready mixed concrete in Ipswich. They offer a professional, reliable service with a range of mixer sizes from 4-8m3 along with Volumetric site batched lorries. They can supply large scale commercial or small domestic sites from our Suffolk wide locations, including a new state of the art batching facility in Kesgrave.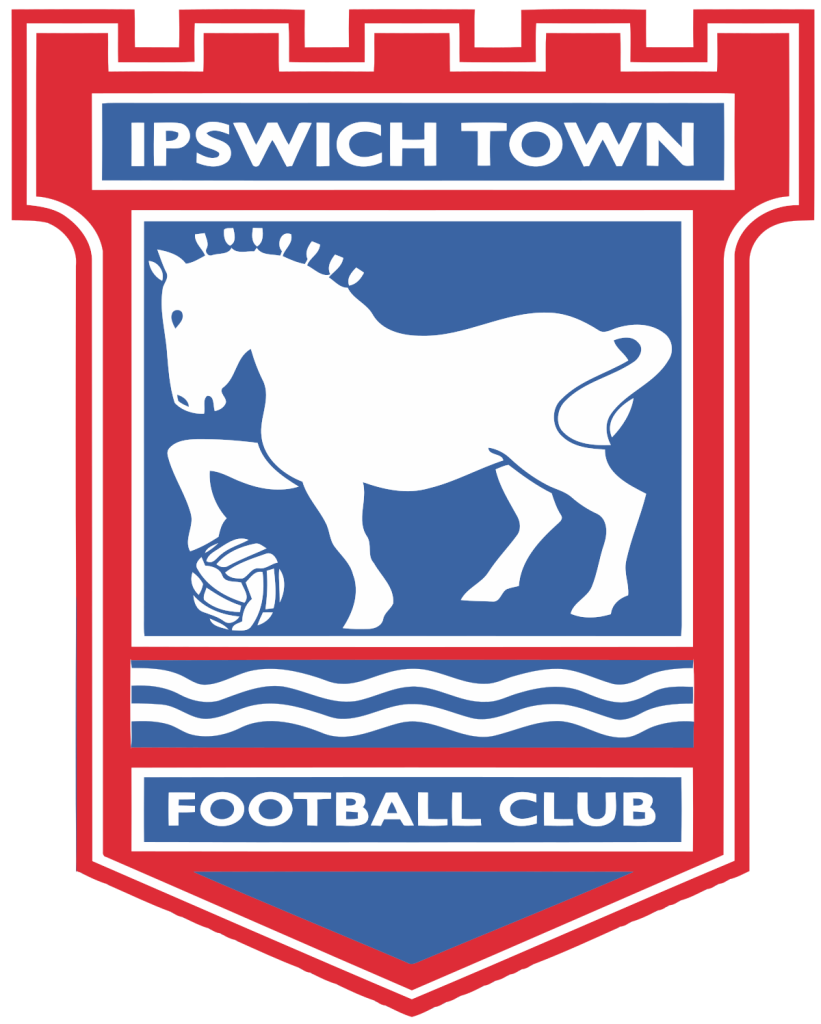 Ipswich Town Football Club – They offer an extensive range of hospitality, advertising and sponsorship opportunities to place your business front and centre, plus unforgettable experiences for their passionate and loyal supporters.
Whether you're looking to catapult your brand through a bespoke partnership or impress and engage key clients at a memorable match day, Ipswich Town Football Club is the place to do it.
TEAMS
IPSWICH: 1. Emil Sayfutdinov 9.91 2. R/R for Keynan Rew 4.00 3. Danny King 7.03 © 4. Erik Riss 4.86 5. Jason Doyle 9.37 6. Danyon Hume 3.74 7. Dan Thompson (RS). Team Manager: Ritchie Hawkins
KING'S LYNN: 1. Artem Laguta 8.00 2. R/R for Thomas Jorgensen 5.04 3. Benjamin Basso (G) 6.69 4. Connor Mountain (G) 5.00 5. Nicolai Klindt 6.50 © 6. Simon Lambert 3.66 7. Sam Hagon (G) (RS). Team Manager: David Hoggart
REFEREE: B. Horley
SPORTS INSURE PREMIERSHIP TABLE
| | | |
| --- | --- | --- |
| Team | Meetings | Points |
| Belle Vue | 21 | 38 |
| Wolverhampton | 17 | 29 |
| Leicester | 16 | 29 |
| Ipswich | 20 | 25 |
| Sheffield | 15 | 22 |
| King's Lynn | 17 | 7 |
| Peterborough | 18 | 5 |
TICKETS
Tickets are available to buy online (until 7pm on raceday) and on the gate and are priced at £22 for adults and £20 for concessions (65+). Children 16 and under go free. Official programmes are priced at £3 and are available at the stadium. Car parking is free for all supporters. Debit and credit card payments are accepted. Turnstiles open at 6.40pm.
THE STORY
The Ipswich 'Tru Mix' Witches are back on home shale on Thursday as they take on the King's Lynn Stars in the Sports Insure Premiership. The Witches have been on the road since a big win over Peterborough on 20th July in front of their home supporters, winning at Leicester, King's Lynn and Peterborough to make it four wins in a row, a run that has taken them into the top four. With just four league fixtures remaining there is no room for error for the Witches in their bid for the play-offs.
The Suffolk side will be confident of making it five wins on the bounce against a patched-up Stars side, but they will be without Keynan Rew on Thursday who is competing in the Speedway of Nations Under-21 World Championship in Latvia on Friday. Rider replacement will be used at number two in his absence.
FROM THE BOSS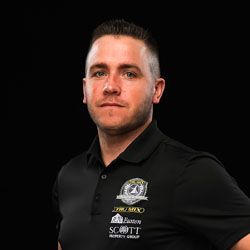 Ipswich 'Tru Mix' Witches team manager Ritchie Hawkins gives us his pre-match thoughts…
"We will be heavy favourites to win against a patched-up King's Lynn side and we need to do a professional job and carry on our run of wins and make sure we don't give them a sniff. We need to dominate and make sure we win the meeting and not make life hard for ourselves.
"We always talk about it being a local derby and we have beaten them a couple of times and we need to carry on that run.
"We have got riders coming into form, maybe slightly too late but it is nice to see everyone back in form now and it is something we need to carry on from the last few meetings and continue building on it to finish the season strongly.
"Keynan is not going to be there as it is the Speedway of Nations Under-21 World Championship on Friday and he has to be there early on Friday morning which means he can't get there from being at Ipswich on Thursday night which he would have liked to have done."
THE STARS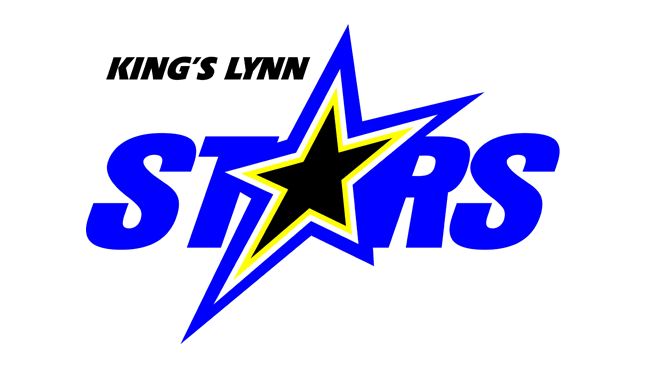 King's Lynn have had a season they would rather forget about as they sit sixth in the table with any play-off hopes long gone. The Norfolk side are yet to pick up a point on the road this season, with seven defeats from seven.
2021 world champion Artem Laguta is the star name of their side and captain Nicolai Klindt often goes well at Foxhall. The visitors have four absentees on Thursday with Anders Rowe and Emil Breum both competing in the same event as Rew, whilst Thomas Jorgensen and Michael Palm Toft are out injured. Rider replacement is used at number two for Jorgensen whilst Benjamin Basso guests in place of Palm Toft. Connor Mountain is the guest for Breum and Sam Hagon comes in for Rowe.
BEN FUND COLLECTION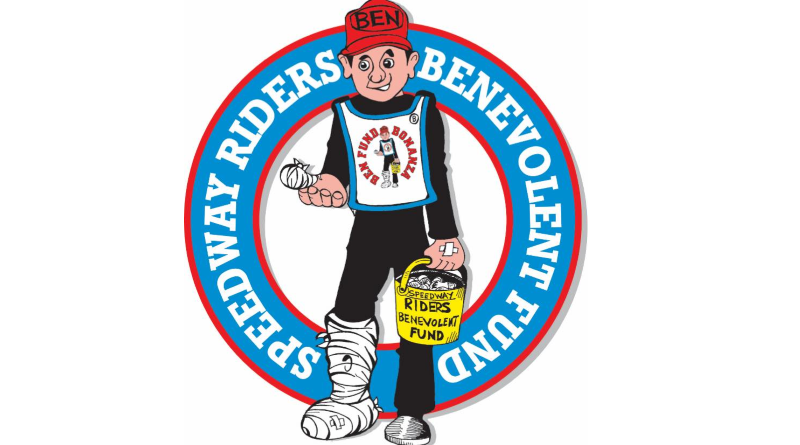 We will be holding our annual collection for the Speedway Riders' Benevolent Fund at this meeting. All donations go to a fantastic cause and last year we raised £2773.65 at Foxhall. Please give generously as we try to beat last year's total!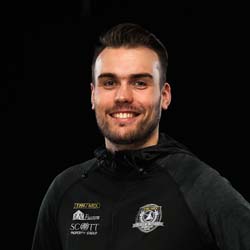 Digital Media Manager at Ipswich Speedway