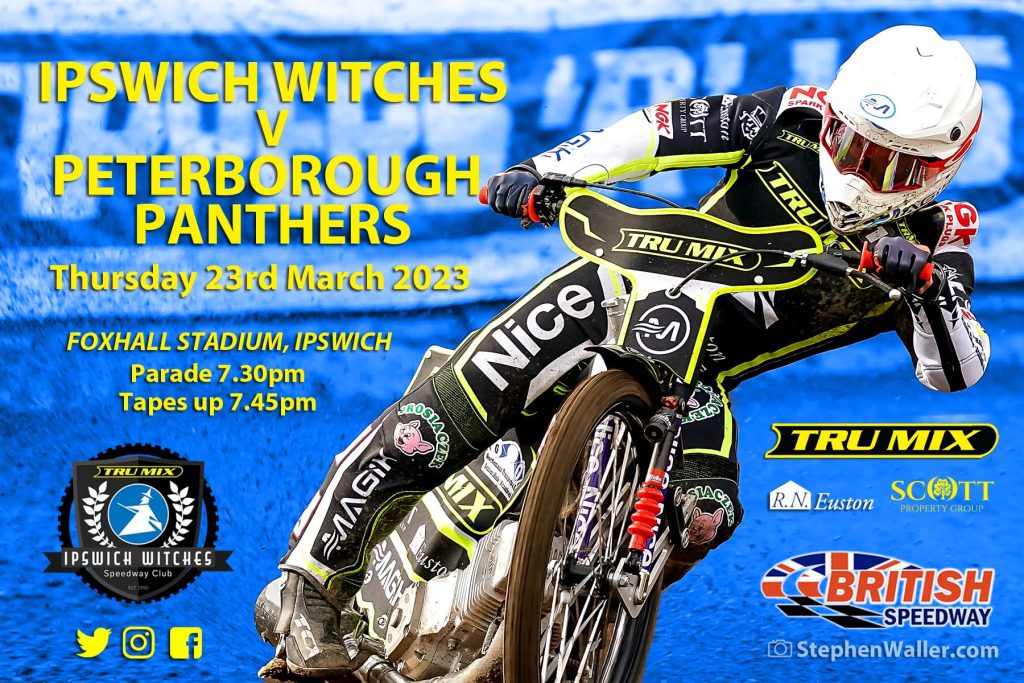 By Henry Chard
All the details ahead of our Premiership R1 fixture with Peterborough.
WHEN & WHERE
The Ipswich 'Tru Mix' Witches host the Peterborough Panthers at Foxhall Stadium on Thursday 23rd March in a Premiership R1 fixture that starts at 7.30pm.
TEAMS
IPSWICH: 1. Jason Doyle 10.32 2. Keynan Rew 5.00 3. Danny King 6.41 © 4. Erik Riss 6.00 5. Emil Sayfutdinov 8.00 6. Danyon Hume 3.07 7. Joe Thompson (RS). Team Manager: Ritchie Hawkins
PETERBOROUGH: 1. Nicki Pedersen 8.61 2. Hans Andersen 4.93 © 3. Richie Worrall 6.15 4. Benjamin Basso 6.81 5. Niels-Kristian Iversen 7.59 6. Ben Cook 4.06 7. Jordan Jenkins (RS). Team Manager: Rob Lyon
REFEREE: C. Gay
PREMIERSHIP TABLE
| | | |
| --- | --- | --- |
| Team | Meetings | Points |
| Belle Vue | 0 | 0 |
| Ipswich | 0 | 0 |
| King's Lynn | 0 | 0 |
| Leicester | 0 | 0 |
| Peterborough | 0 | 0 |
| Sheffield | 0 | 0 |
| Wolverhampton | 0 | 0 |
TICKETS
Tickets are available to buy online (until 7pm on raceday) and on the gate and are priced at £22 for adults and £20 for concessions (65+). Children 16 and under go free. Official programmes are priced at £3 and are available at the stadium. Car parking is free for all supporters. Debit and credit card payments are accepted. Turnstiles open at 6.40pm.
THE STORY
The Ipswich 'Tru Mix' Witches open their 2023 Premiership campaign at Foxhall on Thursday as they take on the Peterborough Panthers. It is straight into competitive league action this year with points on the line from the off as the race for the end of season play-offs begins. Leicester have joined the Premiership this season, with teams facing each other twice home and away over the season as the top four head into the end of season play-offs.
There is an added incentive this year with the return of the aggregate bonus point, meaning an additional point will be awarded to the team winning on aggregate over corresponding R1 and R2 fixtures, e.g. Ipswich 47-43 Peterborough & Peterborough 46-44 Ipswich (Ipswich awarded additional point for winning 91-89 on aggregate). All this means Ritchie Hawkins' side will hope to hit the ground running and record a big victory to put themselves in a strong position to take the extra league point in Monday's return fixture.
Ipswich have made three changes to the side that ended the 2022 season and secured arguably the biggest signing of the winter as they brought former world number three Emil Sayfutdinov to Suffolk. Sayfutdinov, a Polish citizen competing on a Polish licence, was forced to sit out racing in 2022 after Russian riders were suspended by the FIM due to the war in Ukraine but with all the paperwork now complete, all eyes will be on the track to see how the former European champion fares on his return to British speedway.
There are two further debutants for Ipswich on Thursday. 19-year-old Australian Keynan Rew will make his first appearance in British Speedway at number two and Joe Thompson is our new Rising Star rider at number seven.
The rest of the side are familiar faces to the Foxhall faithful. 2022 rider of the year and Grand Prix star Jason Doyle returns as the team's number one and former British champion Danny King continues as captain. Danyon Hume is at number six having rode as our Rising Star last season and Erik Riss is back after an injury-hit season last year.
FROM THE BOSS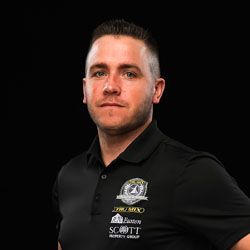 Ipswich 'Tru Mix' Witches team manager Ritchie Hawkins gives us his pre-match thoughts…
"I am known for moving the riding order about and that will happen again but for opening night we have started with a standard speedway line-up, if you like, it is what you would expect. We will see how Keynan and Jason pair together and I would expect Danny and Erik to ride well together at three and four and make us solid in the middle-order, and we are going to need that to beat Peterborough. Emil is at number five, and you couldn't ask for a better number five than that.
"What an opening night fixture this is. We have got Email back, the best rider in the league in Jason Doyle and Nicki Pedersen is back for Peterborough, it should be a cracker and I'm sure we will have a big crowd to support us."
THE PANTHERS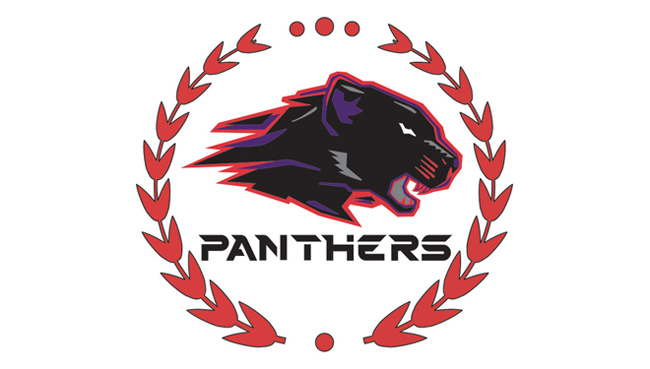 Peterborough endured a nightmare 2022 finishing rock bottom of the Premiership having won the title in 2021. It is a new-look for the Panthers in 2023 though, sporting new purple and white team colours and having brought in four new faces. The most notable addition is that of three-times world champion Nicki Pedersen, who at the age of 45 makes his return to British speedway. Helping him at the top end will be fellow Dane Niels-Kristian Iversen, the former Grand Prix star is the current track record holder at Foxhall.
Ben Cook makes his Premiership debut with Peterborough and Richie Worrall has joined the club for 2023. Benjamin Basso, Hans Andersen and Jordan Jenkins have all returned for another season with the Panthers and they will be hoping to take advantage of any opening night rustiness from the home side and make a positive start to the new season.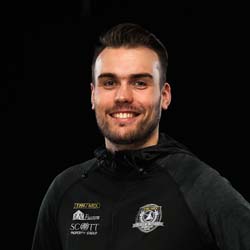 Digital Media Manager at Ipswich Speedway