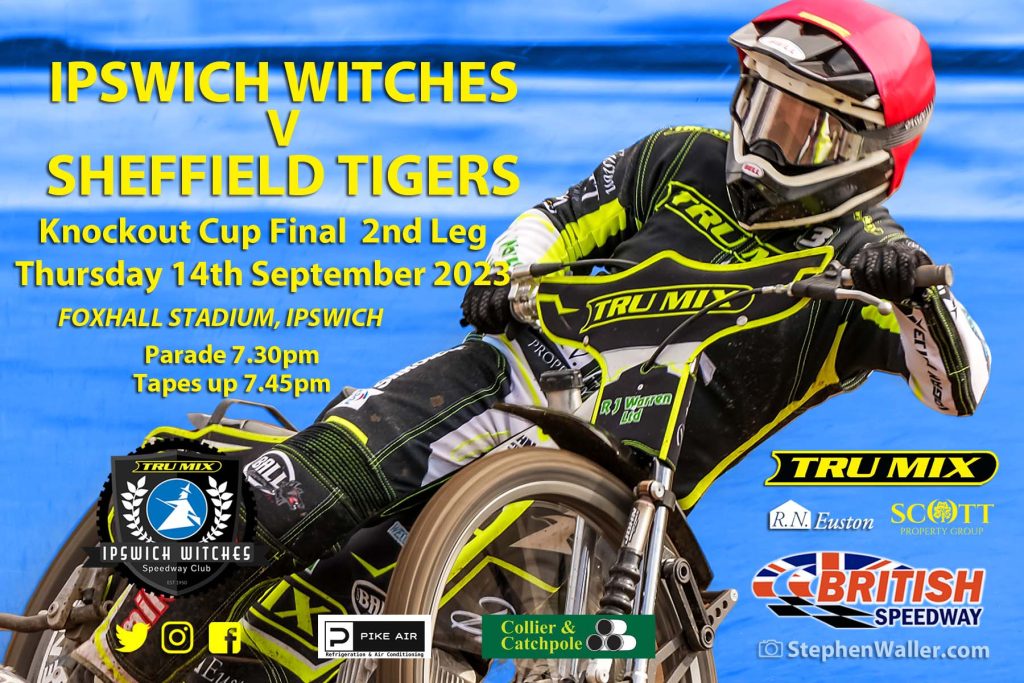 By Henry Chard
All the details ahead of our Knockout Cup final second leg fixture with Sheffield.
WHEN & WHERE
The Ipswich 'Tru Mix' Witches host the Sheffield Tigers at Foxhall Stadium on Thursday 14th September in a Knockout Cup final second leg fixture that starts at 7.30pm.

MEETING SPONSORS
Pike Air– They provide comprehensive cover for your air conditioning, refrigeration, heat pump and ventilation systems.

Collier & Catchpole – Collier & Catchpole is an independent builders' merchant with roots in East Anglia going back almost 200 years with well-stocked yards in Colchester, Lawford and Ipswich. To find your nearest branch, type in Collier & Catchpole into Google Maps. The Collier team is friendly, helpful and ready to source the right products to get the job done and is committed to maintaining a fleet of the latest generation lorries and cranes. Enhanced buying power is achieved through joining forces with other independent merchants across the UK. Their reputation for service underpins everything we do.
TEAMS
IPSWICH: 1. Emil Sayfutdinov 10.14 2. Danyon Hume 4.00 3. Danny King 7.03 © 4. Erik Riss 5.03 5. Jason Doyle 9.21 6. Keynan Rew 4.00 7. Joe Thompson (G) (RS). Team Manager: Ritchie Hawkins
SHEFFIELD: 1. Max Fricke (G) 8.85 2. Kyle Howarth 5.62 © 3. Chris Holder 7.16 4. Josh Pickering 6.14 5. Tobiasz Musielak 8.82 6. Kyle Newman (G) 4.00 7. Jason Edwards (RS). Team Manager: Simon Stead
REFEREE: C. Turnbull
KNOCKOUT CUP DRAW
QUARTER-FINALS
First Leg: Wolverhampton 46-20 Belle Vue. Second Leg: Belle Vue 54-36 Wolverhampton
First Leg: Ipswich 48-42 Leicester. Second Leg: Leicester 43-47 Ipswich
First Leg: Sheffield 58-32 King's Lynn. Second Leg: King's Lynn 34-56 Sheffield
First Leg: Ipswich 57-33 Peterborough. Second Leg: Peterborough 48-42 Ipswich
First Leg: Sheffield 54-36 Wolverhampton. Second Leg: Wolverhampton 52-38 Sheffield
FINAL
First Leg: Sheffield 48-42 Ipswich
TICKETS
Tickets are available to buy online (until 7pm on raceday) and on the gate and are priced at £22 for adults and £20 for concessions (65+). Children 16 and under go free. Official programmes are priced at £3 and are available at the stadium. Car parking is free for all supporters. Debit and credit card payments are accepted. Turnstiles open at 6.40pm.
THE STORY
The Ipswich 'Tru Mix' Witches have a six-point deficit to overturn in the second leg of the Knockout Cup final on Thursday at Foxhall.
Ipswich travelled to South Yorkshire on Monday for the first leg and went down to a 48-42 defeat after a pulsating meeting at Owlerton. The result has set up things nicely for the deciding leg in Suffolk and Ritchie Hawkins' side will be confident of overturning that margin on their home track and lifting the trophy in front of their home fans.
The Witches have beaten Sheffield on both of their visits to Foxhall this season, 47-43 and 51-39. The hosts are still without injured Rising Star rider Dan Thompson with twin brother Joe once again guesting in his place on Thursday at number seven. Danyon Hume moves to number two with Erik Riss at four. It's set to be a big night at Foxhall, with Ipswich looking to lift the Knockout Cup for the first time since 1998.
FROM THE BOSS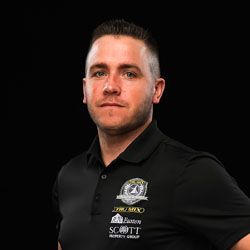 Ipswich 'Tru Mix' Witches team manager Ritchie Hawkins gives us his pre-match thoughts…
"It is a massive meeting; the biggest one we have had for a couple of years at Foxhall. I'm sure everyone will come out and support us. We are six points down and we need everyone to back us, and it is going to be another exciting meeting like the first leg was. It is two very good teams going head-to-head and we want to be the ones at the end of the night who are victorious. All of the support will only benefit us.
"Joe came back in on Monday and did well, he was right in the mix, and he is back in again on Thursday. I know there has been a lot of talk of who we can and can't use, so to clear that up, we can use anyone that is on the Rising Star list that isn't in a named one to seven in another team and certainly around Ipswich, Joe is by far the best option.
"I think everyone is confident that we are capable of overturning it, but we are six points down against a very good team that are capable of coming to Ipswich and winning. I would prefer to be six points up than six points down so we will need a massive effort, like we have shown over the last two months to get ourselves to this point where we are going for a cup and the league. We are going to need all of that effort and determination we have shown if we are going to win the Knockout Cup on Thursday.
"It is massively important we have a big crowd backing us and I have raced myself in front of some big crowds at Foxhall and when the place gets buzzing, it gives the riders a boost. We have all worked so hard to get us to this stage and it would be a great reward for them to see a massive crowd and a boost going into the meeting."
THE TIGERS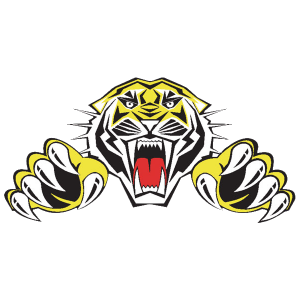 Sheffield have picked up five wins away from home in all competitions this season and come to Foxhall knowing that they can afford to lose by less than six points to become Knockout Cup champions. The Tigers would have hoped to be bringing a bigger lead to Suffolk for the second leg but will be looking to lift another trophy at Foxhall, having won the Championship title there in 2017.
The hosts are still without triple world champion Tai Woffinden due to a hand injury, and it will be Max Fricke who guests at number one again as he did on Monday at Owlerton. Claus Vissing is also missing again with injury, and it will be Kyle Newman coming in as a guest again at reserve.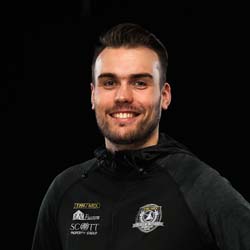 Digital Media Manager at Ipswich Speedway