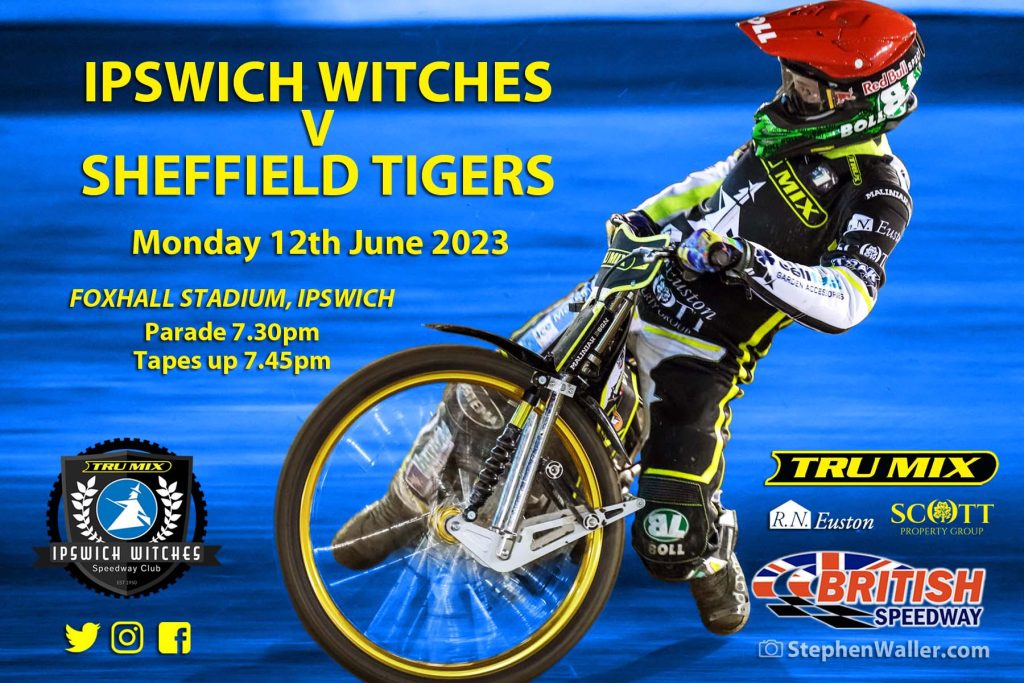 By Henry Chard
All the details ahead of our Sports Insure Premiership R2 fixture with Sheffield.
WHEN & WHERE
The Ipswich 'Tru Mix' Witches host the Sheffield Tigers at Foxhall Stadium on Monday 12th June in a Sports Insure Premiership R2 fixture that starts at 7.30pm.
MEETING SPONSOR

Tru Mix – Tru7 is the leading supplier of ready mixed concrete in Ipswich. They offer a professional, reliable service with a range of mixer sizes from 4-8m3 along with Volumetric site batched lorries. They can supply large scale commercial or small domestic sites from our Suffolk wide locations, including a new state of the art batching facility in Kesgrave.
TEAMS
IPSWICH: 1. Jason Doyle 10.13 2. Danyon Hume 4.00 3. Danny King 6.79 © 4. R/R for Ben Barker 4.38 5. Emil Sayfutdinov 9.40 6. Keynan Rew 4.00 7. Joe Thompson (RS). Team Manager: Ritchie Hawkins
SHEFFIELD: 1. Tobiasz Musielak 8.24 2. Lewis Kerr 5.35 3. Adam Ellis 6.09 4. David Bellego 5.80 5. Jack Holder 8.12 6. Kyle Howarth 5.18 © 7. Dan Gilkes (RS). Team Manager: Simon Stead
REFEREE: C. Gay
SPORTS INSURE PREMIERSHIP TABLE
| | | |
| --- | --- | --- |
| Team | Meetings | Points |
| Belle Vue | 11 | 19 |
| Wolverhampton | 9 | 16 |
| Leicester | 8 | 13 |
| Sheffield | 7 | 10 |
| Ipswich | 9 | 8 |
| King's Lynn | 8 | 5 |
| Peterborough | 8 | 2 |
TICKETS
Tickets are available to buy online (until 7pm on raceday) and on the gate and are priced at £22 for adults and £20 for concessions (65+). Children 16 and under go free. Official programmes are priced at £3 and are available at the stadium. Car parking is free for all supporters. Debit and credit card payments are accepted. Turnstiles open at 6.40pm.
THE STORY
The Ipswich 'Tru Mix' Witches host the Sheffield Tigers in the Sports Insure Premiership on Monday evening. It's been a disappointing run of results for the Suffolk side who have lost three meetings on the bounce and have slipped out of the top four. Team manager Ritchie Hawkins knows his side can't afford many more slip-ups in the race for the play-offs with a gap developing between the top four and the bottom three in the table.
Monday sees a change to the riding order with Keynan Rew now at reserve and Danyon Hume moving up to number two. The home team will be without Ben Barker who has a back injury after crashing last week. He is seeing a chiropractor on Monday and hopes to be fit for Thursday's fixture at Sheffield. Rider replacement will be in operation at number four. The Witches have faced the Tigers once already at Foxhall, coming out on top after a four-point victory and the home team know that it is imperative to return to winning ways on home shale and start a positive run of form.
FROM THE BOSS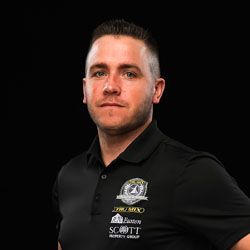 Ipswich 'Tru Mix' Witches team manager Ritchie Hawkins gives us his pre-match thoughts…
"We go into Monday after a disappointing run of results, but everyone is very determined to turn that around. We need to win on Monday and there is a change in the riding order which will hopefully give a few of the boys a boost. Even though things are tough we are on our home track, and we need to pull it together. We have had too many slip-ups already and we need to win.
"Keynan goes to reserve mainly due to Knockout Cup results not counting towards his average and a few meetings at reserve won't do him any harm and will hopefully give him a boost. We know how good he can go around Ipswich so that gives us another strong option at reserve now. Danyon is rewarded for the progress he is making this season and it certainly won't faze him being in the main body of the team. I'm pleased for him to see his hard work paying off.
"We need to start better than we did at Leicester. We want to start well and get everyone's heads back up and give all our supporters a boost and show everyone what we are all about."
THE TIGERS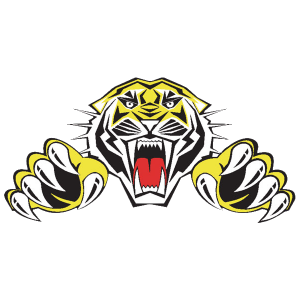 Sheffield arrive at Foxhall having made a steady start to the season, sitting fourth in the table. The South Yorkshire outfit are unbeaten on home shale and have already picked up two victories on the road at Belle Vue and King's Lynn. The Tigers will be eyeing a third win away from home on Monday night, knowing they came so close on their last visit which ended in a narrow defeat after a last-heat decider.
Jack Holder is enjoying a good Grand Prix series so far, currently sitting third in the world ahead of the German Grand Prix and he rides at number five for the visitors. Lewis Kerr has moved up from reserve since their last visit to Suffolk with captain Kyle Howarth now at reserve.
Digital Media Manager at Ipswich Speedway