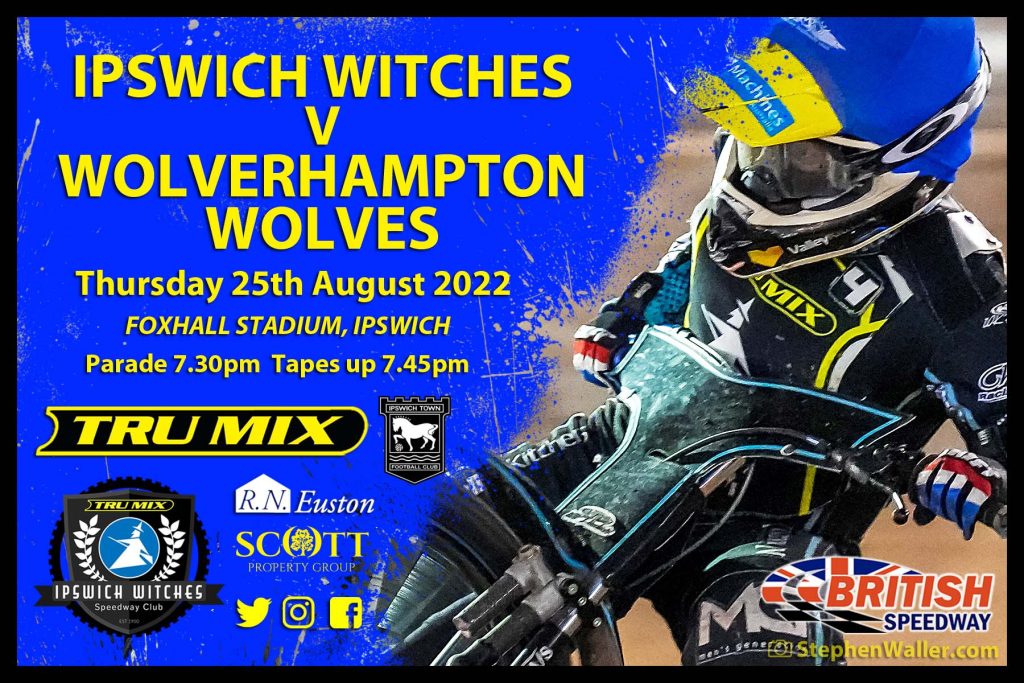 By Henry Chard
All the details ahead of our Premiership fixture with Wolverhampton.
WHEN & WHERE
The 'Tru Mix' Witches host the Wolverhampton Wolves at Foxhall Stadium on Thursday 25th August in a Premiership fixture that starts at 7.30pm.
MEETING SPONSORS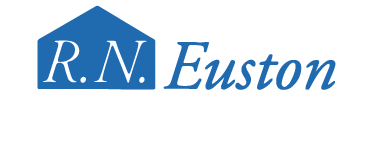 RN Euston – RN Euston Limited has supplied steel framed buildings in East Anglia for over 40 years. Established by Ray Euston the business has grown steadily over the years and now Ray works in partnership with his son Mark. The company is based in Suffolk and work all over East Anglia where they have gained a reliable reputation.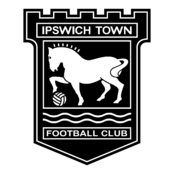 ITFC Commercial – An extensive range of opportunities exist at Portman Road from: Hospitality, advertising and sponsorship packages. Plus, unforgettable experiences for their passionate and loyal commercial supporters and fanbase.
TEAMS
IPSWICH: 1. Jason Doyle 10.47 2. Paul Starke 4.40 3. Danny King 6.77 © 4. Rohan Tungate 6.57 5. Troy Batchelor 6.43 6. Aaron Summers 4.14 7. Danyon Hume (RS). Team Manager: Ritchie Hawkins
WOLVES: 1. Sam Masters 8.79 © 2. Steve Worrall 7.48 3. Luke Becker 6.40 4. R/R for Ryan Douglas 7.38 5. Nick Morris 6.77 6. Drew Kemp 3.29 7. Leon Flint (RS). Team Manager: Peter Adams
REFEREE: M. Bates
PREMIERSHIP TABLE
| | | |
| --- | --- | --- |
| Team | Meetings | Points |
| Ipswich | 16 | 34 |
| Wolverhampton | 15 | 30 |
| Belle Vue | 14 | 29 |
| Sheffield | 13 | 27 |
| King's Lynn | 14 | 14 |
| Peterborough | 14 | 10 |
TICKETS
Tickets are available to buy online (until 7pm on raceday) and on the gate and are priced at £20 for adults and £18 for concessions (65+). Children 16 and under go free. Official programmes are priced at £3 and are available at the stadium. Car parking is free for all supporters. Debit and credit card payments are accepted. Turnstiles open at 6.40pm.
THE STORY
The 'Tru Mix' Witches are back in action at Foxhall on Thursday evening as they host the Wolverhampton Wolves in the Premiership. Ipswich have had a two week break since their last outing where they staged a dramatic comeback to beat local rivals King's Lynn on home shale. The Suffolk side have enjoyed their clashes against Wolves in 2022, winning both away fixtures in the West Midlands as well as coming out on top at home after a last-heat decider win earlier in the season and it is likely to be another close encounter this week.
The hosts are at full strength for this fixture with Jason Doyle racing at number one. Doyle suffered shoulder and rib injuries in the British Grand Prix recently following three crashes on a difficult track but is fit enough to take his place in the Witches side. With the play-off positions seemingly set, it is all about who will finish top of the pile going into the end of season shootout.
FROM THE BOSS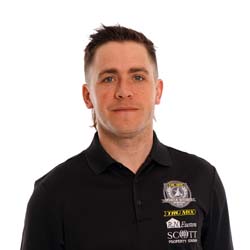 Ipswich 'Tru Mix' Witches team manager Ritchie Hawkins gives us his pre-match thoughts…
"We are very hopeful of tracking our full one to seven and we need to do that as much as possible going into the play-offs. After our changes we want to get as many meetings as we can under our belt as a full septet. We need to carry on that improvement we showed in the last five races against King's Lynn and start the way we finished. Rohan and Aaron will be a lot happier coming into this meeting than the first meeting, knowing a lot more about where they are at. That will be good for them to get another meeting around Foxhall. We want to keep our position at the top of the table, but Wolverhampton are a team that go well at Ipswich, so we will need to be on top of our game.
"Over the last few years in the Premiership, every meeting with Wolverhampton seems to be very close with last-heat deciders. It would be lovely to perform and get the meeting done early but I think it could be another close meeting and we need to show that resolve that we have been showing all year to make sure we come out on top at the end.
"It was an awesome crowd against King's Lynn, and it was very pleasing to send everyone away with the right result. We've had some great racing and lots of drama at Foxhall this year so I'm sure everyone will come out and keep backing us. We have provided some memorable meetings this year and I think Thursday could be another one, so hopefully everyone will be supporting us."
THE WOLVES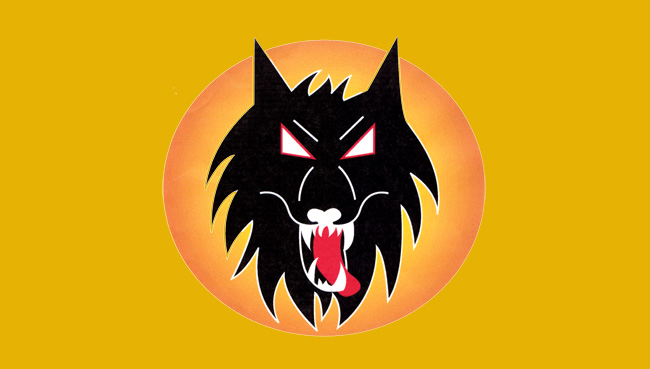 Wolverhampton, like Ipswich, are all but mathematically certain of making the play-offs, sitting in second in the table, hot on the heels of the Witches at the top. Ipswich are the only team to beat them at the Ladbroke Stadium and they have a couple of away wins to their name, both at Peterborough. They were in action on Monday night against Sheffield winning 46-44 in front of the TV cameras.
Sam Masters is back in action for the away side following his recent collarbone and shoulder injury and is very much a fan of Foxhall. The Australian regularly hits big scores in Suffolk and did so in the previous fixture in East Anglia, hitting 16 in their narrow defeat. Ipswich asset Drew Kemp rides at reserve and will look to do well at a track he knows well. The visitors will operate rider replacement for the injured Ryan Douglas who crashed on Wednesday night. 
BLAST FROM THE PAST
There will also be four races involving the below riders, with Alan Sage also in attendance. In addition, there will also be a race jacket provided for auction with the proceeds going to the Ben Fund. It will have all the race jackets being worn copied on the front with the Ben Fund logo on the back and signed by all the riders.
Alec Gooch – Rotrax JAP – Ipswich Witches
Keith Cornell – 2 Valve Jawa – Crayford Kestrels
Graham Wilson – Godden – Arena Essex
Simon Bevan – Weslake – Oxford Cheetahs
Tony Gaul – Weslake – Wimbledon Dons
Mark Anderson – Weslake – Hackney Hawks
Keith Hill – Jawa 897 – Norwich Stars
Steve Cook – Weslake – Belle Vue Aces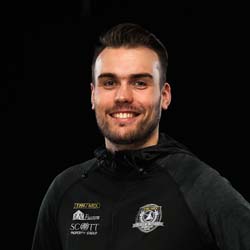 Digital Media Manager at Ipswich Speedway