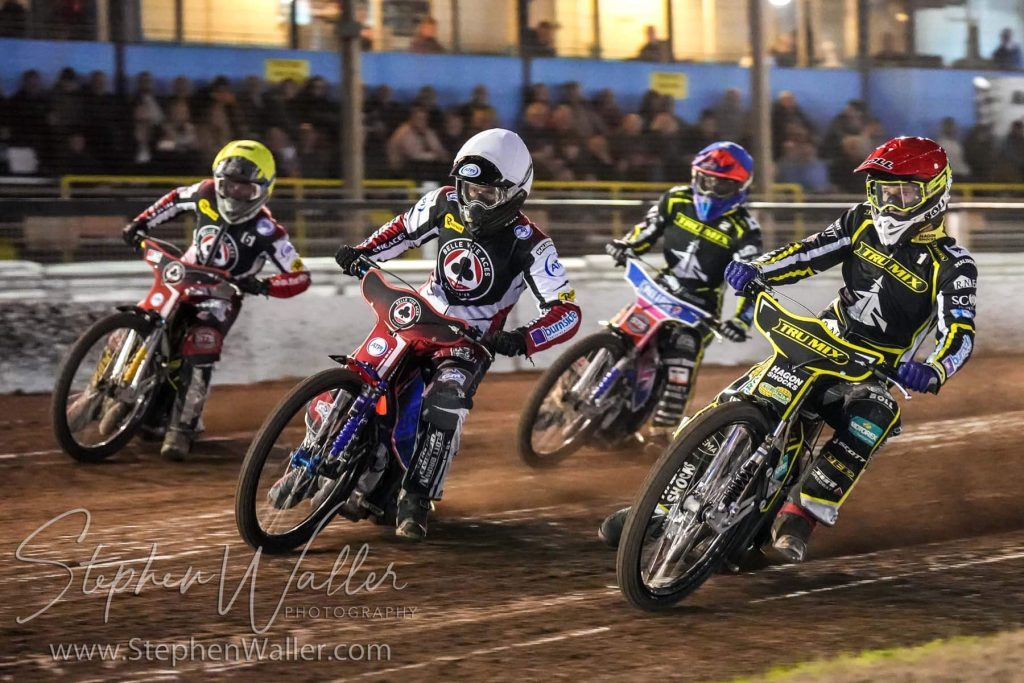 By Henry Chard
MEETING SPONSOR
Suffolk Floor Restore – Suffolk Floor Restore is a family run business that provide a professional stone and tile cleaning.
THE SCORES
IPSWICH 38: Jason Doyle 15 (Maximum), Aaron Summers 3+1, Danny King © 6, Rohan Tungate 1, Troy Batchelor 4+1, Paul Starke 2, Anders Rowe (RS) 7. Team Manager: Ritchie Hawkins
BELLE VUE 52: Craig Cook (g) 5+1, Tom Brennan (RS) 8, Matej Zagar 12+1, Charles Wright 7, Brady Kurtz © 11+1, Jye Etheridge 3, Norick Blödorn 6+3. Team Manager: Mark Lemon
REFEREE: M. Bates
PREMIERSHIP TABLE
| | | |
| --- | --- | --- |
| Team | Meetings | Points |
| Sheffield | 19 | 43 |
| Ipswich | 19 | 43 |
| Belle Vue | 19 | 38 |
| Wolverhampton | 20 | 34 |
| King's Lynn | 19 | 24 |
| Peterborough | 20 | 13 |
PREMIERSHIP PLAY-OFF FIXTURES
SEMI-FINALS
Wolverhampton vs Sheffield (1st Leg – Oct 3), Sheffield vs Wolverhampton (2nd Leg – Oct 6)
Ipswich 38-52 Belle Vue (1st Leg – Sep 29), Belle Vue vs Ipswich (2nd Leg – Oct 3)
THE STORY
The 'Tru Mix' Witches suffered their heaviest home defeat of the season as they were beaten by the Belle Vue Aces at Foxhall on Thursday night in the first leg of their Premiership play-off semi-final clash.
The hosts went into the meeting without the injured Danyon Hume who has been a regular at reserve despite starting the season as a number eight whilst the visitors were without their number one Max Fricke due to injury with Craig Cook guesting in his place. Things started brightly for Ipswich as they raced into a six-point lead after two heats, and they held a four-point lead after six races. However, things started to unravel for the Suffolk side from then on as the away side racked up the heat advantages in the second half of the meeting to record a comfortable victory on the road. It leaves the Witches with a mountain to climb in the second leg in Manchester on Monday if they are to progress to the final. Jason Doyle was sublime once again, top scoring with another 15-point maximum.
Doyle and Aaron Summers raced out of the gate in heat one to get the home team off to the perfect start with a 5-1. Anders Rowe got his first heat win of the season in heat two and with Paul Starke third it was another heat advantage to Ipswich to continue the positive start. Rohan Tungate led heat three but fell at the end of the third lap as Matej Zagar came underneath him and it was the Witches man who was excluded, with a 2-4 awarded to the Aces. Belle Vue captain Brady Kurtz won heat four as the points were shared leaving Ipswich four up after the early exchanges.
Cook won heat five with Tom Brennan third for a heat advantage to the away side, but the four-point lead was restored in heat six as Doyle won and Summers picked up a point for a 4-2. Zagar won heat seven and Charles Wright passed Starke for a point as Belle Vue reduced the deficit to just two points again. The Aces then went in front in heat eight with the Witches duo of Rowe and Summers clashing coming out of the second turn on the opening lap, causing Summers to retire and leaving Brennan and Norick Blödorn to pick up an easy maximum and put them two points ahead.
Kurtz was a winner again in heat nine with Jye Etheridge third for another heat advantage before Doyle stemmed the tide in heat 10 with another victory in a shared heat. Troy Batchelor was a comfortable leader in heat 11 but disaster struck on the final lap as his bike packed up which gifted Belle Vue a maximum. Things went from bad to worse in heat 12 as Danny King fell on the opening lap and was excluded and the visitors took full advantage in the re-run, clocking up another 1-5 to give them a commanding 12-point lead.
Heat 13 was stopped after Cook fell on the opening turn and was excluded. Doyle won the re-run as Kurtz got the better of Batchelor for second after the pair exchanged passes, meaning a 4-2 to Ipswich. The Aces responded with another maximum in heat 14 to stretch their lead to 14 points. Doyle completed his night with another race win in heat 15 but Batchelor was relegated to the back resulting in a 3-3, leaving Foxhall deflated after a heavy first leg loss and needing a dramatic turnaround at the National Speedway Stadium.
REACTION FROM THE BOSS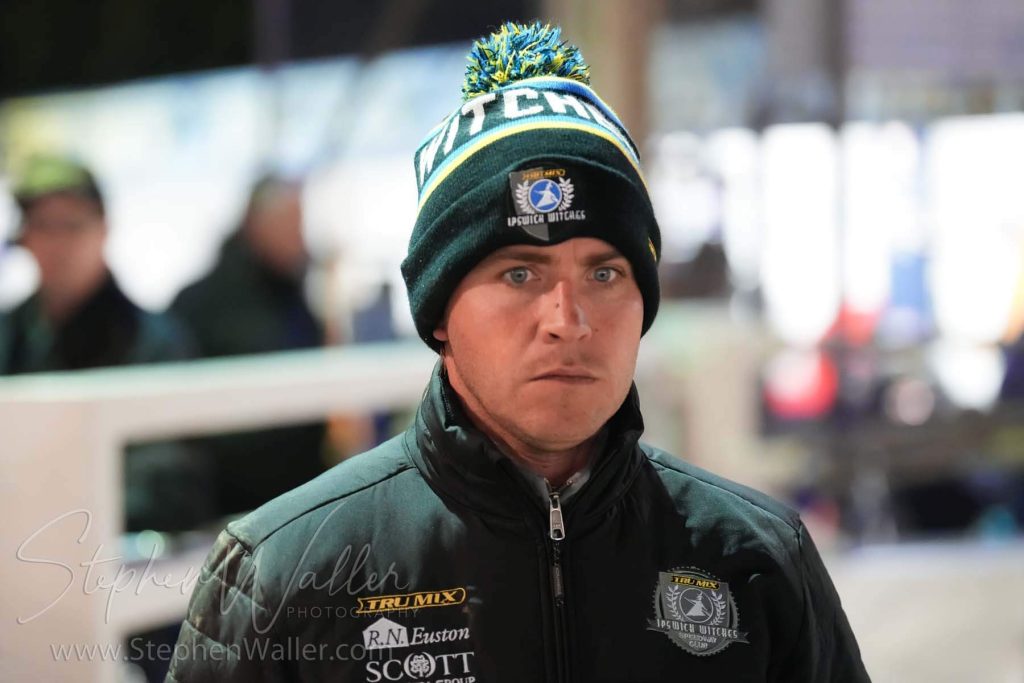 Ipswich 'Tru Mix' Witches team manager Ritchie Hawkins reflects on Thursday's defeat to Belle Vue.
"We were great for 10 laps and then after Rohan's crash it fell to bits. We had machinery problems and that incident with Rohan. We have been saying it all season that we need to improve at home otherwise we will get punished and we certainly did today.
"You could see all the signs that it should have worked but it didn't and even without the bad luck we were not good enough tonight. We have said all season we need everyone to start clicking together and it has not happened again. We have had the worst night of the season with the anticipation of it being the best beforehand.
"Doyley was terrific again, that goes without saying and Anders with seven points from number seven was a massive improvement. Other than that, Aaron had machinery problems which wrote off two of his races after he and Anders collided. Batch and Rohan had machinery problems, but it is no good being there for a couple of races, we needed to be there in all four heats and be a lot more consistent and we certainly were not.
"We are only halfway through but if this is the end of our season as such in the league after such a great season, it certainly isn't fitting to end this way and go out like that. We need to go into Monday with no pressure on us and we have nothing to lose and need to try and perform a miracle."
SUFFOLK FLOOR RESTORE RIDER OF THE NIGHT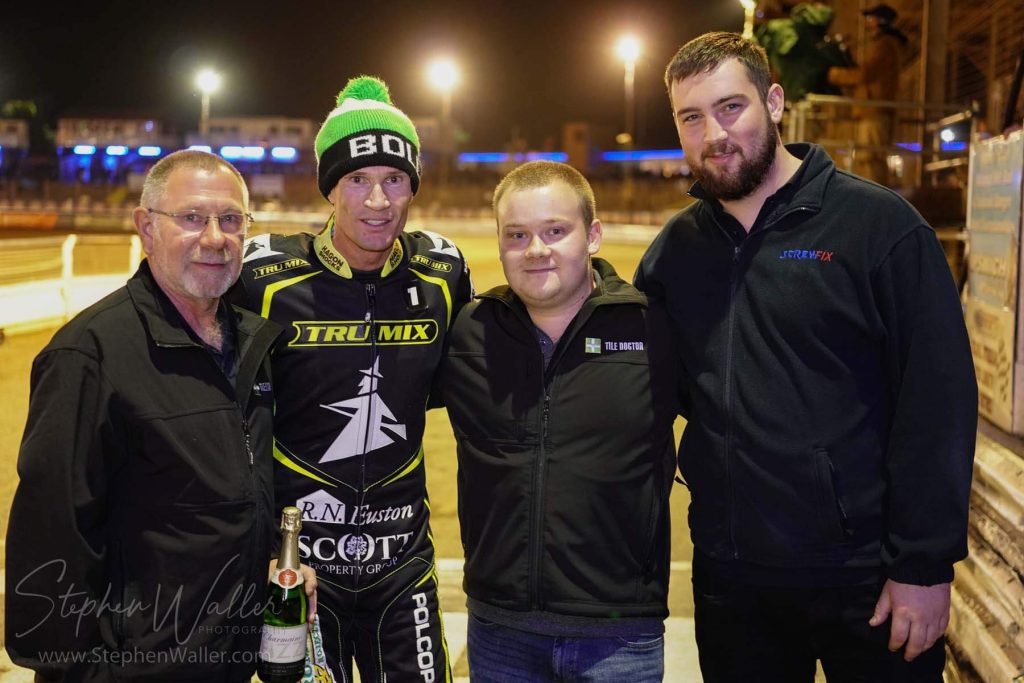 Needless to say, it was Doyle who picked up the award after another immaculate night's work, recording a 15-point maximum.
WHAT IT MEANS
Belle Vue take a 14-point lead into the second leg on Monday and are heavy favourites to complete the job on home shale and progress to the final.
UP NEXT
The 'Tru Mix' Witches travel to Manchester on Monday 3rd October to face the Belle Vue Aces at the National Speedway Stadium for the second leg of the Premiership play-off semi-final. Tickets can be purchased here.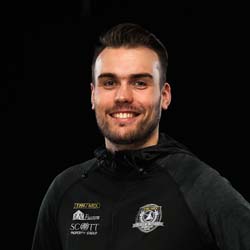 Digital Media Manager at Ipswich Speedway