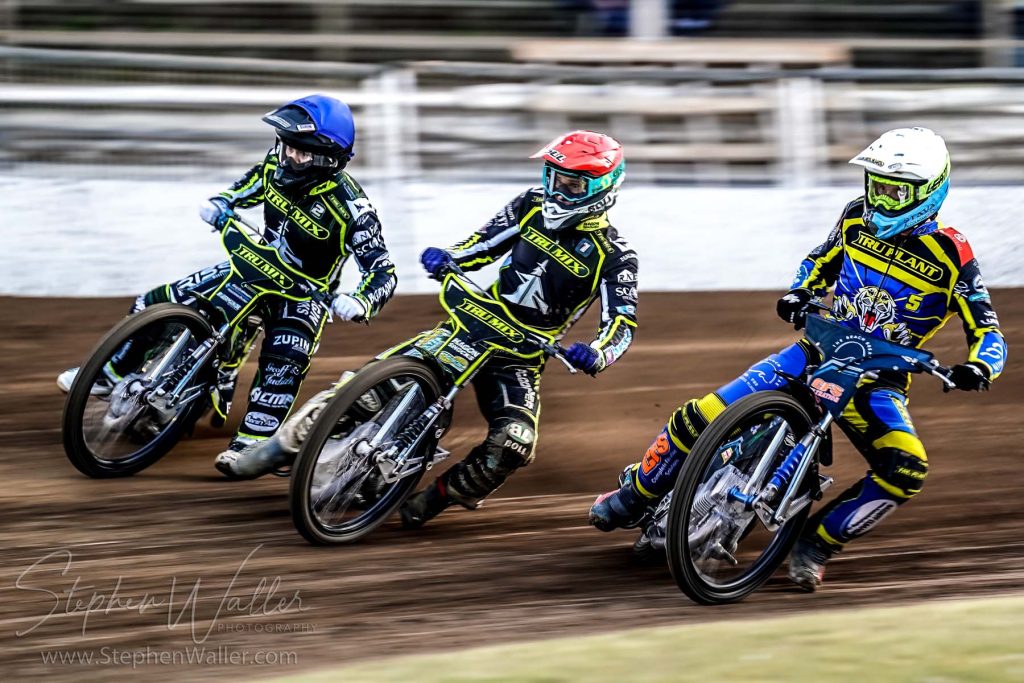 By Henry Chard
MEETING SPONSOR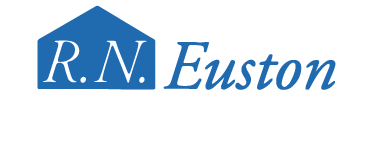 RN Euston – RN Euston Limited has supplied steel framed buildings in East Anglia for over 40 years. Established by Ray Euston the business has grown steadily over the years and now Ray works in partnership with his son Mark. The company is based in Suffolk and work all over East Anglia where they have gained a reliable reputation.
THE SCORES
IPSWICH 43: Jason Doyle 14+1 (Paid maximum), Erik Riss 5, Danny King © 5, Ben Barker 3, Troy Batchelor 4+1, Broc Nicol (g) 3+1, Danyon Hume (RS) 9. Team Manager: Ritchie Hawkins
SHEFFIELD 47: Chris Harris (g) 9+1, Craig Cook 7+2, Tobiasz Musielak 5+1, Kyle Howarth © 10, Adam Ellis 9+1, Stefan Nielsen 4+1, Connor Mountain (RS) 3. Team Manager: Simon Stead
REFEREE: M. Bates
PREMIERSHIP TABLE
| | | |
| --- | --- | --- |
| Team | Meetings | Points |
| Belle Vue | 4 | 11 |
| Sheffield | 2 | 6 |
| Ipswich | 3 | 6 |
| Wolverhampton | 2 | 3 |
| King's Lynn | 2 | 1 |
| Peterborough | 3 | 0 |
THE STORY
The 'Tru Mix' Witches suffered their first loss of the Premiership season as they fell to a narrow defeat against Sheffield on Monday night at Foxhall.
The hosts suffered a late blow ahead of the fixture, losing Paul Starke to injury and the visitors were also without their number one Jack Holder following his crash at the Grand Prix last weekend. It was the Suffolk side that started brighter though, and they raced into an eight-point lead after two races. However, the away side managed to chip away at that lead as the tie went on and the scores were level with two heats to race before the Tigers struck a maximum in the penultimate race and that was enough to hand them victory. Jason Doyle was in sublime form and top scored with a paid maximum of 14+1.
Erik Riss and Doyle flew from the gate in heat one to record a 5-1 and that was repeated in heat two by Danyon Hume and guest Broc Nicol as the Witches built up a healthy lead early on in the meeting. It looked like being three maximums from three in heat three as Ben Barker led and was joined by skipper Danny King, but Barker unintentionally edged his partner out wide which allowed Kyle Howarth into second and King was then a faller late on in the race whilst in third, with the heat awarded as a 3-3. Adam Ellis got the away side's first heat win of the night in heat four ahead of Hume and Troy Batchelor who kept Connor Mountain at the back to preserve the eight-point lead.
The Tigers hit back in heat five as guest Chris Harris won and Craig Cook joined him at the front for a 1-5 after passing King. Ellis made the start in heat six, but Doyle dived under the Sheffield man going into the third turn of the opening lap and took the win with Riss picking up a point in third for a heat advantage. Howarth won heat seven ahead of Batchelor and with Nicol a faller at the back it meant Tobiasz Musielak picked up third despite a fall of his own on the final turn which he recovered from to cross the line. Hume's impressive evening continued with a win in heat eight, but Riss suffered mechanical issues meaning a shared heat which left Ipswich four points to the good.
Ellis was a winner in heat nine ahead of King as Stefan Nielsen held off Barker for third for a 2-4 but that was cancelled out in heat 10 as Doyle won again and Howarth got the better of Riss for second meaning a 4-2 to Ipswich. The scores were level after heat 11 though as Cook and Harris teamed up for a maximum. Heat 12 was stopped as Hume fell at the end of the opening lap and was excluded. Musielak won the re-run as King had to work hard to see off Nielsen for second but a heat advantage to Sheffield edged them two points ahead with just three to race.
Heat 13 didn't get past the first turn as Harris hit the deck, but all four riders were called back for another go. The Witches duo of Doyle and Batchelor were looking good for a 5-1 in the re-run, but Harris managed to get past Batchelor and split the home pair meaning it was all level again on the night. The decisive blow was struck in heat 14 as Howarth and Nielsen recorded a 1-5 to put the Tigers four points in front. Doyle completed his paid maximum with a win in heat 15 but despite a good start Batchelor was unable to join his teammate at the front meaning it was Sheffield took victory.
REACTION FROM THE BOSS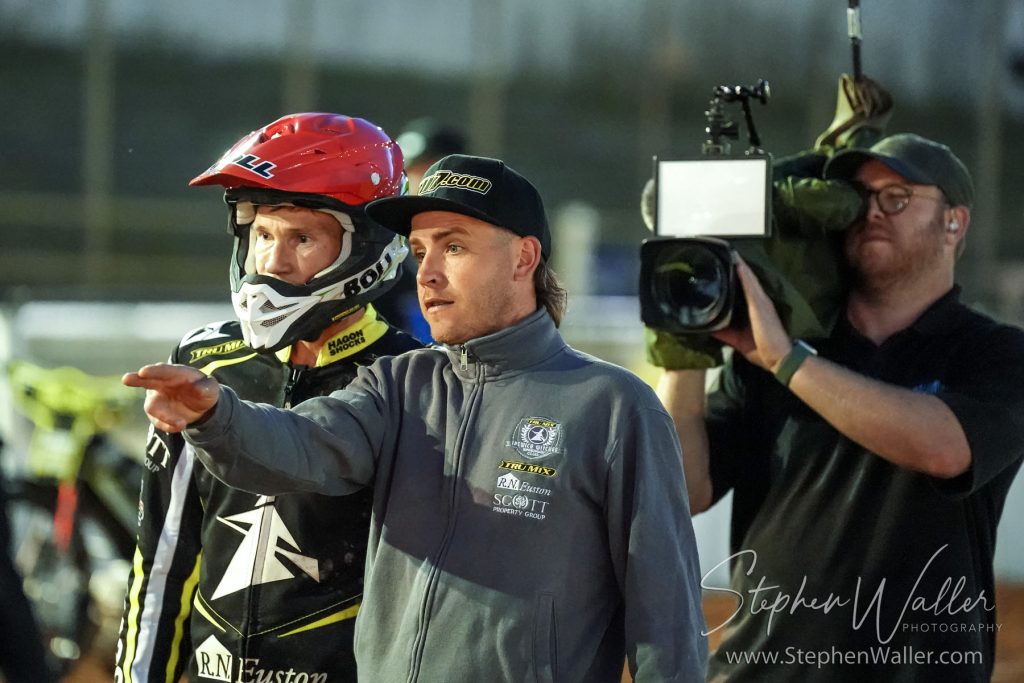 Ipswich 'Tru Mix' Witches team manager Ritchie Hawkins reflects on Monday's defeat to Sheffield.
"It was a disappointing result, and we simply were not strong enough throughout the side. We had too many riders not quite on it. Sheffield punished us for our mistakes, and they are a good team. We were not better than them tonight, they deserved the win. Without performing anywhere near our best we weren't far off their standard though.
"Paul has had x-rays on his wrist, and they didn't find any breaks so hopefully the ligament damage will improve quickly. We missed him because he has been going really well and it is good that it is the start of the season because hopefully, we are getting all these illnesses and injuries out of the way early doors. Troy was suffering from illness tonight and was also carrying an injury from a crash the other night. At the moment every week we have someone ill or riding ill, or riding injured so hopefully we can get everyone fit soon.
"Danyon was great, he came into the team and did really well at Wolverhampton. His improvement tonight compared to two weeks ago was massive. He certainly warrants his place in the team, and he has been a delight to have in the side. He was one of two riders who will go away really happy tonight.
"Doyley was superb, he is making a good partnership with Erik at two. I think Erik didn't have a bad night, he had an engine blow up which is completely out of his hands, but they have made a very strong partnership at one and two. We weren't strong enough in the middle order tonight but after the start we have had, with an away win on the board already, it's not a disaster.
"It will be a tough one against Wolves next time out, but we need to get a win to get back on track in the league and it won't have been a terrible start to the league campaign if we can do that. I'm certainly not panicking, there is so much more to come from these boys, if we can cut out these errors and get everyone fit."
RN EUSTON RIDER OF THE NIGHT
Doyle was RN Euston's choice after completing a paid maximum from five rides.
WHAT IT MEANS
The Witches draw their first blank of the season whilst the Tigers make it two wins from two in the league and pick up three points on the road.
UP NEXT
A 'Tru Mix' Witches pairing travels to Peterborough for the first round of the Premiership Pairs on Monday 23rd May.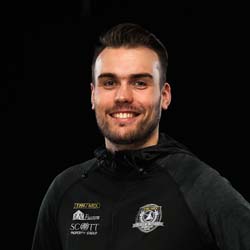 Digital Media Manager at Ipswich Speedway