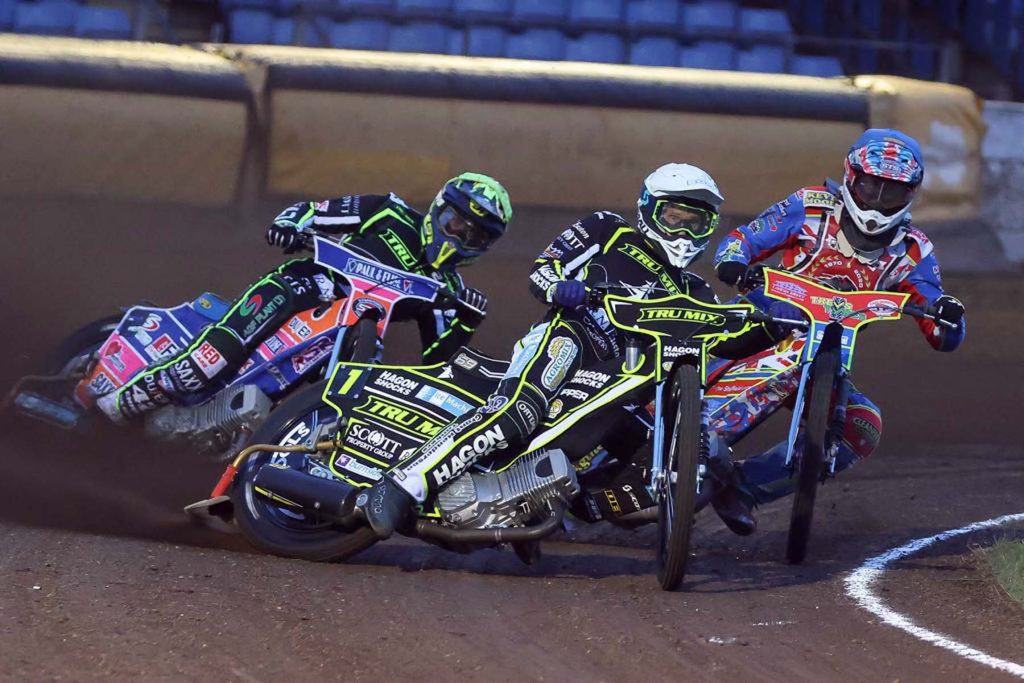 By Henry Chard
THE SCORES
PETERBOROUGH 45: Chris Harris 3+1, Simon Lambert (g) 8, Hans Andersen R/R, Benjamin Basso 11+1, Josh Pickering (g) 11, Scott Nicholls © 6+2, Jordan Jenkins (RS) 6+1. Team Manager: Rob Lyon
IPSWICH 45: Jason Doyle 17, Aaron Summers 5+2, Troy Batchelor 4+2, Rohan Tungate 11+1, Danny King © 4, Paul Starke 3, Anders Rowe (RS) 1+1. Team Manager: Ritchie Hawkins
REFEREE: W. Jarvis
PREMIERSHIP TABLE
| | | |
| --- | --- | --- |
| Team | Meetings | Points |
| Ipswich | 18 | 40 |
| Belle Vue | 17 | 35 |
| Wolverhampton | 19 | 34 |
| Sheffield | 16 | 33 |
| King's Lynn | 16 | 21 |
| Peterborough | 18 | 12 |
THE STORY
The 'Tru Mix' Witches claimed another dramatic Super Heat victory over the Peterborough Panthers on Monday night in the Premiership.
The Panthers went into the fixture bottom of the table and hit by injuries with the Witches sitting top of the table and their play-off place already confirmed. There was little to separate the two sides in the opening seven heats with the hosts holding a two-point lead before they extended that lead to eight with just three races remaining.
However, once again this season Ipswich never gave up and clawed the eight points back to take it to the Super Heat where Jason Doyle and Rohan Tungate produced the goods in stunning style to take the three points. Doyle top scored with 17.
Doyle won a shared heat one from the gate before Peterborough reserve Scott Nicholls did the same in heat two. The points were shared again in heat three as Benjamin Basso held off Tungate to win and Troy Batchelor kept Simon Lambert behind him for a point. Danny King went through the tapes in heat four and was replaced by Paul Starke for the re-run. However, the restart was stopped on the opening lap as Anders Rowe lifted coming out of turn two and pushed his teammate Starke into the fence on the back straight causing a heavy fall at high speed. Rowe was excluded and the Panthers took advantage hitting a 5-1 in the re-run to go 14-10 up.
The Witches hit back in heat five though as Doyle and Aaron Summers raced to a maximum to level the score. The hosts went back in front in heat six as Panthers guest Lambert produced a fine ride to beat King with Chris Harris third for a 4-2. Tungate won heat seven by a distance, but his partner Batchelor was relegated to the back by home guest Josh Pickering which resulted in a 3-3. Lambert was proving to be an excellent guest for the hosts, and he won again in heat eight as Summers rode well to pass Jordan Jenkins but a 4-2 to Peterborough gave them a 26-22 lead.
Nicholls made the start in heat nine ahead of King, but Basso first swooped round the Ipswich captain before going around his teammate for a 5-1 that extended their lead to eight points. The away side responded in heat 10 as Tungate won again and Batchelor held off Harris for a maximum. Pickering won heat 11 and was joined by Nicholls early on before Doyle flew past the Panthers reserve into second and then Summers cut back on the final turn of the race to snatch a point for a shared heat. Jenkins won heat 12 and Basso passed Batchelor for a 5-1 that put the hosts eight points in front with just three races to go.
Harris packed up on the start line in heat 13 as Doyle and King raced ahead but Pickering managed to split the Ipswich pair which meant a 2-4 to the Suffolk side to reduce Peterborough's lead to six. Team manager Ritchie Hawkins put Doyle in as a tactical substitute in heat 14 and the number one duly took the chequered flag ahead of Basso and Tungate worked hard to pass Nicholls for third, meaning another heat advantage took it to a last-heat decider with the Witches needing a maximum to take it to a Super Heat. Remarkably, Doyle and Tungate produced the goods and eased to a maximum in heat 15 to take it to a Super Heat against the Panthers for the second time this season.
It was Doyle and Tungate who were sent out again for the Super Heat against Pickering and Basso. Guest Pickering made the start, but the sublime Doyle roared round the Panthers man at the end of the opening lap to lead. Tungate was relegated to the back on the back straight of the second lap, meaning that the home side would take the win with the 4-3-2-0 scoring system. However, Tungate produced a sensational final lap to first get past an out of shape Basso and then he blasted around Pickering on the final turn to join his teammate for a 7-2 to hand Ipswich a stunning victory on the road.
REACTION FROM THE BOSS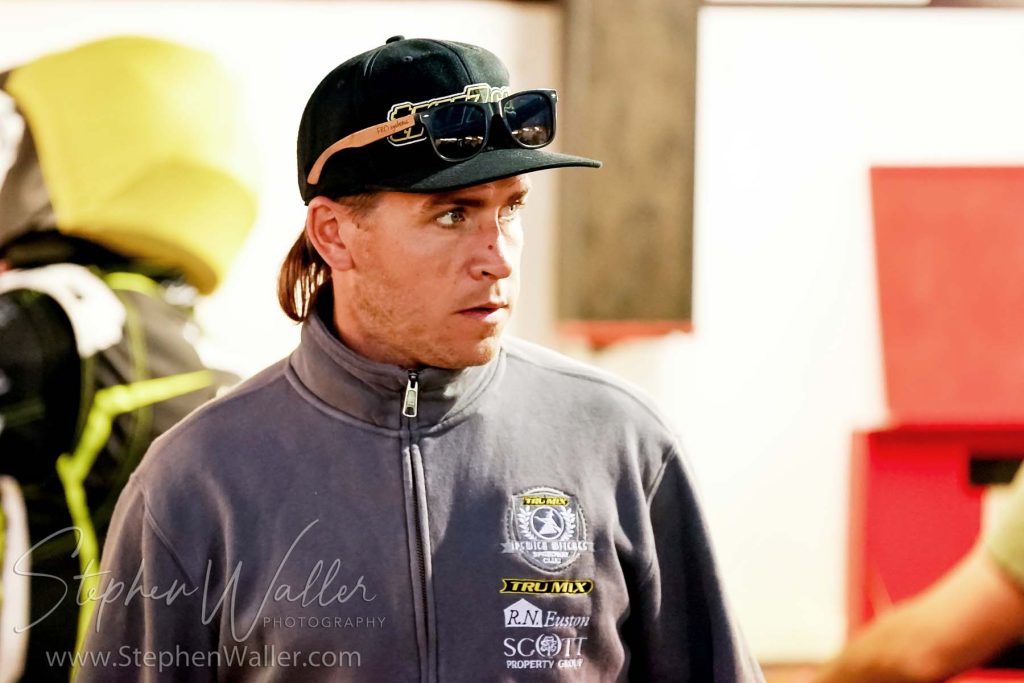 Ipswich 'Tru Mix' Witches team manager Ritchie Hawkins reflects on Monday's win at Peterborough.
"I'm obviously delighted to get the win in the Super Heat and I'm very happy with our fight, belief and will to win. However, overall, it wasn't a great performance as a one to seven but in saying that we keep walking away with wins at the end of the night
"It has happened so regularly to us, and we have come out on the right end of the result more often than not and that helps being in that position so often this year. There is no panic and we seem to have an extra gear or so to step up to. Being led by Jason Doyle is a massive advantage because when it comes down to those heat 15s and Super Heats, you back him every time. We have got enough riders in the team who are extremely good riders on their day, who maybe just are not as consistent as Doyley but on their night with at least one or two of them going well, it gives us a very strong pairing in those big races.
"Overall, the meeting wasn't filled with great racing but that Super Heat was an epic race and was certainly the best race of the night and it was great to see. Rohan was terrific again and he is certainly enjoying his time back at Ipswich and looked very good.
"Paul is an injury doubt again now, he has had a few knocks this year and is struggling with his shoulder. Hopefully with a couple of days rest he will be good to go. Certainly, early on in the meeting Anders wasn't far off the pace. He needs more meetings and to be racing regularly back in the UK and another one on Thursday will certainly help him."
RIDER OF THE NIGHT
Not for the first or last time it was former world champion Doyle who racked up the points, scoring 17 on this occasion before winning the Super Heat with a special mention to Tungate who was instrumental in securing victory.
WHAT IT MEANS
Ipswich pick up three points and hold a five-point lead at the top of the Premiership whilst Peterborough pick up a point for their efforts and stay bottom of the table.
UP NEXT
The 'Tru Mix' Witches host the Peterborough Panthers at Foxhall Stadium on Thursday 8th September in a Premiership fixture. Tickets can be purchased on the gate and in advance here.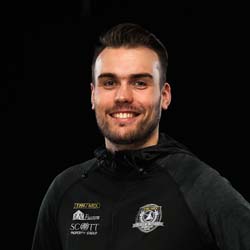 Digital Media Manager at Ipswich Speedway