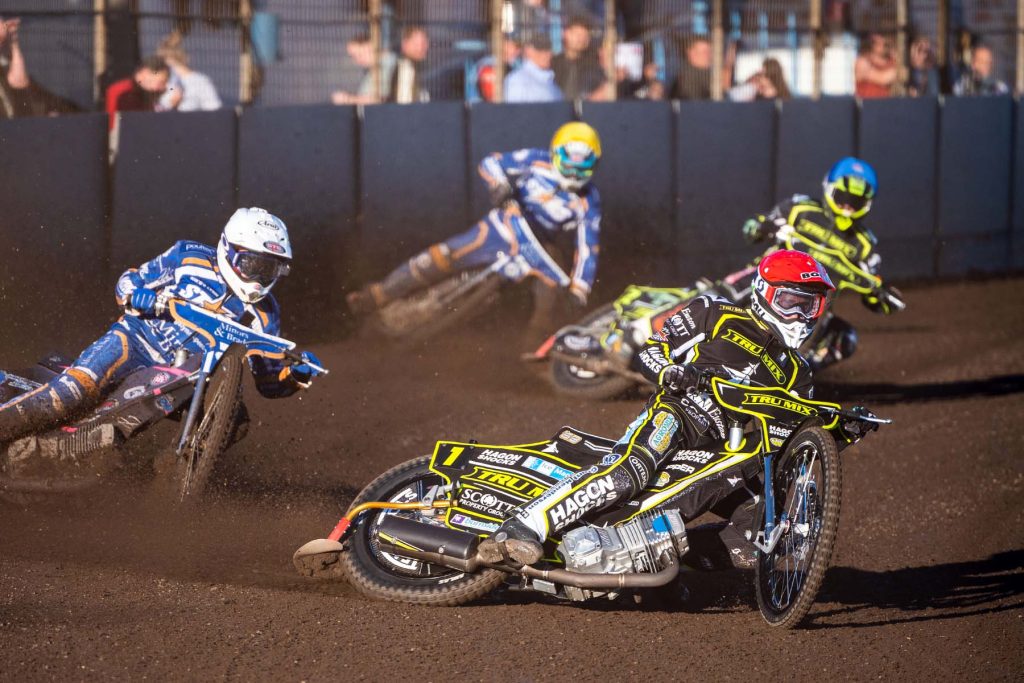 By Henry Chard
QUALIFYING SCORES
IPSWICH 27: Jason Doyle 14, Danny King 10, Danyon Hume (RS) 3. Team Manager: Ritchie Hawkins
KING'S LYNN 27: Josh Pickering 17, Richard Lawson 10, Jason Edwards (RS) 0. Team Manager: Alex Brady
SHEFFIELD 23: Jack Holder 14, Adam Ellis 9, Connor Mountain (RS) 0. Team Manager: Simon Stead
PETERBOROUGH 21: Chris Harris 19, Hans Andersen 0, Jordan Jenkins (RS) 2. Team Manager: Rob Lyon
BELLE VUE 20: Max Fricke 6, Matej Zagar 12, Tom Brennan (RS) 2. Team Manager: Mark Lemon
WOLVES 17: Sam Masters 5, Steve Worrall 10, Leon Flint (RS) 2. Team Manager: Peter Adams
SEMI-FINAL: Holder, Pickering, Ellis, Lawson – 6-3 to Sheffield
FINAL: Holder, Doyle, King, Ellis, 5-4 to Ipswich
REFEREE: A. Steele
PREMIERSHIP PAIRS TABLE
| | |
| --- | --- |
| Team | Points |
| Ipswich | 26 |
| Sheffield | 24 |
| King's Lynn | 22 |
| Belle Vue | 14 |
| Peterborough | 6 |
| Wolverhampton | 4 |
THE STORY
The 'Tru Mix' Witches pairing of Jason Doyle and Danny King won Round 3 of the Premiership Pairs at King's Lynn on Thursday night.
Ipswich went into the meeting having won Round 2 at Foxhall last time out and they topped the qualifying scores with four heat advantages from five which meant they went directly into the final. They met Sheffield once again in the final and although Jack Holder won the race, Doyle and King both worked hard to get amongst the points which sealed victory in Norfolk and put the Witches top of the overall standings.
Doyle stormed to victory in heat two ahead of Josh Pickering as King muscled his way past Richard Lawson for third on the back straight of the opening lap meaning it was a 6-3 to Ipswich over the King's Lynn Stars.
Holder got the better of Doyle coming out of the second turn of heat six and held off the hard-chasing Doyle for four laps to take the victory but with King sat in third it was a 5-4 to the Witches over Sheffield.
Team manager Ritchie Hawkins put Danyon Hume in for Doyle in heat eight for his 'Rising Star' ride and he made the gate to lead early on before being passed by Chris Harris. However, with King in third ahead of Jordan Jenkins it was another heat advantage to Ipswich with a 5-4 over Peterborough.
Doyle was a convincing winner in heat 10 but the Aces pairing of Matej Zagar and Max Fricke were both in the points meaning a 5-4 to the Belle Vue Aces.
King and Doyle were dominant in heat 14 and raced to a comfortable 7-2 heat advantage over Wolverhampton, a result which meant Ipswich progressed directly to the final.
Sheffield then got the better of hosts King's Lynn in the semi-final to meet the Witches in the final, as was the case in the last round at Foxhall. Holder won the final ahead of Doyle as King worked hard to get into third to secure a 5-4 to Ipswich and give the Suffolk side another round victory.
REACTION FROM THE BOSS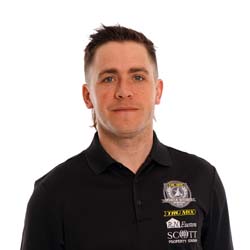 Ipswich 'Tru Mix' Witches team manager Ritchie Hawkins reflects on Thursday's third round at King's Lynn.
"It was a great night, and it was great to win again especially at King's Lynn and not at our own track. I'm delighted with the progress we have made after a poor first round. To take two wins and get back to the top means we are in prime position in the table.
"We got off to a good start in the meeting, so we were in a good position. Danyon came in and did very well, he wasn't far off being used again because he was that good. However, to win the meeting you need to rely on your big riders, and we used the heats to get Danny set up and his last two races were very good, so the plan worked.
"Doyley is in superb form and was pretty dominant again tonight. Danny is getting there and there are massive flashes of what we know he can do. It was vintage Danny King around the boards in the final and when he rides like that it is a joy to watch. I'm very happy with his improvements over the last few weeks.
"We are only halfway through and haven't got a huge lead at the top so that can change in the next round very easily. We have gone well at Wolves this year so we will go there off the back of two wins and with confidence. We are doing very well and need to keep going because another poor round will drop us down the standings."
WHAT IT MEANS
Ipswich go to the top of the table, picking up 12 points which puts them above Sheffield and King's Lynn.
UP NEXT
The 'Tru Mix' Witches host the Belle Vue Aces at Foxhall Stadium on Thursday 14th July in a Premiership fixture. Tickets can be purchased here.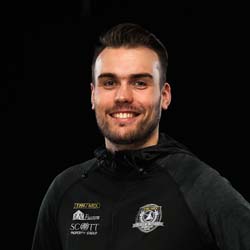 Digital Media Manager at Ipswich Speedway