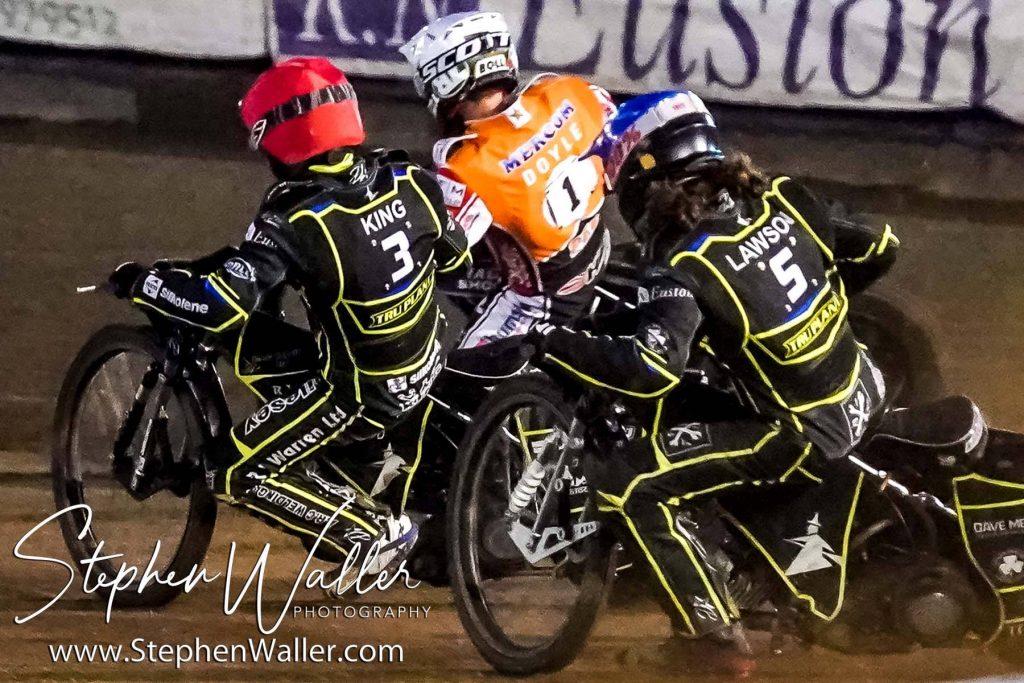 THE SCORES…
IPSWICH 37: Nico Covatti (g) 12+1, Danny King 8+1 ©, Richard Lawson 5+1, Cameron Heeps 4+1, Chris Harris 4, Krystian Pieszczek 2+2, Jake Allen 2. Team Manager: Ritchie Hawkins
SWINDON 53: Troy Batchelor 14+1 (Paid Maximum), Jason Doyle © 11+1 (Paid Maximum), Tobiasz Musielak 10, Adam Ellis 7+1, Rasmus Jensen 5+1, Ellis Perks 4+1, Kevin Doolan (g) 2. Team Manager: Alun Rossiter
REFEREE: C. Gay
VENUE: Foxhall Stadium
MEETING SPONSORS…
RN Euston – RN Euston Limited has supplied steel framed buildings in East Anglia for over 40 years. Established by Ray Euston the business has grown steadily over the years and now Ray works in partnership with his son Mark. The company is based in Suffolk and work all over East Anglia where they have gained a reliable reputation.
West Property Management – At West PM, they are experts in home improvement and development. Whether you want to give your home a tidy up with our painting and decorating services. Over the years, they've transformed hundreds of houses into homes. They offer single and double-storey extension services, as well as conservatory and outbuilding construction.
PREMIERSHIP TABLE
| | | |
| --- | --- | --- |
| Team | Meetings | Points |
| Poole | 16 | 36 |
| Ipswich | 19 | 36 |
| Belle Vue | 20 | 35 |
| Swindon | 17 | 32 |
| Wolverhampton | 19 | 29 |
| King's Lynn | 17 | 25 |
| Peterborough | 18 | 17 |
WHAT HAPPENED?
The 'Tru Plant' Witches fell to a heavy defeat at Foxhall on Thursday night as they were beaten 37-53 by the Swindon Robins.
It was a miserable night for Ipswich who started slowly and never recovered. The home team provided just three race winners all night as the Robins extended their lead further and further as the night went on, to record their first away win of the league season. Guest Nico Covatti top scored for the hosts with 12+1 from reserve.
The Robins started with a 5-1 in heat one thanks to Adam Ellis who won, and Jason Doyle followed him home, making it consecutive home meetings that the hosts had started with a 5-1 against them. The home pair made the gate in heat two and were on a 5-1 with guest Covatti and Krystian Pieszczek at the front but as Covatti entered the third turn on the opening lap, he pushed the Pole wide and he dropped to the back meaning a 3-3. The Robins started heat three on a 5-1 with Rasmus Jensen at the front but Danny King managed to get past Tobias Musielak to limit the damage to a 4-2 to the away side, leaving the Robins 6-12 up.
Troy Batchelor eased to victory in heat four to continue Swindon's strong start as Covatti and Richard Lawson ensured it ended in a share of the points. Things got worse for the Suffolk side in heat five as Doyle and Ellis recorded another maximum for the Robins to put them 10 points in front. Chris Harris led heat six, but Batchelor went under the Witches number one coming out of turn four on the second lap to take the lead as the heat was shared, giving Swindon a 13-23 lead, with the Witches struggling.
Heat seven was stopped with a Robins rider warned for moving at the start but it was Musielak who won the re-run ahead of Lawson and Pieszczek in a 3-3 as his partner Jensen retired on the first turn after locking up, but that kept the away side comfortably ahead. Guest Covatti was the only Witches rider to have won a heat up to this point and he won again in heat eight as Ellis held off Cameron Heeps for second as the Witches got their first heat advantage of the night. Covatti's form saw him replace Jake Allen in heat nine but he couldn't stop Batchelor from taking his third win of the night and it was another shared heat, meaning the Robins held a 23-31 lead with six heats to race.
Things went from bad to worse in heat 10 as the visitors claimed another 5-1 via Musielak and Jensen. The away side provided yet another race winner in heat 11 as Doyle took the chequered flag in a 3-3 that left the Robins on the brink of victory. Heat 12 was stopped with Covatti warned for moving at the start. King won the re-run after a battle with Ellis Perks and Covatti picked up a point for a 4-2 to the hosts as they trailed Swindon 31-41 with three to race.
King was back out in heat 13 as a tactical substitute replacing Harris but the home pair could do nothing to stop Doyle and Batchelor racing to a 5-1 that sealed their victory. Perks replaced Kevin Doolan for the away side in heat 14 as Musielak won ahead of Allen and Perks took third for another heat advantage to the away team. Musielak went off 15 metres in heat 15 having gone through the tapes as partner Batchelor completed his five-ride paid maximum with a win in a shared heat, giving Swindon a convincing 37-53 win in Suffolk.
RN EUSTON & WEST PROPERTY MANAGEMENT RIDERS OF THE NIGHT…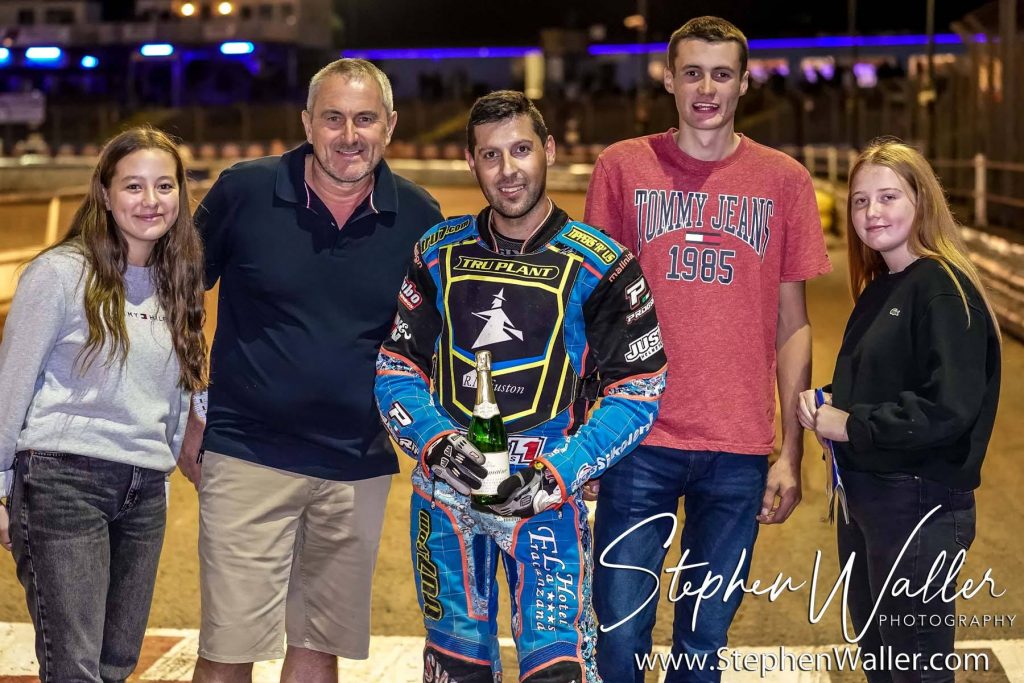 Covatti picked up both of the Rider of the Night awards from the sponsors after he scored 12+1 from reserve and the former Witch was the only shining light for Ipswich on the night.
KEY MOMENT…
In truth the home team were poor from the off and there was no defining moment in their defeat. Any hopes of a dramatic comeback were dashed with a Robins 5-1 in heat 10, that saw the hosts fall 12 points behind with just five races to go.
WHAT IT MEANS…
Ipswich fail to add to their tally after this defeat and stay second in the table whilst Swindon boosted their play-off hopes considerably, collecting four points and moving into the top four.
WHAT'S NEXT?
The 'Tru Plant' Witches host the Peterborough Panthers at Foxhall Stadium on Thursday 22nd August in a Premiership fixture at 7.30pm.
AROUND THE TRACKS…
King's Lynn comfortably beat Wolverhampton 54-36 at the Adrian Flux Arena. Ipswich asset Drew Kemp won the British Under-19 Championship at Redcar after a 15-point maximum.
Click here for reaction from team manager Ritchie Hawkins.