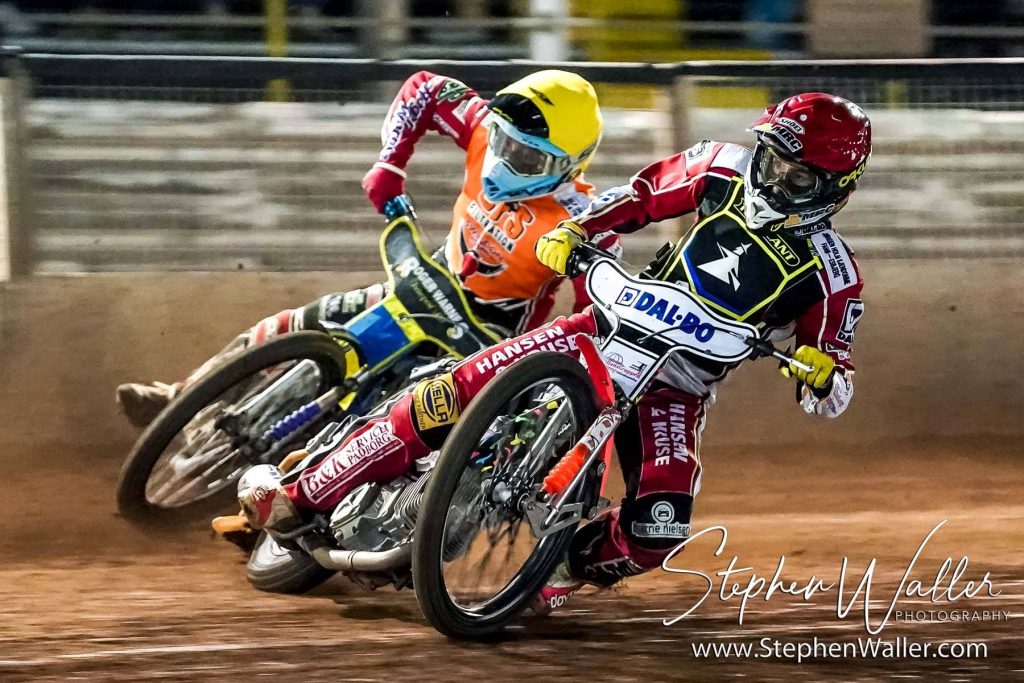 THE SCORES…
IPSWICH 48: Niels-Kristian Iversen 11+2, Cameron Heeps 9+2, Jake Allen 9+1, Danny King © 9, Chris Harris 7, James Sarjeant 3, Richard Lawson 0. Team Manager: Ritchie Hawkins
SWINDON 42: Troy Batchelor 12+1, Jason Doyle © 9, Ellis Perks 7+2, Tobiasz Musielak 6, Rasmus Jensen 4+1, Adam Ellis 3+1, Claus Vissing 1. Team Manager: Alun Rossiter
REFEREE: P. Carrington
VENUE: Foxhall Stadium
PREMIERSHIP TABLE
| | | |
| --- | --- | --- |
| Team | Meetings | Points |
| Swindon | 22 | 43 |
| Wolverhampton | 23 | 42 |
| Poole | 21 | 42 |
| Ipswich | 23 | 42 |
| Belle Vue | 24 | 41 |
| King's Lynn | 21 | 31 |
| Peterborough | 22 | 17 |
WHAT HAPPENED?
The 'Tru Plant' Witches produced a fine performance under pressure to beat Swindon 48-42 at Foxhall on Thursday night in the Premiership, securing their place in the play-offs.
It was a big night for the home side, who after a poor run of form needed a win against the league leaders to take a big step towards the play-offs. Ipswich were up for the fight and started strongly building an eight-point lead after eight races as Niels-Kristian Iversen set a new track record of 55.4 seconds in heat one. The hosts increased that lead to 12 points and although Swindon fought back, the Witches had done enough to secure the victory. Belle Vue's failure to collect four points at Peterborough meant that Ipswich had sealed their place in the end of season play-offs. Iversen top scored with 11+2 for the hosts.
The Witches made the perfect start in heat one as Iversen won and partner Cameron Heeps held off former world champion Jason Doyle for second for a 5-1. Iversen also set a new track record of 55.4 seconds beating the 55.5 set by Danny King in March 2017. Ellis Perks won heat two for the visitors ahead of Jake Allen as Claus Vissing took third for a 4-2 to the Robins. Chris Harris won heat three from the gate, but partner Richard Lawson was relegated to the back on the final lap as Rasmus Jensen came through meaning a shared heat that left Ipswich 10-8 up.
Allen won heat four ahead of Troy Batchelor and Danny King was third for a heat advantage to the hosts. With the Swindon pair having made the gate in heat five, Harris produced a fine ride to pass both Adam Ellis and Doyle to secure a 3-3 and prevent a heat advantage to the Robins. Heat six was stopped and Batchelor was given a warning for moving at the start, but he won the re-run comfortably in another shared heat, making it 20-16 to the Witches.
King won heat seven for the hosts as James Sarjeant claimed a valuable point in third for a 4-2 to the home side that gave them a six-point lead. Heeps was enjoying a good return to action following his injury lay-off and he won heat eight as Ellis split the home pairing with Allen third, meaning another heat advantage to Ipswich that extended their lead. However, the Robins hit back in heat nine as Batchelor won and Perks held off Harris for a maximum heat advantage to the away side that made the score 29-25 to Ipswich.
The Suffolk side had breathing room again after heat 10 as Iversen took the chequered flag and Heeps won the battle against Tobiasz Musielak to take second for a 5-1 to the Witches. Team manager Ritchie Hawkins brought in Allen to replace Sarjeant in heat 11 and it worked to perfection as he and King rode together to keep Doyle at bay and record consecutive maximums to give the Witches a 12-point lead with four to race. However, Swindon responded in heat 12 with a 5-1 of their own via Jensen and Perks, leaving Ipswich 40-32 with three heats to go.
Doyle won heat 13 for the Robins but King and Iversen kept Batchelor at the back to put Ipswich on the brink of victory. There were two changes in heat 14 as the Witches brought in Allen to replace Lawson and Batchelor came in for Vissing as a tactical substitute for the away side. Batchelor won for the Robins, but it was a crucial ride from Sarjeant as he took second to limit the away side to a 4-2, sealing the victory on the night for Ipswich. Iversen ended the evening with a win in heat 15 ahead of Doyle and Batchelor passed King for third for a share of the points that made the final score 48-42 to Ipswich.
RIDER OF THE NIGHT…
Iversen was brought to the club to give the team a genuine number one and in his two meetings so far, he has done just that. Iversen broke the track record at Foxhall in heat one and finished the night with victory in heat 15 as he finished on 11+2. Special mention must go to Heeps who on his return from injury scored 9+2 from four rides, partnering Iversen to two big 5-1's during the meeting.
KEY MOMENT…
Going into heat 14 the Witches were eight points up and on the brink of an important victory. Batchelor won but it was Sarjeant in second who proved to be the match-winner as he kept Musielak behind him with a determined ride to secure the three points and avoid the stress of a last-heat decider.
WHAT IT MEANS…
Ipswich take three points that confirms their spot in the Premiership play-offs. Swindon take a consolation point after this narrow defeat and stay top of the table. The four teams competing in the play-offs will be Swindon, Poole, Wolverhampton and Ipswich.
WHAT'S NEXT?
The 'Tru Plant' Witches travel to Dorset to face the Poole Pirates at Poole Stadium on Monday 16th September in their final Premiership fixture of the league campaign at 7.30pm.
AROUND THE TRACKS…
Wolverhampton raced to a 49-41 away win at Poole, with four points securing their play-off place. Belle Vue won 48-42 away at Peterborough but it wasn't enough as they missed out on a place in the top four.
Click here for reaction from team manager Ritchie Hawkins.