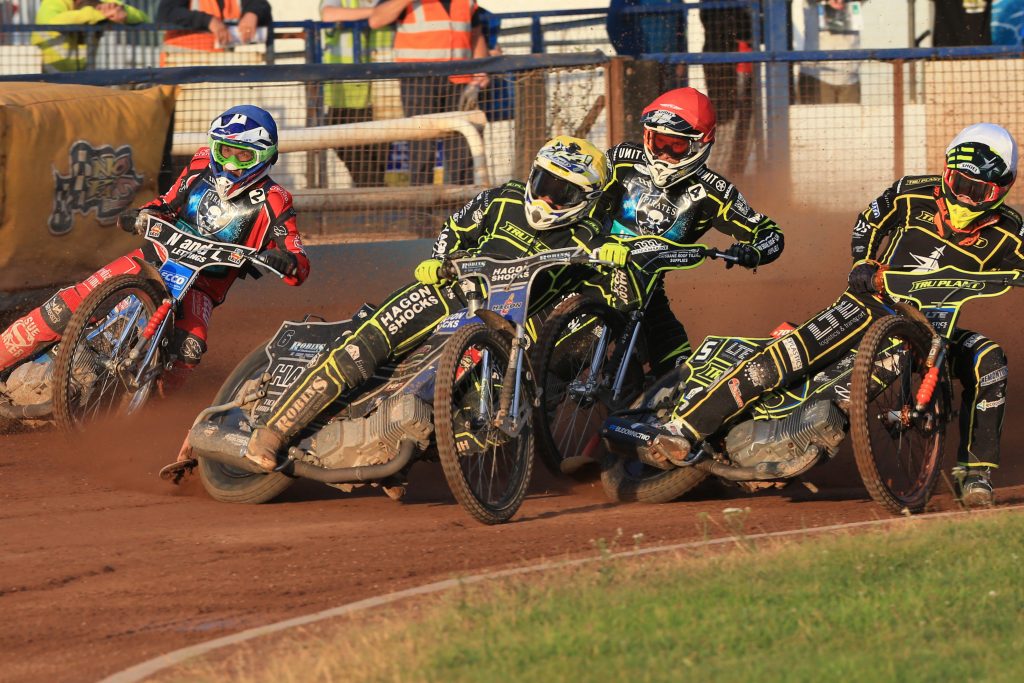 THE SCORES…
POOLE 48: Nicolai Klindt 10+2, Nico Covatti 10+2, Jack Holder 10+2, Josh Grajczonek © 10, Ben Barker (g) 5, Ricky Wells 3. Team Manager: Neil Middleditch
IPSWICH 42: Danny King © 13, Edward Kennett 9+1, Jake Allen 7, Krystian Pieszczek 5+2, Scott Nicholls (g) 4+1, Cameron Heeps 3, Richard Lawson 1. Team Manager: Ritchie Hawkins
REFEREE: J. McGregor
VENUE: Wimborne Road
PREMIERSHIP TABLE
| | | |
| --- | --- | --- |
| Team | Meetings | Points |
| Poole | 15 | 33 |
| Belle Vue | 16 | 31 |
| Ipswich | 15 | 30 |
| Swindon | 13 | 21 |
| Wolverhampton | 13 | 18 |
| Peterborough | 14 | 17 |
| King's Lynn | 14 | 16 |
WHAT HAPPENED?
The 'Tru Plant' Witches picked up a consolation point after a narrow 48-42 defeat at Poole on Thursday night in the Premiership.
The two sides were level-pegging for the first half of the meeting with the score 27-27 after heat nine. The hosts then kicked on and went eight points ahead going into heat 14 after three heat advantages. This enabled Ipswich to use their tactical substitute ride in the penultimate race which Danny King won as the visitors recorded a 4-2 to put them just six points behind going into the final heat. King won again to end the night and ensure the away side went home with a point for their efforts after losing by less than seven points. King top scored for the Witches with 13 points.
It was the dream start for the away side in heat one with a 5-1 as Cameron Heeps won and he was followed home by Scott Nicholls who was guesting for Ipswich in place of Chris Harris who was away on international duty. Former Witch Nico Covatti won heat two on his return from injury ahead of Edward Kennett and new Pirates signing Ricky Wells took third for a 4-2 to the hosts. Heat three was stopped as King was warned for moving at the start although it looked like the skipper had made the perfect start. In the re-run the home team went ahead with a maximum via Josh Grajczonek and Nicolai Klindt to put them 10-8 up overall.
Krystian Pieszczek was excluded after touching the tapes in heat four and was replaced by Kennett in the re-run. Jake Allen took the chequered flag for the Witches in the re-run ahead of Jack Holder as Kennett finished third for a heat advantage to the away side that levelled matters overall. Poole edged ahead again in heat five though as Grajczonek and Klindt were at it again and raced to a 5-1. It was all square again though after heat six as Kennett and Pieszczek responded with a maximum of their own to leave it level at 18-18.
King won a shared heat seven as he saw off Holder and Covatti as Pirates boss Neil Middleditch brought in Covatti to replace Ben Barker in heat eight. Bad luck followed for the Witches as Allen and Heeps were heading for a 5-1 but Heeps suffered mechanical issues and retired meaning a shared heat. Grajczonek won heat nine but with Kennett and Pieszczek filling the minor placings it was another 3-3 meaning the scores were still level at 27-27.
The Pirates went ahead in heat 10 as Barker beat King and Klindt made his way into third for a 4-2 to the home team. They extended that lead in heat 11 as Covatti and Holder teamed up for a 5-1 that put them six points ahead overall. Klindt won a shared heat 12 ahead of King and Kennett, leaving Poole 39-33 ahead as they moved closer to victory.
Holder won heat 13 for the Pirates but there was a great battle for second as Pieszczek and Barker went toe-to-toe with the Ipswich man coming out on top. However, a 4-2 to Poole put them eight points up and on the brink of three points. Being more than six points down, Ipswich team manager Ritchie Hawkins brought in captain King in heat 14 to replace Richard Lawson as a tactical substitute. The skipper went and won as Grajczonek retired whilst in the points meaning a 4-2 to the Suffolk side that put them just six points behind and with hopes of a consolation point going into the final heat. King was sent out again in heat 15 and he won a shared race to ensure the Witches made the trip back home with a consolation point after a 48-42 defeat.
RIDER OF THE NIGHT…
After a difficult evening at Wolverhampton on Monday where the skipper scored just 1+1, King bounced back in style with a captain's performance at Poole. The 2016 British champion scored 13 points and his wins in heats 14 and 15 made sure that Ipswich took a point from the meeting.
KEY MOMENT…
Going into heat 15, Poole had already won the meeting but there was a point on the line for the Witches, the least that their efforts throughout had deserved. Ipswich needed a race winner to ensure they got that point and King handled the pressure as he won the heat, meaning the away side added to their points tally this season.
WHAT IT MEANS…
Poole take three points after this win that puts them top of the Premiership table. Ipswich take a point and they stay third in the table.
WHAT'S NEXT?
The 'Tru Plant' Witches host the Wolverhampton Wolves at Foxhall Stadium on Thursday 25th July in a Premiership fixture at 7.30pm.
AROUND THE TRACKS…
Swindon beat Wolverhampton 52-38 at the Abbey Stadium.