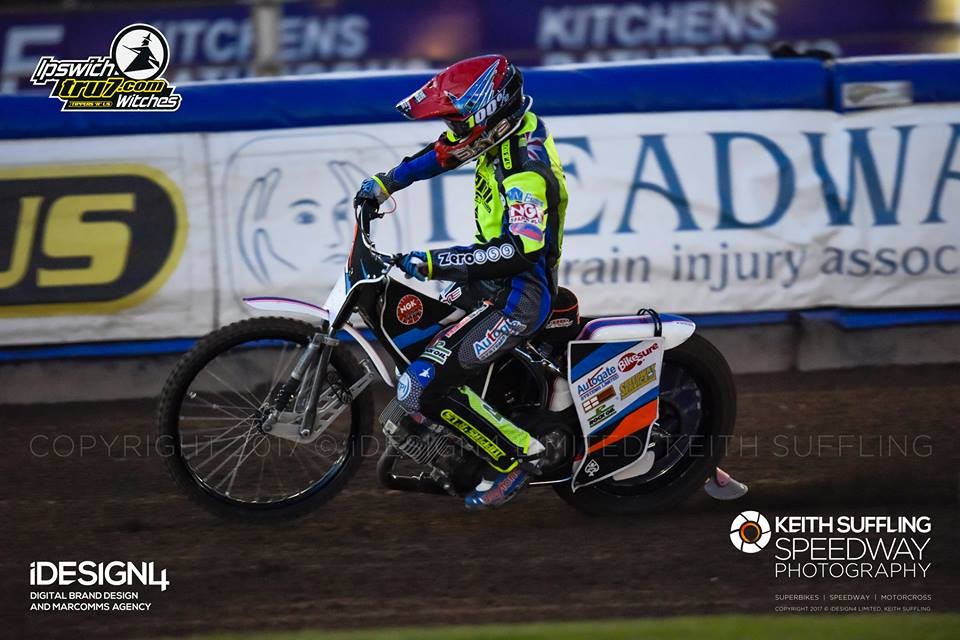 The 'Tru7.com' Witches produced a fantastic performance away at Berwick to win 50-40 and take all four Championship points.
After an even start to proceedings the Witches gained the upper hand and a strong finish to the meeting confirmed their victory. Rory Schlein was the top Witch with 15.
Track conditions were tough in heat one and it was a heat that was filled with incidents. Home rider Nick Morris took an early lead before locking up and being left at the back. Fellow debutant Jye Etheridge then fell at the end of the first lap leaving the Witches on a 5-1 but captain Danny King also fell on the second bend of the third lap forcing Cameron Heeps to take evasive action and lay the bike down. The referee awarded the race as a 3-3 with King excluded. Plenty of track work was done before heat two as home guest Ben Hopwood took the chequered flag as Connor Mountain got past Lee Payne on the second lap with Witches guest Jack Parkinson-Blackburn retiring at the back meaning a 4-2 to the Bandits. Schlein won heat three with Kyle Newman in third to even the scores up. Heeps led for the majority of heat four but was passed on the final lap by Lewis Bridger but with Parkinson-Blackburn going past Payne for third earlier in the race it meant a shared heat leaving the scores level at 12-12.
The Witches then got their first 5-1 of the night in heat five as King and Heeps coasted to victory. Schlein was a winner again in heat six as the points were shared before Bridger won heat seven with Schlein and Newman in second and third for a 3-3 as Hopwood fell at the back. Heeps was a comfortable winner in heat eight ahead of Payne as both Etheridge and Parkinson-Blackburn fell but the Witches guest remounted quickest to grab third and extend the Witches' lead to six points at 27-21.
Heat nine was re-run after an unsatisfactory start and Kevin Doolan won ahead of King with Liam Carr third as the home side clawed two points back. Schlein's fantastic form continued in heat ten as he rounded Morris to take the win in heat 10 with Newman third for a Witches 4-2. Heeps and King were leaders in heat 11 but Bridger threw everything at the visiting duo and passed King on the final bend to reduce the damage to a 4-2. However, there was another Witches 4-2 in heat 12 as Schlein won again and Parkinson-Blackburn held off Payne for third leaving the Witches 41-31 up and on the brink of victory.
King sealed the win after winning heat 13 in a shared heat before Newman got his first win in Witches kevlars in heat 14 and was followed home by Parkinson-Blackburn in second after he had passed Payne for a 5-1. Doolan won the final heat as Bridger joined him at the front for a home 5-1 that meant nothing as the Witches ran out 50-40 to take four league points.
'Olympus Marquees' Berwick Bandits 40
Nick Morris 7+1
Jye Etheridge 2+2
Kevin Doolan (c) 11
Liam Carr 2
Lewis Bridger 12+1
Ben Hopwood (g) 3
Lee Payne 3 
Ipswich 'Tru7.com' Witches 50
Danny King (c) 9
Cameron Heeps 13+1
Rory Schlein 15
Kyle Newman 6+1
Connor Mountain 2
Jack Parkinson-Blackburn (g) 5+2
Championship Table
| | | |
| --- | --- | --- |
| Team | Pl | Pts |
| Edinburgh | 6 | 16 |
| Glasgow | 6 | 16 |
| Witches | 8 | 14 |
| Redcar | 6 | 11 |
| Sheffield | 5 | 9 |
| Peterborough | 5 | 9 |
| Workington | 4 | 8 |
| Scunthorpe | 9 | 7 |
| Newcastle | 4 | 6 |
| Berwick | 7 | 0 |
Next Meeting: C1 4th May vs Glasgow (home)