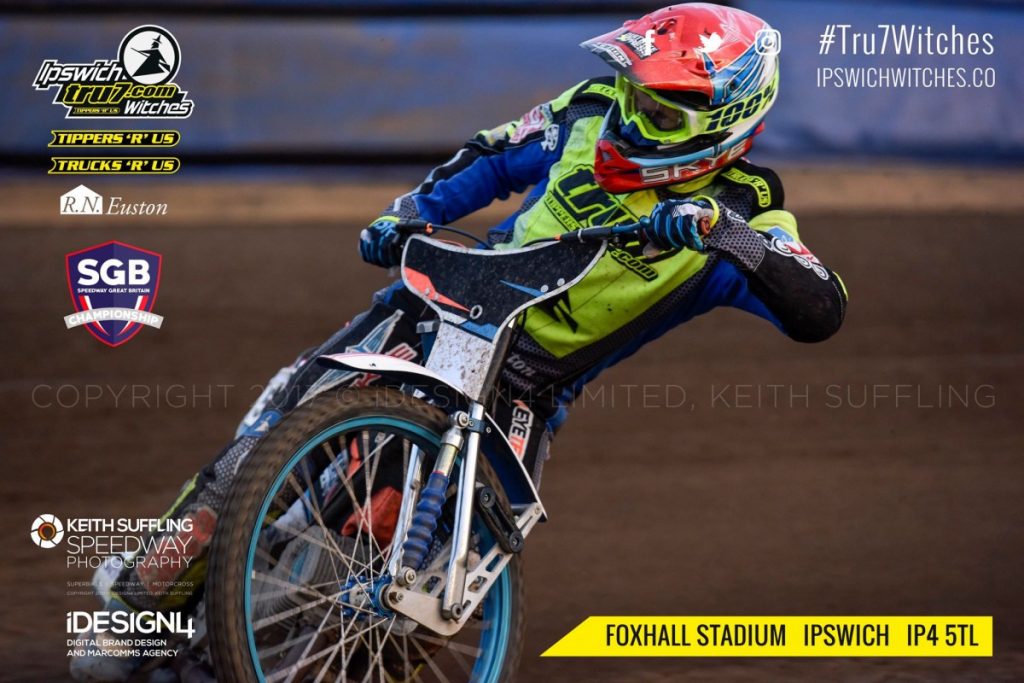 The 'Tru7.com' Witches survived a major scare to record a last heat 47-45 win at Berwick Bandits on Saturday in the Championship.
The visitors started the meeting in dominant style and looked to be heading for a convincing away win at the side propping up the table. However, after the interval the home side responded and led by two with a heat to go. Danny King and Rory Schlein produced a 5-1 in the final heat to secure three league points as the Australian led the way with 12+2 on the night.
King won heat one as Kyle Newman picked up third to put the Witches ahead from the off. Home reserve Jye Etheridge won heat two but Connor Mountain and Nathan Greaves were both in the points for a 3-3. The Witches then started to move up a gear and recorded a 5-1 in heat three thanks to Schlein and Cameron Heeps. The advantage was then extended in heat four as guest Tom Woolley fell for the home side and Kevin Doolan suffered an engine failure leaving Justin Sedgmen and Mountain to record a 5-0 to put the Witches 17-6 up.
King won heat five in a 3-3 but the Bandits were back in the tie after heat six. Guest Ryan Douglas was sent out on a tactical ride by Gary Havelock, which he duly won with Joe Jacobs second for an 8-1 to reduce the Witches' lead dramatically. However, the visitors reacted immediately in the following heat as Heeps and Schlein hit a maximum of their own. Newman won heat eight as Mountain collected third to extend the lead, putting the visitors 30-20 up.
Dany Gappmaier won heat nine with Greaves getting second ahead of David Howe, meaning a home 4-2 to give the Bandits some hope of a fightback. Douglas was proving to be an able guest for the home side and he won heat 10 but the heat was shared and the Witches looked to have things under control. However, it was far from the case as after the interval the home side came out firing as Etheridge and Doolan raced to a 5-1 in heat 11. Schlein won heat 12 with Greaves third to leave the Witches still in control and 40-34 up.
Things became very nervy for the Witches after heat 13 as Douglas and Doolan delighted the home fans with a 5-1 and in a remarkable turnaround the home side repeated the feat in heat 14 thanks to Howe and Etheridge to put them two points up with just one heat to go. Thankfully King and Schlein rose to the occasion in the final heat and recorded a vital 5-1 to give the Witches a 47-45 win and three league points.
'Olympus Marquees' Berwick Bandits 45
Ryan Douglas (g) 11+1
Joe Jacobs 6+1
Dany Gappmaier 6+1
David Howe 7
Kevin Doolan (c) 7+1
Jye Etheridge 8+1
Thomas Woolley (g) 0
Ipswich 'Tru7.com' Witches 47
Danny King (c) 10
Kyle Newman 5
Rory Schlein 12+2
Cameron Heeps 6+2
Justin Sedgmen 3
Nathan Greaves 5+1
Connor Mountain 6+1 
Championship Table
| | | |
| --- | --- | --- |
| Team | Pl | Pts |
| Edinburgh | 20 | 44 |
| Witches | 21 | 43 |
| Glasgow | 17 | 42 |
| Redcar | 19 | 35 |
| Sheffield | 16 | 33 |
| Peterborough | 18 | 28 |
| Newcastle | 16 | 22 |
| Workington | 12 | 21 |
| Scunthorpe | 22 | 20 |
| Berwick | 23 | 10 |
Next Meeting: C2 9th July vs Newcastle (away)