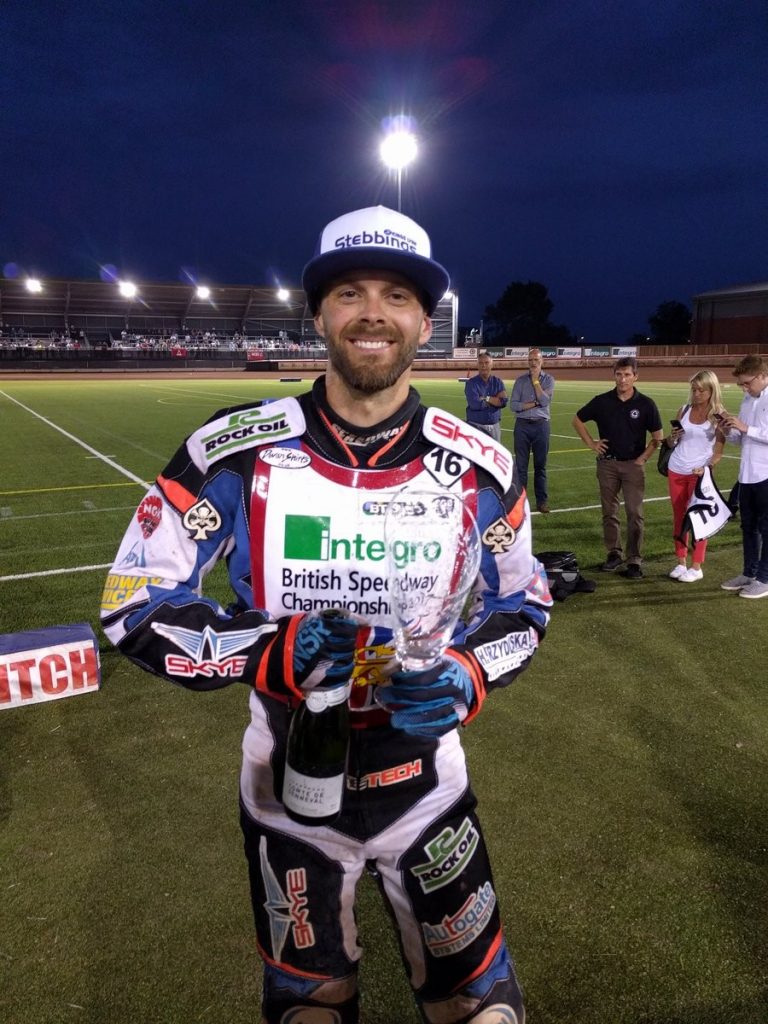 'Tru7.com' Witches rider Rory Schlein was delighted to finish third in Monday's British Championship Final at Belle Vue.
Home rider Craig Cook won the title with teammate Steve Worrall second and the Witches rider said it was great to be on the podium at the end of the night.
"We were coming here just to do as well as we could and third place is pretty good," said Schlein. "You just have to look at Cookie (Craig Cook) and he seems pretty quick around here so well done to him and to Stevie (Worrall). They are both good track specialists around here but it's always nice to be on the box!"
Schlein started the night with a last place but reeled off three straight wins after that before a third sealed a spot in the semi-final.
"We changed bikes after the first ride as it didn't quite feel right and we made some slight changes and it came good for us as the night went on."
The Australian rider was taking part in his first British Championship and relished the close racing in the showpiece event.
"I've raced in quite a few national championships back home in Oz and it is no different, the pressure is high and there are big stakes. That showed tonight with some pretty tough racing especially in the semi with me, Scotty (Nicholls) and Danny (King) going for it. That's how it should be and what the spectators want to see."
Schlein enjoyed two tussles with teammate and 2016 champion Danny King and says it is always good to race against the Witches skipper.
"Me and Danny go way back. The thing with Danny is that you can ride safe, the same with Scott and it pays off as you get good racing."
After an injury hit couple of seasons for Schlein, the Darwin-born rider is enjoying a successful 2017 and is pleased to see his hard work pay off.
"It just shows all the hard work and sacrifices I have put in are paying off and it is just nice to get a bit of silverware considering what we have had to go through over the last two years."
Words: Henry Chard
Qualifying Scores:
1st Craig Cook 14
2nd Steve Worrall 11
3rd Ben Barker 11
4th Rory Schlein 10
5th Danny King 10
6th Scott Nicholls 10
7th Richie Worrall 9
8th Chris Harris 9
9th Richard Lawson 9
10th Paul Starke 6
11th Lewis Kerr 5
12th Lewis Rose 5
13th Kyle Howarth 4
14th Stuart Robson 4
15th Jason Garrity 3
16th Carl Wilkinson 0
Semi-final:
Barker, Schlein, Nicholls, King
Final:
Cook, S.Worrall, Schlein, Barker