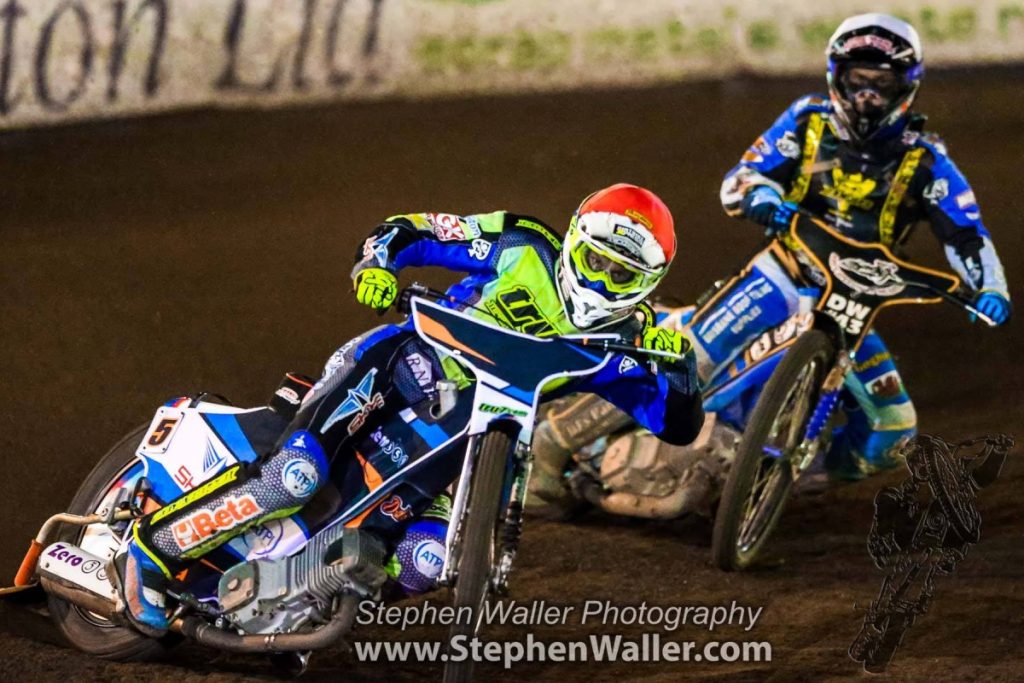 'Tru7.com' Witches rider Rory Schlein is embracing the underdogs tag as Ipswich go into the Championship final against Sheffield.
The Witches travel north on Thursday for the first leg before the deciding leg at Foxhall this Saturday and Schlein says the team have done remarkably well to get to the final and will be giving it everything over the two ties.
"We had a conversation about where we wanted to be at the end of the year and this is where we wanted to be, we have done that," said Schlein. "Considering all the things we have had to overcome with injuries it is a great achievement.
"It has been a long time since Ipswich won a championship and going in as underdogs is brilliant because everyone is picking Sheffield to win and I think that is great because if they lose they'll feel even worse! We are going to treat it like any other meeting, the crowd will be buzzing but it's a final and everyone will be putting it on the line."
The number five says that the team will be going to Owlerton looking to win after having a recent visit to the track to test new things ahead of the final and adds that it does not matter who has the first or second leg.
"I guess in a way it has taken a lot of pressure off both teams as the decision was taken out of their hands. We let a good result slip last time we were there but myself, Danny (King) and other guys were trying things because we sort of thought this would be the case where we are up against them in the final.
"We went there to get ready for this meeting so our performances won't be as sub-standard as they were last time. We will be going there to attack and win it. That would really turn the tables and they would be cacking their pants if we won the away leg. We're not going there just to keep it close we are going there for the win, simple as that."
Schlein says that set-ups are key at the Sheffield track, with it varying a lot during meetings.
"It is one of those tracks where I find set ups are very important. Quite a few times you find yourself chasing a set up. You seem to think you have got it right and then go out in the next one and you feel a mile off being fast.
"There is a ballpark there where you can jump in and out of set ups but we have been there a few times this year and a few of us have had guest appearances too. At the end of the day, weather could play a part too and Mother Nature could be on our side and make it a level playing field."
Schlein says that injuries have been a thorn in the side all year as Cameron Heeps returns for the final but Connor Mountain misses out but praised Chris Louis and Ritchie Hawkins for their team building.
"It is the same issue we had to deal with when we lost Nico (Covatti), Danyon (Hume) and Sedgy (Justin Sedgmen). It has been a thorn in our side and we seem to get the side back together and then lose someone. It is a shame because the spirt, morale and banter in this side is unbelievable. We have not let a lot phase us this year and that has been key even though we've had our backs to the wall all season.
"We still managed to finish second in the table and knocked out a very strong side in Edinburgh in the Play-Offs. I think that speaks volumes of what Chris and Ritchie have done in putting this team together and the way the boys have gelled and kept mentally strong whilst having fun characters around."
Ipswich squeezed past Edinburgh in the semi-final and the Australian says that the rain was a big factor in the first leg at Foxhall.
"That heat in the rain was a leveller, it played into Edinburgh's hands. We could have come away with a healthier lead if it was normal conditions but when it comes to Play-Offs it can become a bit tricky as we have seen on TV the last few nights.
"A 10 point lead was good but it was one that could go either way and it did! We got a 5-1 against us in the first heat at Edinburgh and straight away the lead was cut down to six but it was a tough battle all night at Foxhall and it wasn't until the end we started to put a gap into it."
Schlein likened the second leg against the Monarchs to a game of tennis as both sides continually put pressure on each other throughout the meeting.
"There is always pressure even in the first leg but I guess the pressure doubled in the second leg as any mistake could cost your team points and all sorts. You could see that from the drama that unfolded in the second leg and emotions were flying with everyone wanting to do really well. At the end of the day our mind-set didn't change even though we were on the back foot from heat one.
"The reserves popped in a good 5-1 in heat two and that put Edinburgh back under pressure and that is how it went the whole night. It was like a tennis game really and we were putting the pressure back over the net to each other."
The Darwin-born rider was the hero of the second leg after his heat 15 win secured the Suffolk side's place in the final and he admitted the pressure was massive.
"It was one of the highest pressured races I have been in for a very long time. I have been involved in them before, everyone knew what they had to do. Sam (Masters) and Rissy (Erik Riss) knew what they had to do. I knew Sam would make a good start off gate four, he had the best gate so I knew I needed to take care of Rissy in the first corner and then tuck in.
"I knew if there was a time I could get Sam it would be on the first lap. He left me enough room and I was able to push past him and ride away and going over the line was a lot of pressure off the shoulders and relief."
The 33-year-old is also in Premiership Play-Off action with Wolverhampton this week and says the busy spell is part of the job.
"Four Play-Off meetings in the space of five or six days isn't ideal but that is the way of the beast and if anything it makes you a bit more relaxed and cooler because you are doing one meeting and then the next one. Busy spells for speedway riders does not really faze us, we live through the whole nine months of the season flat out and this is no different. I'm looking forward to going to Sheffield on Thursday and loading the pressure on them."
Ipswich take on Sheffield in the deciding leg of the Championship Play-Off final this Saturday at Foxhall, 7.30pm. Kids go free to this meeting.
Words: Henry Chard
Championship Play-Off final
28.09.17 Sheffield v Ipswich
30.09.17 Ipswich v Sheffield
Schlein Profile
Date of Birth: 1 September 1984, Darwin, Australia
British career
2001-02 Edinburgh, Sheffield II
2003-04 Edinburgh, Belle Vue
2005-07 Coventry
2008 Coventry, Ipswich
2009 Coventry
2010 Coventry, Peterborough
2011-12 Belle Vue
2013-16 King's Lynn
2017 Wolverhampton, Ipswich
Honours:
South Australian State U16 Champion: 1998, 1999, 2000
Australian U16 Champion: 2000
Australian U21 Champion: 2003,2004
South Australia State Champion: 2004, 2005, 2006, 2007
Elite League Riders' Champion: 2011, 2013
World Cup Record
7 meetings, 36 points, 1 Bronze medal
2017 Witches form
Meetings: 40
Rides: 199
1st: 99
2nd: 53
3rd: 27
4th: 20
Points: 433
BP: 20