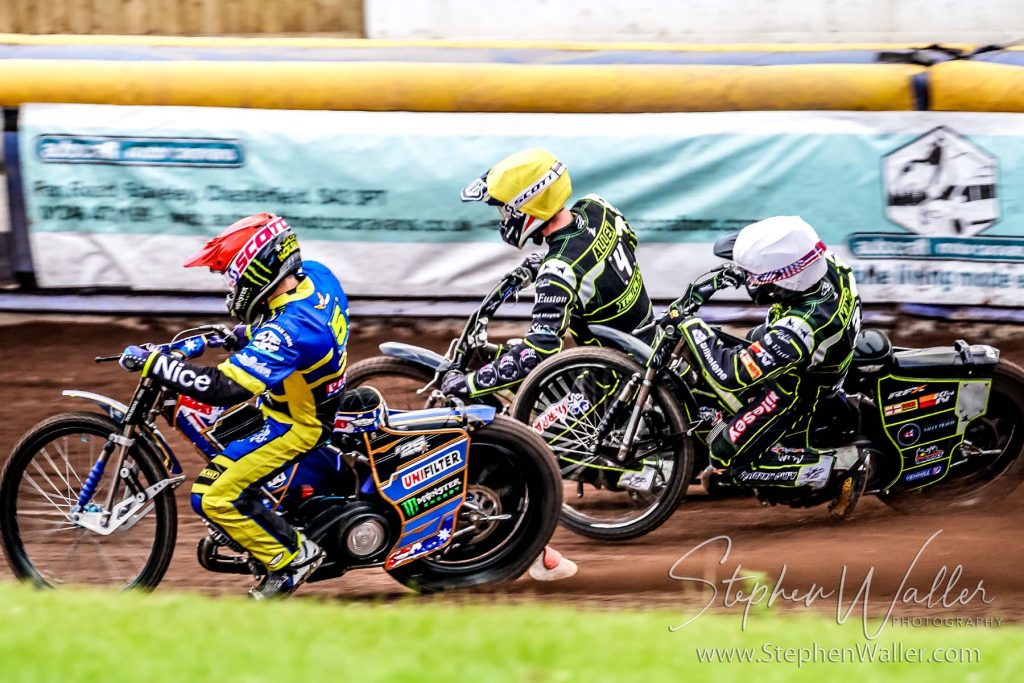 By Henry Chard
THE SCORES
SHEFFIELD 52: Jack Holder 10+2, Troy Batchelor 8+1, Kyle Howarth © 6+2, Josh Pickering 9, Adam Ellis 9+1, Danyon Hume (RS) 1, Stefan Nielsen 9+2. Team Manager: Simon Stead
IPSWICH 38: Jason Crump 5, Anders Rowe 1, Jake Allen 4+1, Chris Harris (g) 12+1, Danny King © 13, Paul Starke 2, Drew Kemp (RS) 1. Team Manager: Ritchie Hawkins
REFEREE: D. Watters
PREMIERSHIP TABLE
| | | |
| --- | --- | --- |
| Team | Meetings | Points |
| Wolverhampton | 16 | 42 |
| Peterborough | 14 | 36 |
| Belle Vue | 15 | 31 |
| Sheffield | 14 | 25 |
| Ipswich | 18 | 18 |
| King's Lynn | 15 | 10 |
WHAT HAPPENED?
The 'Tru Plant' Witches fell to another defeat on Thursday night in the Premiership as they were beaten away at Sheffield.
Ipswich were without Craig Cook going into the clash after he decided to take a break from racing to focus on his mental health, with Chris Harris coming in as a guest at number four. The Tigers started strongly and saw out their victory with relative ease. Danny King top scored with 13 points.
The Tigers started with a 5-1 courtesy of Troy Batchelor and Jack Holder in heat one and they followed that up with a 4-2 in heat two as Stefan Nielsen won ahead of Paul Starke and Danyon Hume picked up a point. Ipswich guest Chris Harris was excellent in his heat three win as he got the better of Josh Pickering with Jake Allen third for a heat advantage to the visitors. King won a shared heat four leaving the Witches four points down after the opening exchanges.
Sheffield extended their lead in heat five with a maximum before King continued his strong start with another win in heat six ahead of Holder and Batchelor as the points were shared. Newly crowned British champion Adam Ellis won heat seven in another 3-3 but the Tigers pulled 12 points clear with a 5-1 in heat eight.
Team manager Ritchie Hawkins responded in heat nine by putting Harris in as a tactical substitution and although King made it three wins from three, Harris couldn't get amongst the points which resulted in a 3-3. Holder won heat 10 but Harris managed to split the home pair as he got past Batchelor for second, limiting the South Yorkshire side to a 4-2. Jason Crump won heat 11 for the Witches ahead of Ellis as Anders Rowe claimed third for a heat advantage to the away side. Kyle Howarth won heat 12 and Starke held second before having to retire with bike issues and although Allen won the battle against Nielsen it resulted in a heat advantage to the home team that put them on the brink of victory.
The result was confirmed in heat 13 as Ellis and Holder raced to a 5-1. Harris was proving to be a good choice of guest and he won a shared 14. Ipswich finished with a flourish as King and Harris teamed up for a 1-5 in the final race of the night, leaving the final score 52-38 to Sheffield.
HAWKINS REACTION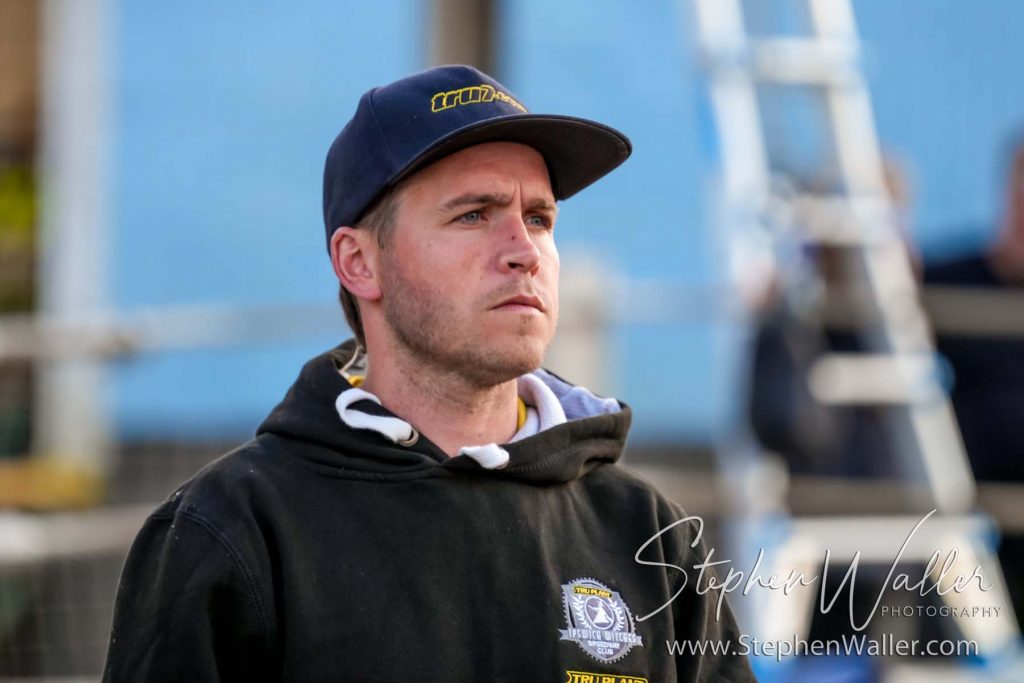 Ipswich 'Tru Plant' Witches team manager Ritchie Hawkins reflects on defeat in South Yorkshire.
"It was another big defeat on the road but tonight, unlike other meetings where at least we have been in it for the first half of the meeting, we really weren't in it at all tonight. It was the same story, not enough riders going well enough. Danny was absolutely superb, and Bomber (Chris Harris) came in and was a brilliant guest. He is in great form at the moment, and you could see that tonight. It was sad not to have Craig with us and tonight he was replaced well but there are more important things than speedway in that situation.
"Craig has got his personal reasons and I don't want to comment on that, but we are here for him if he needs it.
"Danny was gating well and was gone, Bomber did more of his work from the back and provided the entertainment and they were our resilience tonight. Jason rode really well to get his heat win but overall, as a team it was nowhere near good enough.
"We have lost far too many meetings at home this year, as I have said before, so we have one more chance to provide our home fans with a positive result and some entertainment. Then we go to Peterborough, a place we all love going to and we always love going there. We will enjoy racing there and we will look forward to that one."
RIDER OF THE NIGHT
Once again it was captain King who was the leading light for Ipswich as he scored 13 points from five rides which included four race wins.
WHAT IT MEANS
The Witches remain fifth after defeat whilst Sheffield strengthen their grip on fourth with three points. Bar the mathematics being 100% confirmed, the result means that the Tigers will compete in the play-offs whilst the Witches will miss out.
WHAT'S NEXT?
The 'Tru Plant' Witches host the Peterborough Panthers on Thursday 2nd September at Foxhall Stadium in a Premiership fixture. Tickets can be purchased here.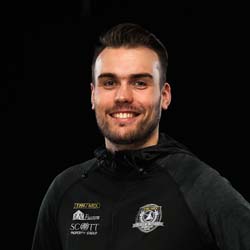 Digital Media Manager at Ipswich Speedway