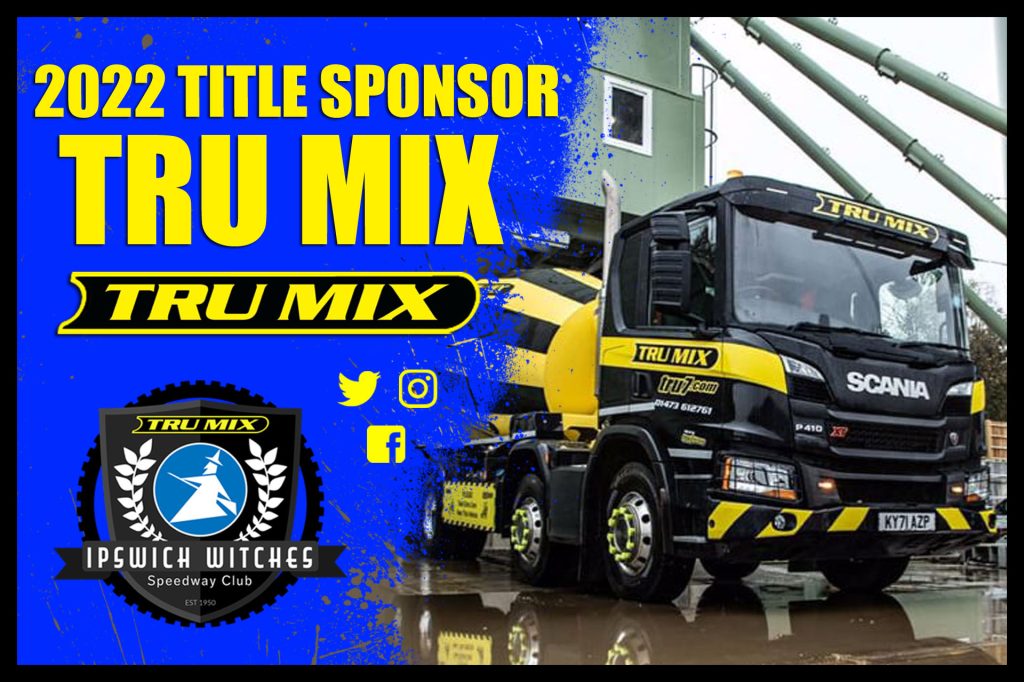 By Henry Chard
The 2022 side will be known as the Ipswich 'Tru Mix' Witches after Guy Nicholls and the Tru7 Group renewed their title sponsorship with the club for the new season.
The Tru7 Group have been title sponsors since 2016, with the Witches showcasing the Tru Plant branch of the business since the start of the 2018 season but it is all change for 2022 with the club promoting the new arm of the business, Tru Mix.
Owner of the group Guy Nicholls explained more about the business and believes having the name associated with the Witches will help raise awareness of it.
"It is a new business that we really got going February time last year," said Nicholls. "It is a Ready Mix Concrete supplier and also offers on-site mixing with what they call volumetric mixers where they turn up with the truck and mix how much you want at your job. We have invested quite a few million in it so far on new plants, new mixer trucks and we have got three outlets at the moment, one either side of Ipswich and one at Wetherden. The plan is to have more outlets moving forward and like the rest of the business we want to try and provide a better service and better value than our competitors.
"It's a new name and we did this when Tru Plant came along three and a bit years ago, that was the new name to promote and get people more aware of it. With this, it fits in with the other business we do, with aggregates, plant hire and we have got an earthworks division now where we carry out earth-moving, getting sites ready for people, so it all fits together quite nicely."
Like most businesses in the world, the global pandemic has presented challenges to the Tru7 Group but that hasn't stopped the company from setting new targets as it continues to grow.
"We have doubled in size as a group in the last two years and what we are anticipating is doing the same again the next two years. It is a £65m a year business now and we want to get it to £125m and moving forward a £150m a year business. When Covid-19 first came along it was a very bad time for us and a scary time for everybody. I along with a lot of friends who own their own business thought we were going to lose everything, and we closed for nearly a month.
"We didn't want to be responsible for the demise of anybody at home, it wouldn't have been right, so we did what I think was the right thing. It cost us a load of money to do but I still think we did the right thing, you have to look beyond money sometimes, we are all human beings with families.
"By the time the government decided that construction is a job that can carry on, the problem everybody had then was they couldn't decide whether builders were a supplier to the construction industry or retailers, so they remained shut and nobody could build anything! Then once they sorted that one out it has got busier and busier ever since, it is incredible how much work there is out there to be done and it doesn't look like it will start easing up either."
The Ipswich born businessman is a loyal supporter of the club and is hoping that 2022 is a successful one for promoter Chris Louis.
"I have been going to Ipswich Speedway since I was 10 years old and I'm 58 now and I still love it just as much, but we need a winning team in Ipswich. Chris must be the unluckiest promoter in the country and I genuinely mean that. Every year he assembles on paper what should be a championship winning team and every year the wheels come off!
"I'm very pleased that he has bitten the bullet, and we have spoken about this the last couple years and I imagine he has spoken with others about it too, about having an out and out top-notch number one who can drag you out of the mire on those bad nights who will hit double figures everywhere you go.
"I think it is our turn to win something. Dare I say it, but it is important to me personally as I've been going for years but as a business we don't come second, we dominate every market we are in. I'm not putting down the effort put into it, but I think Chris must bang his head against a brick wall and think what have I got to do to win this league?! He deserves to win the league for the effort he has put in."
The Tru7 Group frontman says that Louis needs no further education on the sport and is hoping that the town can recapture that winning feeling.
"I leave him alone during the season, he has got his job do and I have got mine to do. He doesn't need any education in speedway, he has been there, and his father was the top man, a top speedway rider when riders were on big money, Tiger (John Louis) was a top man in that era when I started going. Chris doesn't need any education about speedway. He has been a top-level rider himself and should have won a world championship, he came close to doing that, he was good enough to do it and should have but didn't and you can't change history.
"I desperately want to see us win for him more than anything else and for the Ipswich public. When I was young and started going, they were winning things and then in 1998 when we had Tony Rickardsson and Tomasz Gollob, the Ipswich public are used to us winning in speedway. Unfortunately, through no fault of anyone, it hasn't happened. The football team has had a tough time in recent years, so it would be nice for someone in Ipswich to win something and put us back on the map.
"It does the town good when we are winning, most people are a football fan or a speedway fan in general, but the town needs a winning feeling, it puts us on the map. You look at Cambridge United beating Newcastle United in the FA Cup recently, it has put them on the map, and everyone was talking about them and it is a good thing for their city. It is the same for Ipswich, it would be brilliant if our speedway club could win something."
Nicholls is delighted to have former world champion Jason Doyle in the side for the new campaign and believes Cameron Heeps has a key role to play.
"There are some lovely people riding for Ipswich and I am a big fan of Danny King, he is just a lovely bloke. They have all been nice, you get the odd one who isn't but that is life everywhere you go. I love Doyley, our out and out number one because he is hard as nails. If someone has got to stick the boot in, he'll do it. Sometimes in life you have got to have your elbows out. As a business we are very aggressive, we will fight with anybody, I'll fight with the biggest company in the country because that is the way you win.
"I think we have got the best number one in the country and he is a nice bloke, even though he won the world championship, he is not a big head or arrogant he is just a sound, grounded guy. He has worked hard and had some horrendous injuries to come back from, he is as tough as teak and that is what we need. There are some good people in that team, and I think a lot will depend on Cam this year. He proved in 2019 when he trained hard with Steve Potter that he was bloody good, and the boy can ride when he is on it and is very capable."
The Tru7 Group have been loyal title sponsors of the club for six years and Nicholls sees no reason why their backing will stop in the near future.
"You have got to sponsor the things you like or people you are interested or whatever it may be. It is a good vehicle for getting customers and staff together to have a nice light-hearted night out and in the summer, there is nothing better to do in the evening. You can break down barriers with your customers and staff and it is great. We are pleased to be on board again and I see no reason to stop, we will keep going and it would be nice to win!"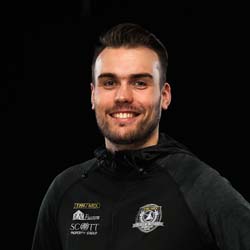 Digital Media Manager at Ipswich Speedway