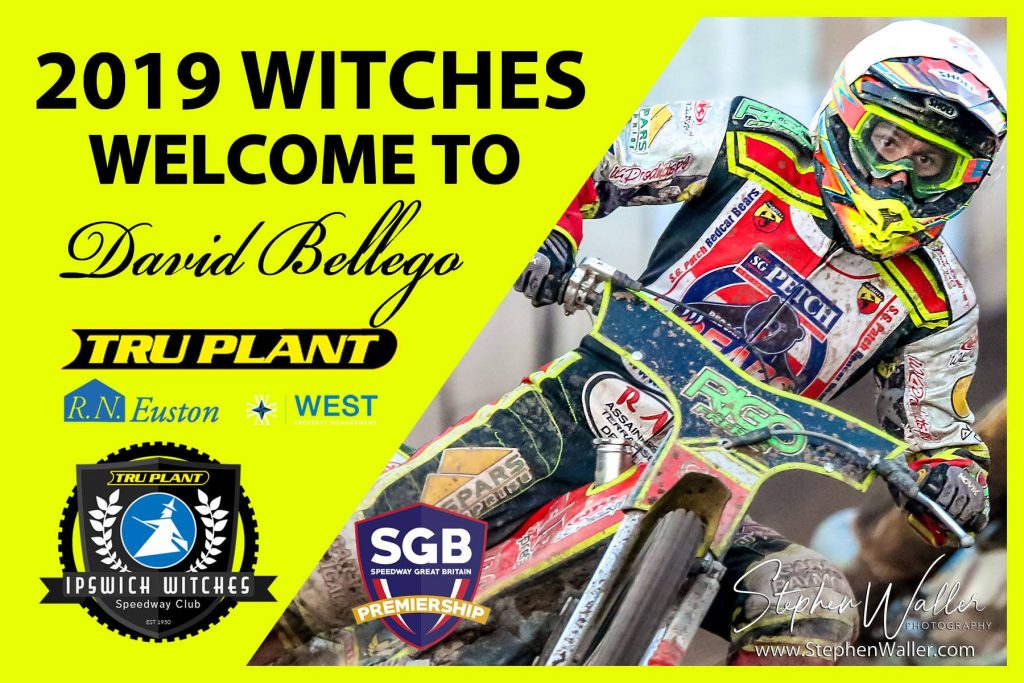 By Henry Chard
The 'Tru Plant' Witches have brought in French rider David Bellego for the 2019 Premiership season.
The 25-year-old has been racing in Britain since 2011 when he joined Glasgow and subsequently won the league in his debut season with the Tigers and Bellego is looking forward to a new challenge in Suffolk.
"I spoke with Chris (Louis) a few weeks ago and I told him I would be interested in joining Ipswich and he told me he was interested as well," said Bellego. "We came to an agreement and I am looking forward to starting the season with Ipswich. It is a new club for myself and a new track. It is a smaller track which will be really good for myself to spend more time on a small track to be more consistent in the league. I am really looking forward to it."
Following five more seasons of Championship speedway with Berwick, Sheffield and Redcar, Bellego made the step up to the Premiership with Swindon and was a key part of their title winning season in 2017. The Marmande born rider says he now wants to get to grips with the smaller tracks in Britain and racing at Foxhall regularly will help that.
"I have been to Foxhall a few times before and I haven't been that great to be honest. It's the same as everybody really, when you go to track where you are not confident, and you only go there once or twice a year, it makes it harder. That is what I am looking forward to, to go there and ride every week, take advice from guys like Danny and Chris, and once I am dialled in with the set up and the lines on the track it should be really good.
"I always have been alright on the bigger tracks, it is the smaller tracks where I need more experience. I am not saying I cannot ride a smaller track, it's all about confidence. I have never really had enough time on a small track to be confident and do what I do on the bigger tracks. That's why I am saying by racing at Foxhall it will give me a good boost and give me confidence to ride the smaller tracks and that will help me to be consistent for the whole season."
After two seasons with the Robins, the 2010 French Championship winner finished 2018 with an average of 6.11. Having been part of two title winning sides, Bellego believes that team spirit is key to success.
"It is really important to have a good team spirit and at the club in general, that is the main thing. If everyone is working in the same way it usually works out."
Bellego will have a busy calendar in 2019, riding with Fjelsted in Denmark, PSZ Poznan in Poland and Masarna in Sweden but he believes being busy is best for speedway riders.
"We want to be on the bike as much as we can, that is the key to the sport I believe. This year will be a big year for me and I am looking forward to it. I am working really hard, I am going to be fit, and I have two seasons under my belt in the Premiership, so I have a bit of experience now."
Bellego is one of just two French riders riding in the British league alongside Dimitri Berge who also born in Marmande, as was Team GB international Adam Ellis, and the former Robin says that despite efforts to improve the sport in his homeland it is still relatively unknown.
"They have made a little French speedway league with four different clubs, so they are trying to improve the sport more in France, but I would say Speedway and Grasstrack are not really famous in France. People know a little more about it where we live in the south west of France but anywhere else, it is not really known."
The French international is training hard this winter and will begin the season with some competitive laps already under his belt.
"Since the start of December, I have had a personal trainer and I am working every day from Monday to Friday from 8.30am to midday with him in Marmande which is ten minutes from my house. We are working really hard to be fit and to be the best that we can for the season.
"I am going to start practicing over the next few weeks in France and we have the French league which starts in the middle of February, so I will be racing a little too. It is always good to come to Europe with a bit of racing under your belt. It is going to be good, I am going to be fit, and I am looking forward to this new challenge with Ipswich."
Team building is now complete after Chris Harris also signed on the dotted line and Bellego and Harris join Danny King, Krystian Pieszczek, Jake Allen, Cameron Heeps and Richard Lawson in the 2019 side.
2019 Season Tickets are now available to purchase, all the details can be found here.