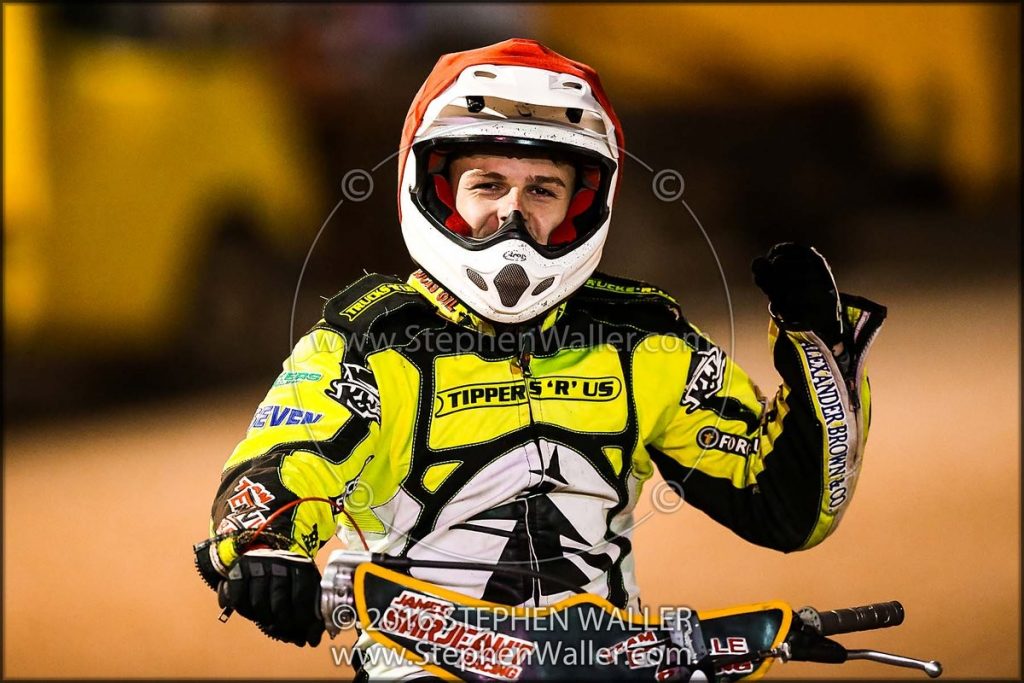 The 'Tru7.com' Witches take the long trip to Redcar on Thursday to face the Bears in another crucial Premier League fixture (7.30pm).
The Witches sit just outside the play-off spots at present and need results to go their way in the remainder of the season whilst completing their own fixtures with a near perfect record. The Foxhall form has been in no doubt over the past two months and whilst the away form has improved, the northern tour did not produce the desired points target leaving the Suffolk side up against it to make the play-offs.
A win at Redcar has been targeted by Chris Louis and Ritchie Hawkins and the Witches head north full of confidence after another crushing victory at Foxhall last week against the Comets.
The Bears have endured a tough season battling at the bottom end of the table and are out of the play-off picture with just pride to race for. Former Witch Lasse Bjerre rides at five for the Bears who are led by David Bellego. The Witches have a good record at Redcar losing just one of their last five meetings and they will need to be at their best again on Thursday to take the required four points and keep them in the play-off hunt.
Director of Speedway Chris Louis knows that the Witches must come away with a win on Thursday.
"We know realistically we've got to get four points and it's a track we've got a good record at although they (Redcar) have in the last few months picked up their home form," said Louis. "I think we've got a team more than capable of grabbing all the points from it and they know they have to."
The Witches have a good record at Redcar but Louis couldn't put his finger on why teams have good records at certain tracks despite numerous team changes every season.
"I don't know, if you always went back with the same team you could always say well this team like this track but we often don't! The reason I say it is it's a racers track and it's quite fast for its size and usually has a bit of dirt on it. We have a team of racers so I feel we have every chance of claiming four points and continuing the dream of making the play-offs."
Louis believes it is a track that may suit Danyon Hume after his confidence boosting performance last week and his experience at Glasgow.
"He had a real confidence boosting night on Thursday against Workington and I think Redcar has similarities to Glasgow. In his last ride there he looked quite competitive so I think that coupled with the confidence he picked up on Thursday he can hopefully be in a position to pick up a couple of points."
Redcar 'SG Petch' Bears:
1. David Bellego (c) 7.33
2. Tobias Busch 7.00
3. Hugh Skidmore 6.72
4. Jonas B Andersen 6.02
5. Lasse Bjerre 6.86
6. Tye Etheridge 5.00
7. Lee Payne 3.40 

Team Manager: Jitendra Duffill
Ipswich 'Tru7.com' Witches:
1. Danny King (c) 8.86
2. James Sarjeant 5.13
3. Nico Covatti 7.52
4. Morten Risager 6.73
5. Ben Barker 7.42
6. Joe Jacobs 4.07
7. Danyon Hume 3.00

Team Manager: Ritchie Hawkins
Premier League table
| | | |
| --- | --- | --- |
| Team |   Pl     | Pts   |
| Somerset | 18 | 52 |
| Glasgow | 21 | 46 |
| Sheffield | 19 | 34 |
| Edinburgh | 18 | 34 |
| Peterborough | 19 | 34 |
| Newcastle | 15 | 31 |
| Witches | 20 | 30 |
| Workington | 18 | 26 |
| Berwick | 21 | 25 |
| Plymouth | 19 | 22 |
| Rye House | 17 | 20 |
| Redcar | 18 | 19 |
| Scunthorpe | 17 | 15 |
Last five results at Redcar:
28.05.15 W46-44
22.05.14 W50-40
04.07.13 L45-47
05.07.12 W47-43
29.04.11 D45-45

Redcar Bears Factfile
Main Sponsor: SG Petch
Team Colours: Red, White, Grey and Black
Race-Night: Thursday (7.30pm)
Website: www.redcarbears.co
Track Length: 271 metres
Track Record: 52.2 seconds, Chris Harris (October 22, 2009)
Admission Prices
Adults: £16
Concessions: £12
Children (Under 15): £4
Programme: £2
Grandstand: £1 extra
Stadium Address
Media Prima Arena, Dormer Way, South Bank Road, Middlesbrough,TS6 6XH
Telephone: 07889 886389
By Train: Middlesbrough is the nearest mainline station. There is a station at South Bank (four minutes ride from Middlesbrough, seven minutes from Redcar) but trains are infrequent.