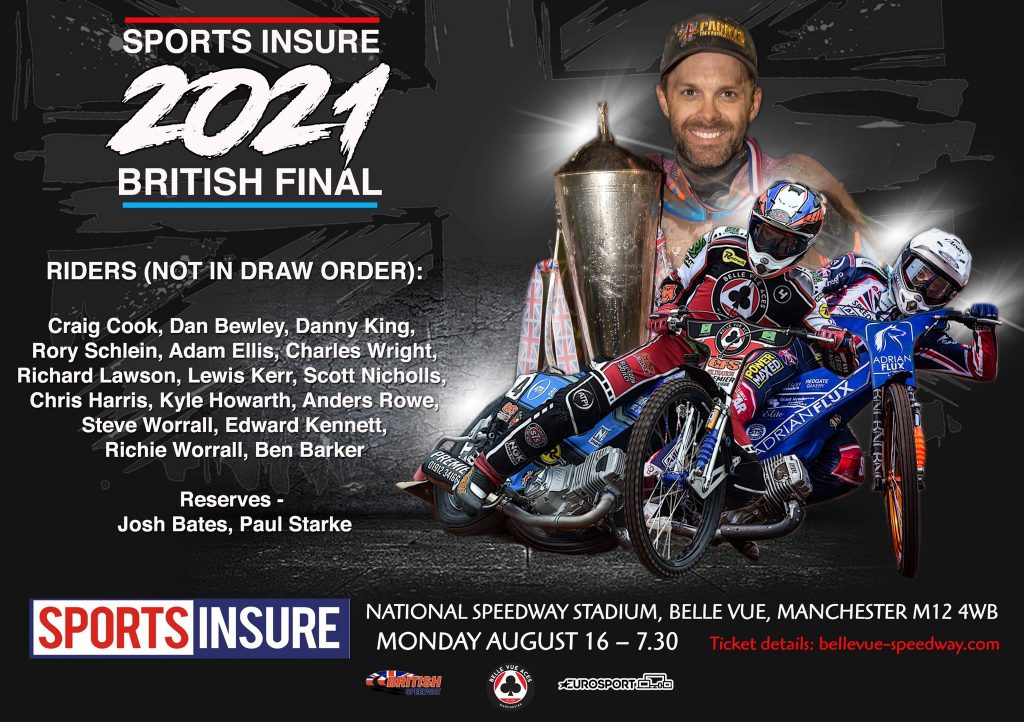 Three 'Tru Plant' Witches will be in the 2021 British Final line-up as Craig Cook, Danny King and Anders Rowe aim to become the British number one at Belle Vue on Monday, August 16.
Paul Starke will also be part of the meeting, taking up one of the reserve spots.
Former champions Scott Nicholls and Charles Wright return to the line-up for this year's event. The two sat out last year's meeting which was staged behind closed doors and was live streamed for fans to watch.
Now the fans are back and the duo join reigning champion Rory Schlein and three-time winner Chris Harris in the field.
Full ticket details are available now on the Belle Vue website which will also see the resumption of Eurosport's live coverage following the Olympics.
Schlein was a deserving champion last year when he beat Richard Lawson and current Ipswich number one Jason Crump in the final.
Schlein said: "I believe the line-up is stronger this year because the top British boys are back. I'll be there to defend the title on a track I very much like in Belle Vue, I'm looking forward to it."
Meanwhile Belle Vue CEO Adrian Smith added: "We are delighted to welcome back the British Final to Manchester's National Speedway Stadium for the sixth consecutive season.
"As we are privileged to witness on a weekly basis here at Belle Vue, this track never fails to deliver some of the most exciting racing at all levels of the sport.
"We anticipate this year will be every bit as thrilling as previous meetings, even more so now that we are able to welcome back our spectators in unrestricted circumstances.
"And with the calibre of field gathered for the 2021 event, which includes four British BikeRight Aces, we are certain this will be a highlight of the British Speedway calendar this year."
The draw will be made in the near future and will be shown via British Speedway's social media platforms via a YouTube link.
RIDERS (Not in riding order): Craig Cook, Dan Bewley, Danny King, Rory Schlein, Adam Ellis, Charles Wright, Richard Lawson, Lewis Kerr, Scott Nicholls, Chris Harris, Kyle Howarth, Anders Rowe, Steve Worrall, Edward Kennett, Richie Worrall, Ben Barker. RESERVES: Josh Bates, Paul Starke.