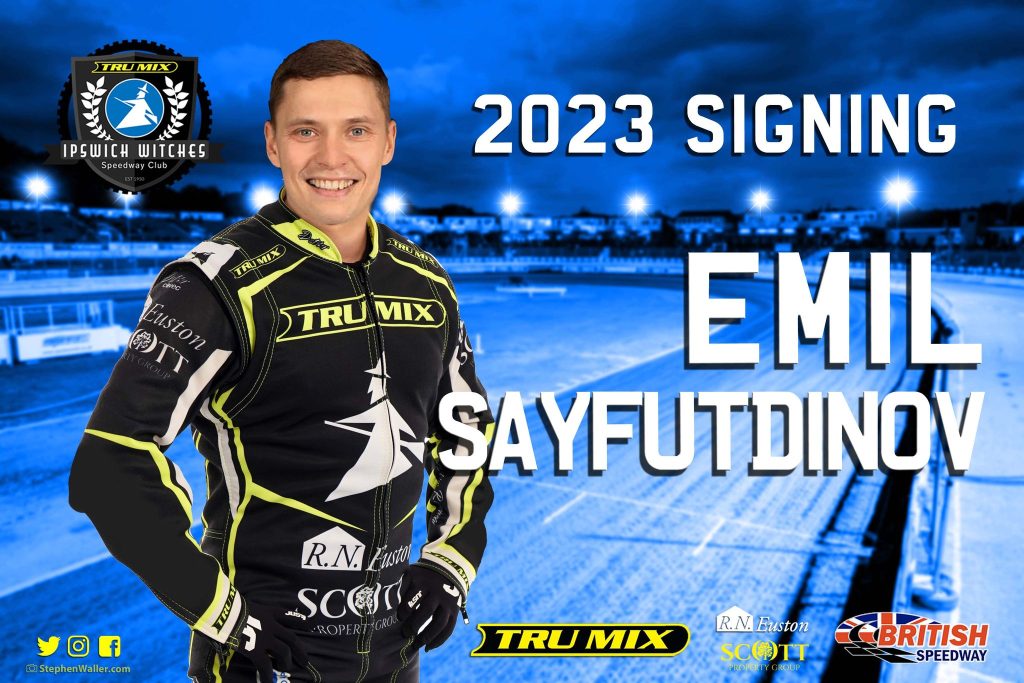 The 'Tru Mix' Witches are thrilled to announce the signing of former world number three Emil Sayfutdinov for the 2023 season, subject to BSPL approval and paperwork.
The 33-year-old says it has been a long process to get to this point and praised Chris Louis' hard work in getting the deal done.
"I think Chris is happiest, only kidding," said Sayfutdinov. "I think there is a long process to go, I remember Chris calling in November asking about the possibility. We didn't answer straight away and thought about it for a few days but then we called Chris to ask how the situation looked and all the problems he could face.
"He said he thought he could fix that and then the door was open to be back in England. Chris has been working very hard to get everything done with the BSPL and the ACU, so it looks like everything is coming together and that I will come to Ipswich for press and practice."
The former European champion is looking forward to his return to British racing and is hoping to win a Premiership title with the Witches.
"Chris was very determined to get me back and only he called us when he heard that I will be back in speedway for 2023. It was Chris' idea to call us, it looks like British speedway is quite organised now and the schedule looks organised with Mondays and Thursdays which suits me really good. I will only race in Poland, so that will only be Fridays and Sundays. It doesn't look like I will compete in any other meetings in Poland, so if I have the chance to be on the bike more often, I will do it.
"One year without racing, I want to be back more often on the bike and more meetings will make me sharper for Poland and England. I have won team championships in most of the leagues, in Poland, Sweden and other countries a few times but never one in England, so maybe this will be the season I have a chance to win the team championship in England."
Sayfutdinov, a Polish citizen competing on a Polish licence, was forced to sit out racing in 2022 after Russian riders were suspended by the FIM due to the war in Ukraine but he has been keeping as fit as possible in that period.
"I was physically training every day and when I didn't do that, I had many practice sessions on MX bikes locally in Poland. I have also been on speedway bikes over the year but only practice, I have always hoped I would be back for 2023 and when the decision was announced in October last year, I was very happy that I will have a chance to be back on the bike again."
The multiple Grand Prix winner is looking forward to linking up with Jason Doyle in Suffolk for the 2023 campaign.
"I have raced with Jason in Leszno for one season, and I know him from the Grand Prix for many years. I think I first met him in some practice days in Lonigo many years ago, so I know him, and I also know Keynan Rew from Leszno as well, I met him when he was 16. And I know of Danny (King) from my last spell in England and from his Grand Prix appearance in Cardiff. The speedway family is very small, and we know each other, so I will have no problem and I am looking forward to seeing what we can do together as a team."
The Speedway of Nations winner will continue his preparation for the new season in Spain next week with his Polish club Torun before heading to England.
"On Saturday, the Torun team are going to a training camp in Spain which I will return from on 4th March. I will spend that week with my Polish team and then I will try to be back on track in Torun and then we will fly into England for press and practice. Then we will follow the English schedule and after that the Polish schedule. I will do all of the challenge meetings in Poland and stuff like that, we are pretty organised with the English calendar, so it suits me very well. It is a bit more work for the mechanic because we need to build an extra bike and get the equipment ready, but we are pretty much ready with that and will have everything done and dusted for the middle of March."