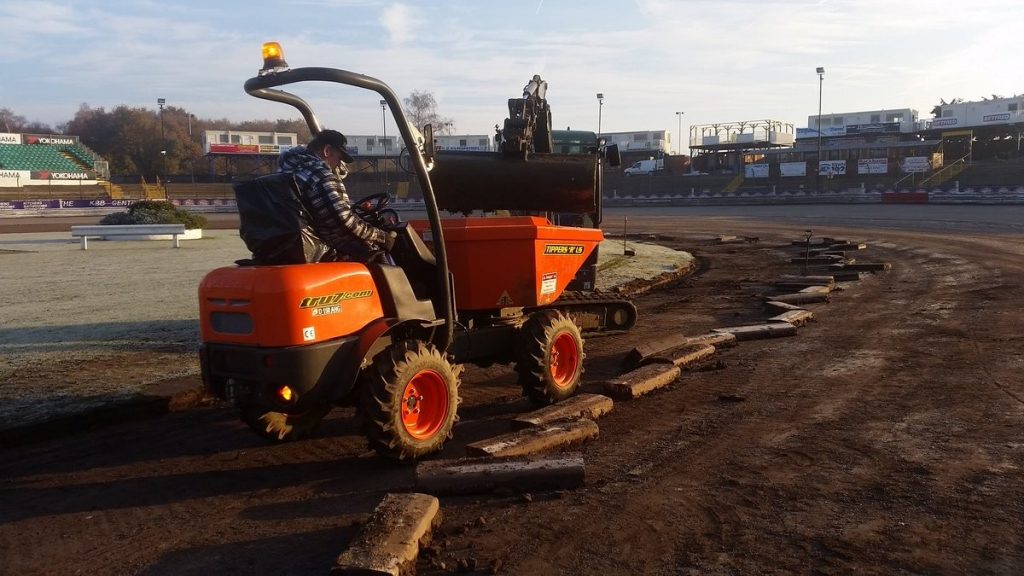 Winter track work has begun at Foxhall as promoter Chris Louis aims to entertain the fans in 2017 by giving the track a 'rounder feel'.
Louis explained exactly what changes would be taking place and is hoping the changes provide more overtaking in the new season.
"We're taking up to two metres off going into both bends but we're doing it over quite a long distance so the turn into the corner starts much earlier," said Louis. "The idea is to physically give the riders more room going into the corner. It also takes out the slight squareness and sharpness once you get there. I'm hoping because of that and from a physiological point of view, that when you are looking at it as you ride down the straight you will feel invited to overtake going into the corner whereas at the moment you don't. I mean Danny (King) does and other people have a go but it is more difficult to do."
The promoter says he has taken inspiration from watching racing at Belle Vue's new National Speedway Stadium but adds that Foxhall will never be like the Aces' track.
"It's basically trying to give the track a rounder effect, we are never going to do it because we have what we have and that is the case at every track. You can't watch a season of racing at Belle Vue and not think – 'How can we take some of that back to our track?' That is what we've done really. It won't be Belle Vue but we are trying to learn a bit from it and put some effort in to improve what we have."
The former skipper believes the team may lose some of their home track advantage initially but highlighted the importance of entertaining the fans.
"It will change the racing slightly but I don't think it will change the riding lines too much. It will change the racing and how you overtake and where you overtake so we will lose some advantage initially. At the end of the day it is an entertainment business and I want our fans to be entertained every week, not every now and again because it's a good team or we are not making starts.
"I want to open up the opportunity for the racing really. Another big factor is that we are going to take the banking straight from kerb-to-fence whereas at the moment it goes off going in the corners. So, if you go in wide like Nico (Covatti) you tend to lose a bit of ground before you make it up and you only make up what you've lost, so you don't end up overtaking anyone. We are trying to improve that too."
The changes also mean a new surface being laid and Louis thanked club sponsors Tippers 'R' Us for their help in the process.
"Its different material, recycled material which is quite exciting and we are doing our bit for the environment. Equipment and material wise we are receiving a lot of help from the Tippers 'R' Us team so that is brilliant and we couldn't do it without their help."
It's the second time in recent years that changes have been made to the track and although this year's work is not as drastic, it remains a big project.
"In 2010 we did the whole track all the way round, we took in the straights a metre and the bends up to 4.5 metres in the middle. This is not as big a project but it's still pretty big because we are doing the whole surface again and taking the banking out. It isn't going to increase the banking, if it does it will only be very slightly but it will improve it because we never quite got it finished properly last time due to time, money and other factors. The weather is playing ball and we've had two days on the project and it's been lovely.
The news of track work has been received well by fans and riders and Louis thanked Spedeworth and Tippers 'R' Us for their co-operation in this exciting time for the club.
"We are lucky to have a good relationship with the Spedeworth landlord who is happy for us to make the changes again so we are taking advantage of it. We are lucky to have Tru7.com involved who have made the whole project possible. It's exciting for the riders and fans. The reaction on Twitter from the riders has been very supportive that we are trying to give them something better."
Louis hopes to have completed the majority of the work by Christmas but believes there will be plenty of work to be done in the New Year.
"The track surface will be done by Christmas but it will need a lot more work levelling afterwards. The track shape and the bulk of the surface will be done by Christmas and I'm hoping so as it will give it the Christmas period to tighten up and go down."
You can now buy 2017 Season Tickets online at http://www.ipswichwitches.co/tickets or you can download an application form and buy your ticket via the post. Alternatively, you can download an application form and visit the track on 17th December from 10am-1pm to secure your seat.
2017 Ipswich Witches:
Danny King
Nico Covatti
Rory Schlein
Kyle Newman
Cameron Heeps
Connor Mountain
Danyon Hume
Season Tickets: