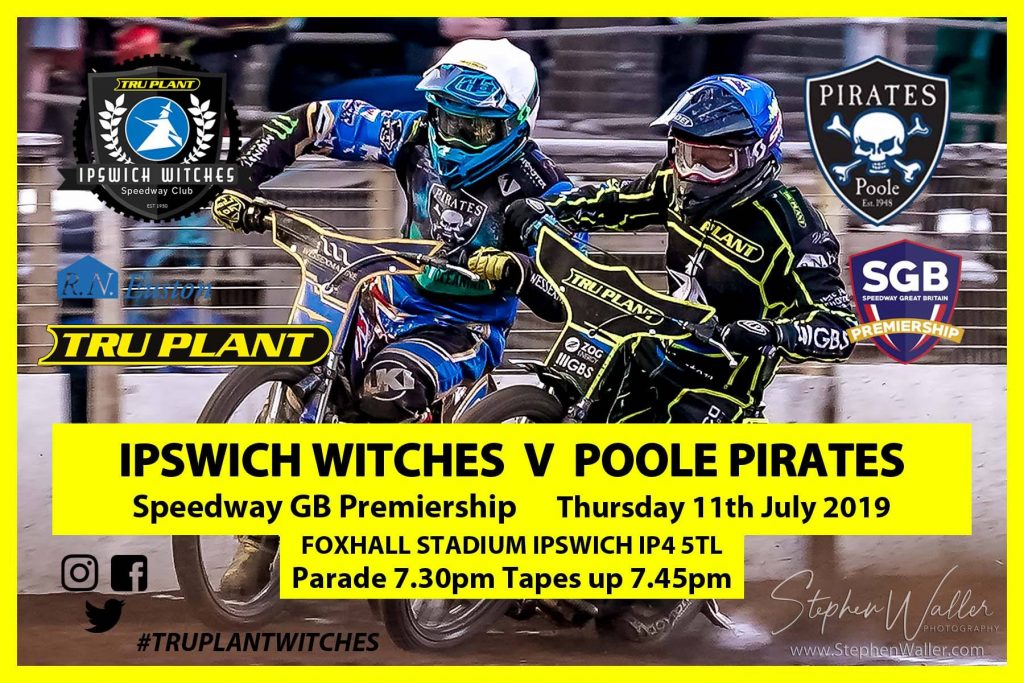 By Henry Chard
WHEN AND WHERE…
The 'Tru Plant' Witches host the Poole Pirates at Foxhall Stadium on Thursday 11th July in a Premiership clash that starts at 7.30pm.
MEETING SPONSORS…
Doug Wade Insurance
GBS Builders (Ipswich) Limited
THE TEAMS…
IPSWICH: 1.Chris Harris 6.95 2. Cameron Heeps 6.00 3. Danny King 6.51 © 4. Krystian Pieszczek 5.71 5. Richard Lawson 6.89 6. Edward Kennett 5.71 7. Jake Allen 5.43. Team Manager: Ritchie Hawkins
POOLE: 1. R/R for Brady Kurtz 7.57 2. Kyle Newman (g) 5.26 3. Nicolai Klindt 7.47 4. Josh Grajczonek 6.49 © 5. Jack Holder 7.43 6. Kevin Doolan (g) 4.93 7. Ricky Wells (g) 4.39 Team Manager: Neil Middleditch
REFEREE: P. Carrington
VENUE: Foxhall Stadium
PREMIERSHIP TABLE
| | | |
| --- | --- | --- |
| Team | Meetings | Points |
| Belle Vue | 15 | 27 |
| Ipswich | 12 | 27 |
| Poole | 13 | 27 |
| Peterborough | 12 | 17 |
| King's Lynn | 13 | 16 |
| Swindon | 11 | 15 |
| Wolverhampton | 10 | 13 |
TICKET OFFICE…
Tickets are available on the gate and are priced at £18 for adults, £16 for concessions (60+), £5 for students (16-17). Children 15 and under go free. Official programmes are priced at £3 and are available at the stadium. Car parking is free for all supporters. Debit and credit card payments are accepted.
WHAT'S THE STORY?
The 'Tru Plant' Witches are back in action at Foxhall on Thursday as they take on reigning champions the Poole Pirates. It has been three weeks since the Witches have raced on home shale as they beat King's Lynn in the East Anglian derby. Since that win, Ipswich have been on their travels and have cemented their place in the top four with some positive results. The Suffolk side picked up four points at Peterborough after another big away win before taking a consolation point away at Swindon following a narrow last-heat defeat. The Witches fell just short of a consolation point at Belle Vue Monday after a 49-41 defeat but five points in three meetings on their travels represents a good return.
Ironically it will be the first time the home side have been able to call on their full one to seven at Foxhall since the Pirates were last in town on May 16th with Jake Allen having made his return since crashing in that Supporters Cup fixture. It will be the first meeting that the Foxhall fans have seen Cameron Heeps in the main body of the team with Edward Kennett now at reserve. Chris Harris is at number one again and he has been called up to represent Great Britain at the Speedway of Nations Finals in Russia next week. Two of the top sides in England meet and the Witches will be hoping to take advantage of Poole's injury problems to go back to the top of the table.
FROM THE MANAGER…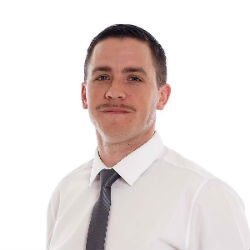 'Tru Plant' Witches team manager Ritchie Hawkins looks ahead to Thursday's clash…
"It will be nice to be at home and we only have two this month at home, so we need to make the most of those meetings. We have been doing very well on the road, so it will be nice to race at home and hopefully everyone will come out and support us because we are doing really well, and it is team worth supporting. We want people to get behind us this month.
"It is not ideal not having rode at Foxhall for three weeks, so we have got to settle back in quickly. The way we have been riding on the road, we should have a lot of confidence coming into Thursday. It is all positive about getting a home match in.
"Poole alongside us are probably in the strongest positions. They have been hit by injuries and we need to take advantage of that, we can't relax. We need to come out and take advantage of it and we will go there and look to make the most of their problems. The league is so tight, so we need to look for any advantage we can get and any opportunities we get we need to make the most of it."
THE PIRATES…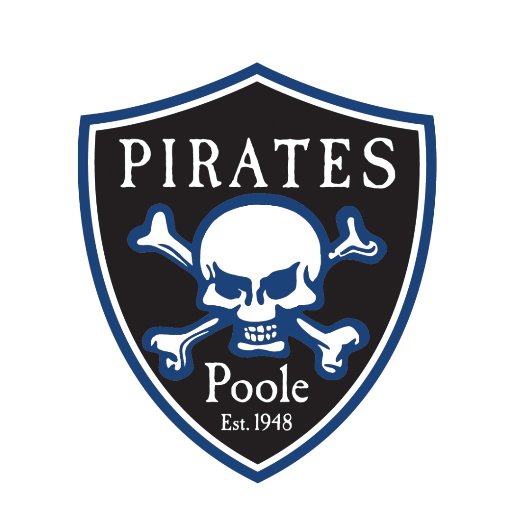 The champions have started their league campaign in fine fashion and like the Witches are looking good for the play-offs at this moment in time. Poole come into Thursday's meeting having been thumped at King's Lynn on Monday with a depleted side. The Pirates have a good record though on the road and pose a threat to Ipswich's 100% home record. The Dorset side have picked up two away wins and two draws and have only failed to accumulate any points on their travels on one occasion, in Norfolk on Monday. A patched-up side were defeated comfortably on their last visit to Suffolk in the Supporters Cup in May, and they will be hoping history does not repeat itself.
As mentioned, the visitors head to Suffolk with huge injury problems. Number one Brady Kurtz is out injured after a crash in Sweden, and rider replacement will be used at number one. Richie Worrall is likely to miss several months of action with a broken ankle whilst former Witches man Nico Covatti misses out on a return to Foxhall with chest injuries following a crash last month.  Nikolaj Busk Jakobsen is also unable to take his place in the side due to illness. Ricky Wells steps in as a guest at reserve whilst Kyle Newman is in for Worrall at two with Kevin Doolan at six.
AROUND THE TRACKS…
Wolves beat Swindon 48-42 in a close contest at Monmore Green with the Robins taking a consolation point. King's Lynn hammered a depleted Poole side 57-33 at the Adrian Flux Arena. Belle Vue beat Ipswich 49-41 at the National Speedway Stadium.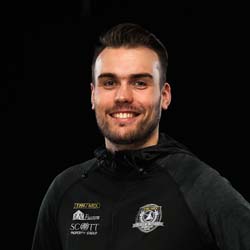 Digital Media Manager at Ipswich Speedway