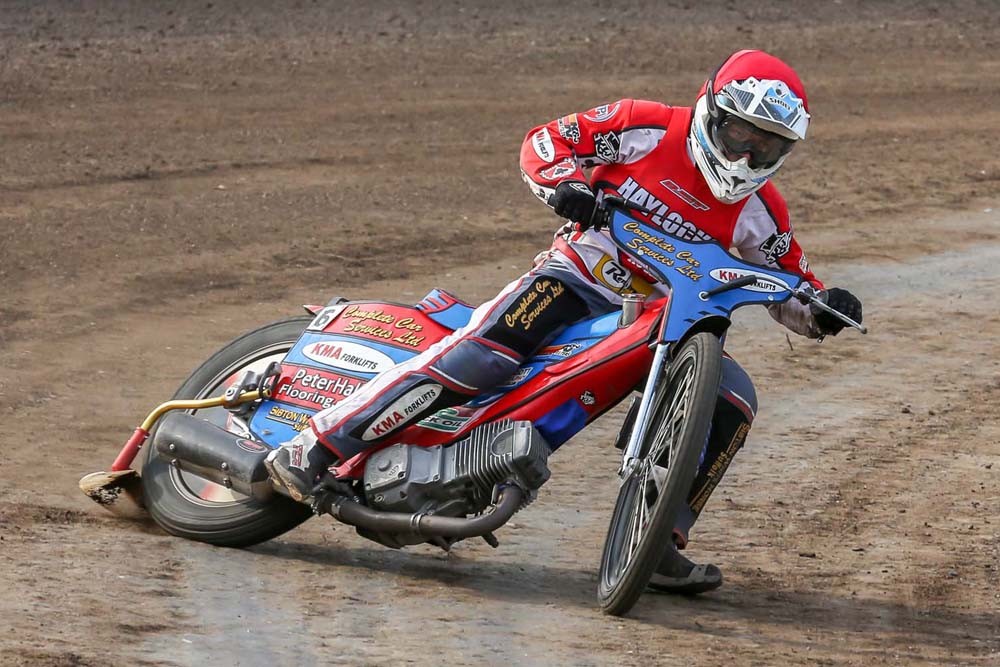 New 'Tru7.com' Witches signing Joe Jacobs is delighted to be finally be wearing the Witches badge after growing up on the Foxhall terraces.
The 22-year-old has come in to replace Paco Castagna at reserve and said a year out of the sport has helped him recover his enjoyment this season before the call from Chris Louis came.
"I had a year out last year and I rode in all three leagues the year before and I just needed a break to be honest," said Jacobs. "I didn't know where I was at and I got over tired and stopped enjoying it. I stuck around last year helping Rohan (Tungate) at Ipswich and then this year it came about that there was a team spot at Belle Vue and I knew I definitely wanted to come back and ride.
"I signed with them in the Elite League and I wasn't riding too much so I did a 28 day deal with the Isle of Wight in the National League. I sent Chris a message a couple of times saying I was keen to be in the Premier League and that was where I wanted to be racing against a better level of riders. Then I had the call on Saturday offering me a spot and it was something I was never going to say no to. I'm grateful for the opportunity and hopefully can get on the gas now."
Jacobs has grown up watching the Witches and is excited at the prospect of riding for his hometown team.
"It's something you dream of as a kid when you are just watching before even riding and I've watched speedway since the age of eight and to be riding for your home team is great. It's really exciting and hopefully everything will kick off well and everything will go well the rest of the season."
The Woodbridge based rider has no worries that he will be dialled into the Foxhall track quickly despite not have been there for a while.
"I haven't rode at Foxhall for a few years now but you soon get a feel for it. I think we have a home fixture every week in July so it may take a couple of meetings to get settled in but I'm sure I'll find a good set up to go round there and get thrashing in some points."
Jacobs says it was a slow start to the season but after some good performances in the Elite League confidence is growing and he is eager to get going in the Premier League.
"I had a bit of a slow start at Belle Vue and I think the year out probably had a little effect on that and with Belle Vue being in the new National Stadium we had no home fixtures so I was riding once every couple of weeks.
"Then I started riding with the Isle of Wight and getting more fixtures in and going better and from there on in the past month its gone well. I've struggled a little on the away tracks in the Elite League but I've changed a couple of things on the bike this week actually and hopefully that will get me round a bit better and feel a bit more comfortable on the bike.
"It's a confidence booster when you go from that and hopefully I can score some points in the Premier League and maybe get out of the reserve berth, so we will see how the first few go and just keep trying to score points."
The new signing is familiar with the current Witches side and is targeting a play-off place at the end of the season.
"I know most of them; I rode with James Sarjeant at Coventry for a year and Danny King I've known for a very long time and I get on with him well. I don't know too much of Nico (Covatti) but I rode with Ollie Greenwood at Peterborough and I know Morten (Risager) from being around at Ipswich the past few seasons so I know all the boys and it's a good team.
"They've struggled so far this season but hopefully I can come in and make an impact. The play-offs are not out of reach and hopefully we can still make them. We need to start winning and if we are firing on all cylinders then there is no reason we can't make the play-offs and carry on and push forward. I look forward to seeing everyone on Sunday and I'm grateful for the opportunity and now I've got to make the most of it"
Jacobs Facts
Date of Birth: 14th August 1993, Ipswich
British Career: 
2009 Mildenhall
2010 Rye House Cobras
2011-12 Mildenhall
2013 Glasgow & Coventry Storm
2014 Wolverhampton, Peterborough & Mildenhall
2016 Belle Vue & Isle of Wight