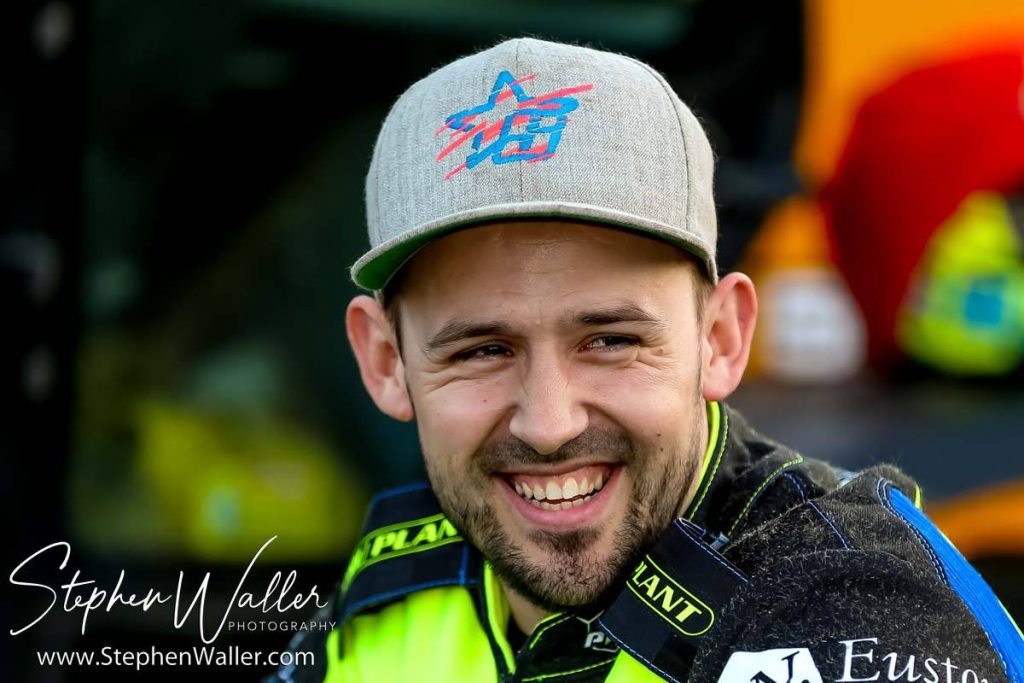 'Tru Plant' Witches skipper Danny King speaks to Henry Chard and reviews the 2018 season…
It has been another season hindered by injuries and I don't know why it seems to always be that way but it is. On a personal note it has been very frustrating. I only did 18 meetings all season and the injury really messed me up which is a shame. In the end I had to stop and get that fixed because I want to be 100% for March.
I had another nerve test this week and after that we will decide from there whether we operate or not. I think he will operate but we will see. The way he is talking, the surgeon knows I need to be fit for March and he is aware of the timescale so he is happy what we are doing is OK. This is the first time I have had to deal with time off in my career and it is very frustrating. I am a big team man and I like to help the other guys and I want to win. It has been very difficult to do that from the sidelines.
I have been helping the lads and lending them some of my engines and knowledge, whatever they need really. As everyone knows Ipswich is very close to me and I want to bring success to the club. I will do everything I can to help the club succeed.
I can't put my finger on why things didn't work out for us this year apart from injuries. It has been another difficult year and if you are going to have a successful season you need to steer clear of injuries and we had too many.
It went from bad to worse for Leicester, again injuries struck. On paper at the start of the year we were one of the favourites but we lost Martin Vaculik and then myself and then they had to change the team to try and make us stronger and it didn't work. They got so far away in the end and the scores dropped and they finished bottom. It is a shame because they put a lot of effort in at the start of the season to build a team that could compete for the title.
My only aim for this winter is to get fit. It is really frustrating waiting around and I just want whatever needs to be done done. I want to be ready for March and I will be raring to go. This year has been a wipe-out, 18 meetings is nothing. I was doing 18 meetings a month last season, I did 14 in 14 days one month, and so 18 meetings is ridiculous.
I thought there was too few meetings in the Championship this season and I think everyone would agree with that. That needs to be looked at. More worryingly is the Premiership, they are down to seven teams and it doesn't seem sustainable. Something needs to be done about it, they need to persuade more teams to come up, I don't know what they will do but it doesn't seem to be in a good position at the moment, which is sad and I hope they can come out stronger from the AGM.
All we can do is hope something is in place and behind the scenes they are working on something so that when it comes to the AGM they are ready to finalise things rather than start to decide things then.
It is too early to talk to teams yet about 2019 as we don't know where the leagues are going. There are talks of one league but I don't think that will be the case.
I love Ipswich, I love everything about it. It is home for me, it is where I started my career and I want to bring success to the club. I have been trying my hardest for the last few years and I have done all I can. I want to keep going and hopefully we will have a season where we steer clear of injuries and can achieve what we want.
I want to thank my clubs for their support during this injury. Behind the scenes they have been fantastic. My sponsors have been great, without them I couldn't do it. It is a shame I have not brought them any success this year but they understand the risks of the sport and the injuries that come along and they have all been supportive. The fans too, they know how much I put in and want to win and I will be back that's all I can say.
Have a great winter,
Danny