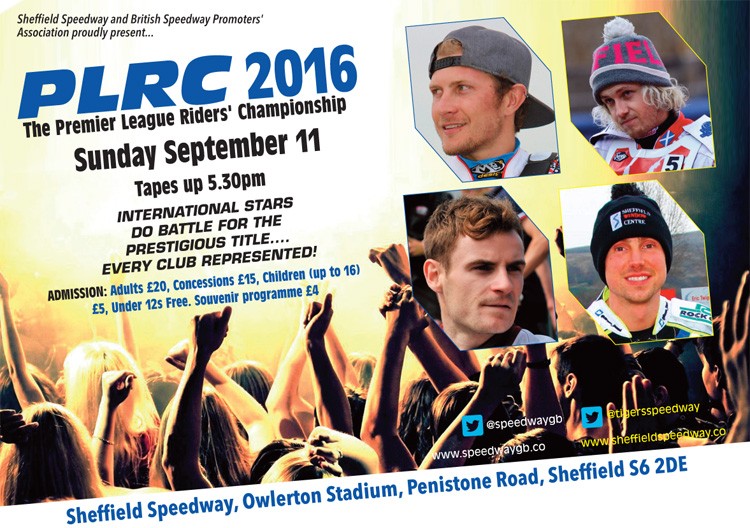 'Tru7.com' Witches captain Danny King will head to Sheffield on Sunday as he represents the Witches in the Premier League Riders Championship (5.30pm).
King is part of a strong field at Owlerton as the league's best riders fight it out over 22 heats of action to be crowned the best rider in the Premier League. Peterborough's Ulrich Ostergaard won last year's showpiece event and he is joined by Craig Cook this time around representing the Panthers.
The current British champion will be amongst the favourites for the title and has gone well in Yorkshire this season scoring 13+1 and 12 on his two visits this season with the Witches. King has been drawn at number seven.
The skipper says he is looking forward to the big event with confidence high at present and believes it is a tough meeting to call.
"I always look forward to Sheffield it's a good race track," said King. "It's going to be tough and I don't think anyone is going to walk it. It's going to be a close meeting and I need to make sure I don't make any silly mistakes and keep accumulating points and get into that final at the end.
"My confidence is very high and I'm very happy with everything at the moment and hopefully there will be no bad luck on the day and I'll be in that final at the end."
King is hoping to go one better than the last time he rode in the PLRC, a meeting he felt he should have won.
"I've only done it once before and I should have won it then! I topped the scoring charts and then came second in the final!  It would be great to win it and I've also got the Elite League Riders Championship at Coventry to come so we will see what I can do in that too."
Draw:
1. Steve Worrall (Newcastle), 2. Craig Cook (Peterborough), 3. Jack Holder (Plymouth), 4. Edward Kennett (Rye House), 5. Sam Masters (Edinburgh), 6. Claus Vissing (Workington), 7. Danny King (Ipswich), 8. Aaron Summers (Glasgow), 9. David Bellego (Redcar), 10. Richard Lawson (Glasgow), 11. Ulrich Ostergaard (Peterborough), 12. Josh Auty (Scunthorpe), 13. Kevin Doolan (Berwick), 14. Simon Stead (Sheffield), 15. Josh Grajczonek (Somerset), 16. Ricky Wells (Workington).
Meeting Format:
16 riders compete in 20 qualifying heats. Top 2 from the heats go direct to the Grand Final, with the riders placed 3rd-6th racing in a semi-final. 1st and 2nd from the semi-final then progress to the Grand Final. The winner of the Grand Final is crowned 2016 Premier League Riders Champion.
Last five winners
2015 Ulrich Ostergaard (Peterborough)
2014 Simon Stead (Sheffield)
2013 Oliver Allen (Rye House)
2012 Craig Cook (Edinburgh)
2011 Sam Masters (Somerset)
Sheffield Factfile
Website: www.sheffieldspeedway.co
Track Length: 361 metres
Track Record: 59.1 seconds, Ricky Ashworth (October 14, 2010).
Admission Prices
Adults: £20
Concessions: £15
Juniors (up to 16): £5
Children (under 12s): FREE
Programme: £4
Stadium Address
Owlerton Stadium, Penistone Road, Sheffield, S6 2DE
Telephone: 01142 853142
By Train: The nearest station is Sheffield, which is about two and a half miles from Owlerton Stadium.