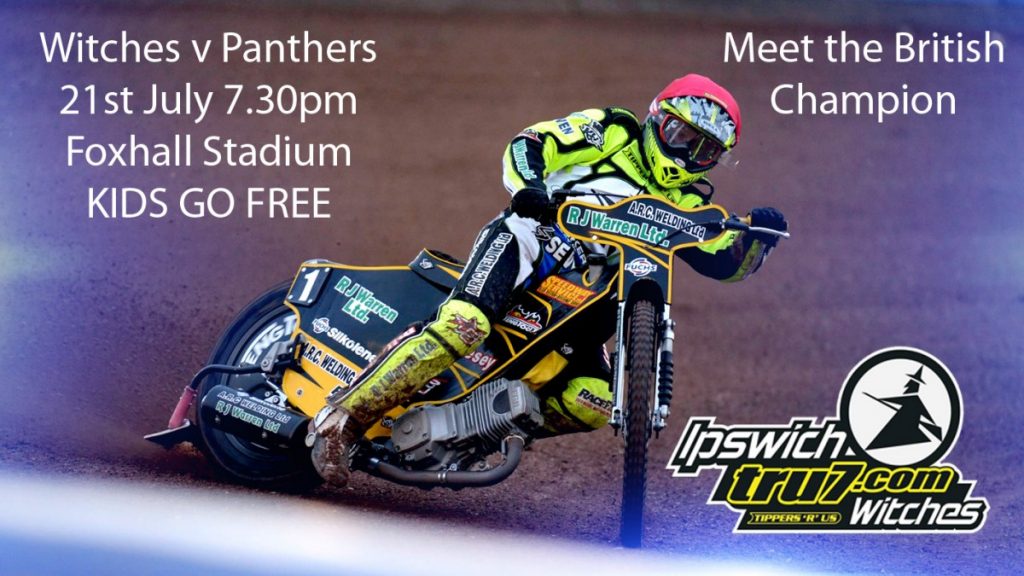 The 'Tru7.com' Witches entertain local rivals the Peterborough Panthers on Thursday at Foxhall in another crucial Premier League clash (7.30pm).
The Witches have started the pivotal summer period at home well with two wins from two so far as they look to go through the card at Foxhall this month and build momentum towards a late play-off push.
They will be without the services of Joe Jacobs at reserve who rides for Belle Vue at Swindon that evening, so Glasgow's Danny Ayres will guest at number six.  Connor Mountain keeps his place at number seven after an impressive performance against Berwick.
The Panthers look on course for a play-off spot this season and currently occupy third spot in the table after a strong campaign so far. The visitors are also affected by Belle Vue's meeting at Swindon as they will be without their number one Craig Cook at Foxhall. Redcar's Lasse Bjerre will guest for the Panthers.
The two sides met at Foxhall earlier this season with the Witches running out 48-42 winners in the League Cup.
Team Manager Ritchie Hawkins is eager to get a win over the Panthers and believes the run of home meetings will only make the team better.
"We want to beat Peterborough as they are our local rivals and like every week at home we have got to win to keep ourselves pushing up the table," said Hawkins.
"We should get better every week and last week was our best performance at home so far this season and hopefully we can take confidence from that and two wins in a row and build on it."
Hawkins says the loss of Jacobs at reserve is a blow but hope Ayres will fill the void as the Witches still aim for the play-offs.
"We're missing JoJo (Joe Jacobs) and he scored well at reserve last week as they both did but hopefully Danny will come in and do a solid job.
"We're still aiming for the play-offs and won't give up on that until it's mathematically impossible. We need another win and the same the week after that at home and then we will see what we can do away from home."
Thursday's meeting signals the start of the school holiday promotion which means KIDS GO FREE to all of our summer meetings (kids aged 6-15). Prior to the meeting fans will have the chance to meet British number one Danny King who will be up by the turnstiles inside the stadium with his bike for fans to have photos with. Danny will be signing autographs from 6.45pm until around 7.10pm.
Meeting Sponsor: DJ Evans Ltd
Ipswich 'Tru7.com' Witches:
1. Danny King (c) 8.82
2. James Sarjeant 4.79
3. Nico Covatti 7.83
4. Morten Risager 6.83
5. Ben Barker 7.16
6. Danny Ayres (g) 3.82
7. Connor Mountain (g) 3.00

Team Manager: Ritchie Hawkins
Peterborough 'T.Balfe Construction' Panthers:
1. Lasse Bjerre (g) 6.84
2. Emil Grondal 4.91
3. Nikolaj Busk Jakobsen 6.97
4. Tom Perry 5.58
5. Ulrich Ostergaard (c) 8.00
6. Ashley Morris 4.76
7. Zdenek Holub 3.08 
Team Manager: Jason Attwood
Premier League table
| | | |
| --- | --- | --- |
| Team |   Pl     | Pts   |
| Glasgow | 14 | 28 |
| Sheffield | 12 | 27 |
| Peterborough     | 12 | 26 |
| Somerset | 8 | 25 |
| Berwick | 16 | 24 |
| Edinburgh | 12 | 20 |
| Rye House | 12 | 18 |
| Workington | 10 | 17 |
| Newcastle | 9 | 16 |
| Witches | 13 | 15 |
| Plymouth | 14 | 13 |
| Scunthorpe | 12 | 12 |
| Redcar | 12 | 9 |
Last five home results v Panthers:
14.04.16 W48-42
27.08.15 W 61-29
03.04.15 W 53-39
04.09.14 W 59-36
15.05.14 W 55-40

Panthers' last five:
PL Panthers 50-40 Berwick
PL Panthers 44-46 Scunthorpe
KOC Panthers 38-52 Somerset
KOC Somerset 62-28 Panthers
PL Panthers 55-34 Plymouth