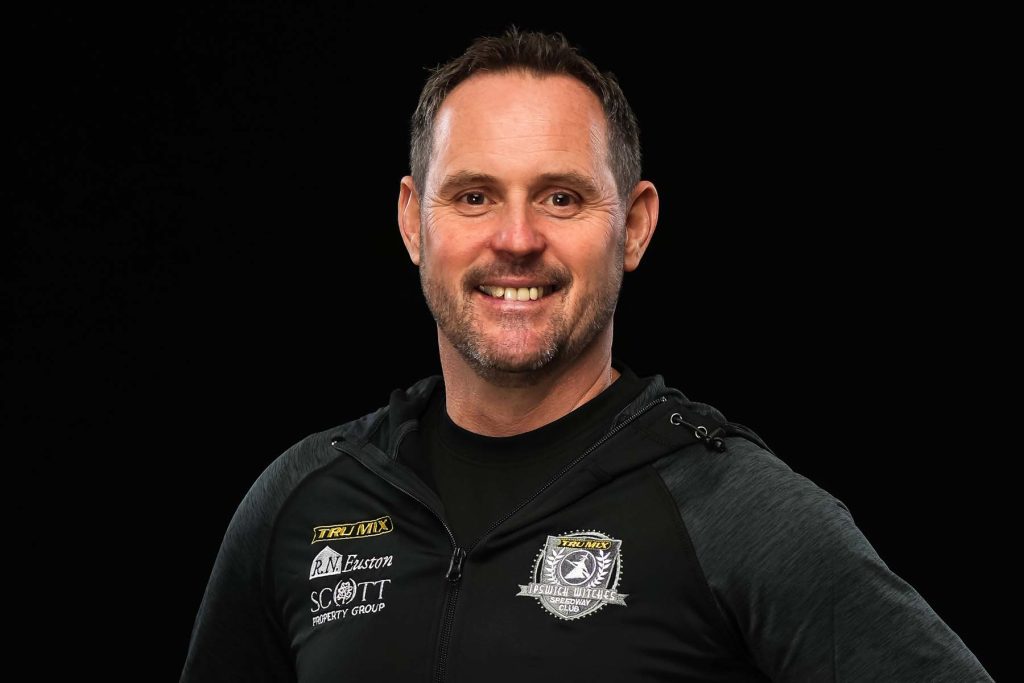 By Mike Bacon
Ipswich 'Tru Mix' Witches promoter Chris Louis says his riders know the importance of the big derby day clash with King's Lynn Stars on Bank Holiday Monday.
The Witches and Lynn meet at Foxhall on Monday, 2.30pm start, for the first time this season, with the Suffolk side buoyed after toppling previously unbeaten Sheffield Tigers last week, as well as getting through to the Knockout Cup semi-finals, where they will race Peterborough Panthers.
However, it's derby day this Bank Holiday and Louis can't wait.
"For me, of course British Final days were big days, World Championships were big days, but in terms of league racing, nothing gets close to a derby against King's Lynn," Chris said.
"And now as a promoter, that feeling about wanting to beat them hasn't changed.
"It's not just me either. Ritchie Hawkins (team manager) is Ipswich through and through and he feels the same as I do, as does the skipper, Danny King.
"Those two have the same feelings as me towards derby meetings with Lynn. Obviously, I'm born and bred Ipswich – they can't beat that – but Ritchie and Danny aren't far behind. They might as well have been born in Ipswich because that's what speedway is all about for them.
"As a team we've made a good start to the season, and we want to keep it going. The Lynn meeting is a big one for the club, the first derby of the season and we want to put down a marker. The riders know how important it is."
The Witches have lost just once in their opening five meetings, including away wins at Peterborough and Leicester. Only Belle Vue have lowered their colours on a wet night at Foxhall three weeks ago.
"It's a shame that big test against Belle Vue came as early as it did because I think this team is going to get better and better as the season goes on, especially at Foxhall," Chris said.
"I thought we did well to beat Sheffield last week. Scott Nicholls had his best meeting at Foxhall I've seen from him in years, he was excellent. Already, they and Belle Vue appear to be the teams to beat."
The long winter work by Chris to get Emil Sayfutdinov to the club is paying dividends already. Not only is the former world number three exciting the fans, banging in points and even breaking track records, as he did at Leicester. But he's equally popular off track.
Chris couldn't be more delighted.
"I had expected Emil to need, not long to be fair, but a few meetings to ride himself into just racing," Chris said.
"He had a whole year out with no competitive racing, and he told me he'd been on the bike only six times since the end of the season before.
"So, I had expected him to take a bit of time to settle in, but he hasn't needed it."
The only concern in a buoyant Witches camp right now is the illness to Erik Riss. The popular German has gone down with an infection, one he is struggling to shrug off. He has missed the last three Witches meetings and it is not known yet when he'll return.
"It's obviously a concern," Chris said.
"Erik was coming back from injury and started well for us, and it was a bit of a sigh of relief for all of us to be honest.
"So, to go down with this infection is a massive blow to him and us. It's not like an injury where a doctor could look at an x-ray and say you will be back in three weeks, or whatever. We don't know with this.
"It's very frustrating for him and us. We're monitoring the situation, almost daily."
But back to derby day and the visit of Lynn. Chris knows the fans will turn out in force to support the team. He has seen that already so far this season.
"We've had great support from our first three meetings," Chris said.
"I'm so grateful to everyone who supports us. I can't complain at the levels of support we get. We're lucky to have the fans we do.
"Throughout this week, the phones and emails have been red hot with people asking about us and our meetings, how to purchase tickets. Many new fans asking about the Bank Holiday meeting.
"I would like to tell people that while you can book tickets online, we take cash and card on the turnstiles on the night," Chris added.