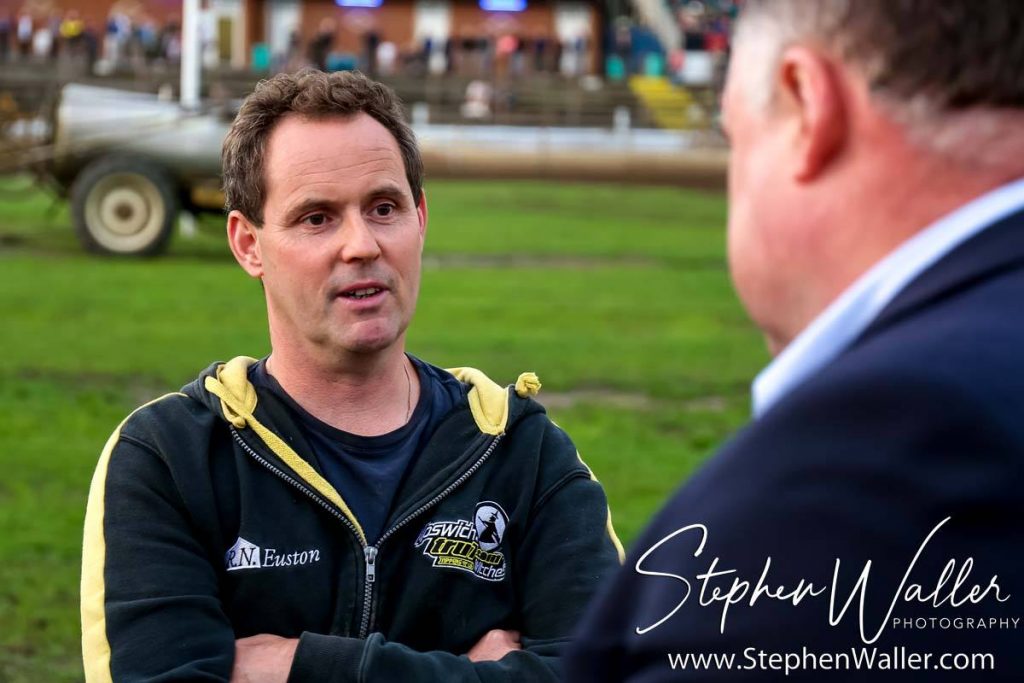 By Henry Chard
'Tru Plant' Witches Promoter Chris Louis says that the Premiership is the best place for the club after it was announced they would make the step up in 2019.
Louis explained that the time was right to make the transition into the top flight as he looks to bring success to the club.
"It was based on a few things, the Championship in many ways needed to lower its level a little to maintain its numbers and I felt the Premiership was the best place for the Witches," said Louis. "They are a club with great history and heritage and I want to carry that on."
The Promoter says the club will look to fight for trophies as usual but acknowledges that they need to consolidate their position after eight seasons away from top flight British Speedway.
"It is a move back after eight years so we need to consolidate but we need to be competitive. As we always do, Ritchie (Hawkins) and I will be building a team that we think is capable of winning and we will consolidate our position."
The former captain is excited at the challenge ahead with team building underway for the new season and he believes the quality of racing will improve at Foxhall.
"We had talks but it is difficult not knowing the parameters for team building so it is difficult to have too much of an idea before the AGM. We have moved quite quickly with our thoughts and what team we would like to build and we are looking forward to it.
"It is a change with the positioning of the team average at 42.5 and riders having to have an achieved average of three. The teams will be strong throughout and particularly at Foxhall that will improve the racing. I am quite excited to be back in the top flight although it will be a slightly different experience for me working alongside Buster (Chapman)."
Louis is disappointed that the Witches won't be able to have Drew Kemp in their 2019 team due to riders needing to have an achieved average of three but says the teenager remains a firm part of their plans for the future.
"It is disappointing not to have Drew in the team as I wanted to continue to work as closely as possible with Drew and I will. Wherever he goes I intend to be at as many of his meetings as I can to help continue with any guidance I can give him. We intend to keep him close to the club in terms of any opportunities we can give him at Foxhall to race for the Witches.
"It isn't a case of he is lost, he isn't. He is a club asset and he sees his place with the Witches. I think possibly the Premiership this season would have been a step too soon. You can't have it both ways, the club has gone up and the one downside is that we won't have Drew in the team."
The two-time British champion believe having BT Sport covering the sport for another year is a big plus for fans.
"BT Sport is very important to the sport and I think it will be great to be back on TV and it is a big plus for the fans, particularly away from home, they can follow us. It is exciting and I think the fans have wanted us to be back in the top flight for a long while and we are now."
In 2019, in addition to the regular club fixtures, every Premiership club will host a round of the British Youth Championship, something that Louis thinks is vital for the development of young riders in the country.
"Each Premiership club will host a round of the Youth Championship which is encouraging because we know that we have to work hard with bringing on young British riders and that starts with the youth classes. The 1.5 conversion rate increasing over the next four or five years is important to help gradually reduce doubling-up, which it will do, it won't affect the riders that currently double-up. We have to do that but we have to do it sensibly and slowly."
There will also be a new competition for 2019, the Premiership Supporters Cup with one race nominated by the fans via social media and Louis expects it to encourage fan interaction on racedays.
"It is exciting, it is different and it is innovative. It is fan interaction and that is the main reason for it. It is a serious cup competition at the beginning of the year but with a bit of fun fan involvement. It will be interesting to see how it pans out because you will have away fans and neutral fans trying to influence how you are in that heat. It is really a case of getting your fans behind you on your social media platforms because you will need them."
Following the three-day AGM, Louis added that is has been a case of consolidating and keeping clubs in business with work going on behind the scenes to give the sport a bright future.
"I won't dress it up, I think it was a forward thinking AGM, it was a time to consolidate. It is no secret and it has been highlighted in the press that several clubs have struggled and several entered the AGM unsure of what the future held for them. It has been an AGM of consolidating that and keeping as many of those clubs as we could.
"Lakeside is a bit different as they lost their venue so there is not much in the immediate future that can be done. Everything was done to support those clubs and that is what we had to do and there are one or two fresh ideas. There is a lot more going on behind the scenes within the BSPA that bodes well for the future and should produce exciting times ahead."
With the lack of fixtures a problem in 2018, the former Grand Prix rider believes a more condensed fixture list will mean a more regular schedule in 2019.
"There are a couple more league fixtures than last year and with the slightly later start in April and with the play-offs scheduled on BT Sport, it will condense the period that we run those meetings in so it will be quite regular. Our race night remains on a Thursday with a few TV meetings on a Monday."