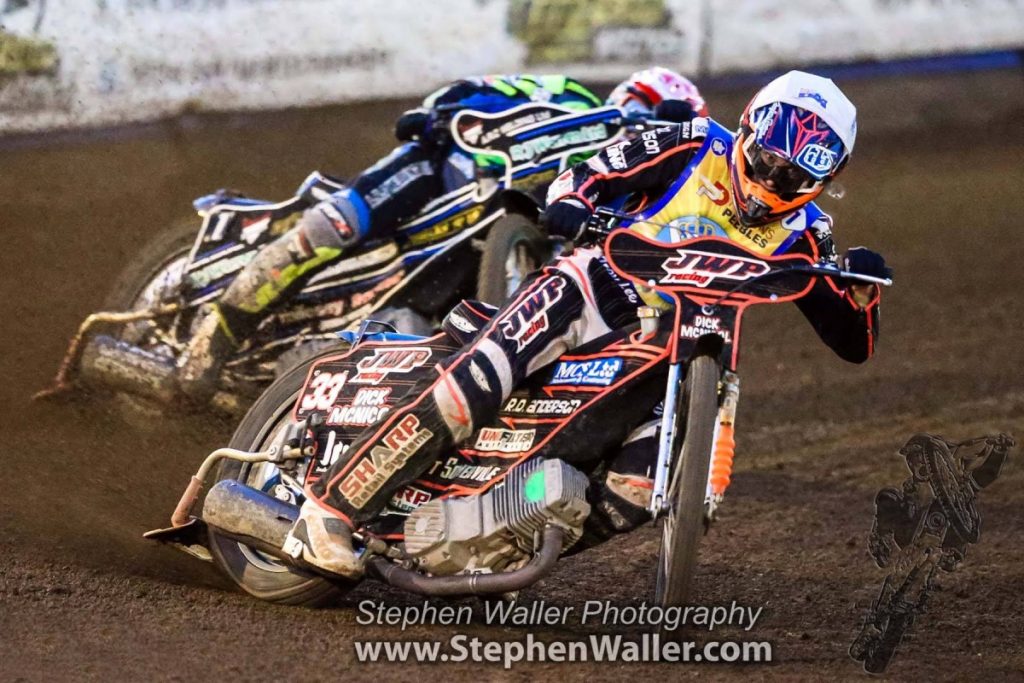 The 'Tru7.com' Witches cross the border once again for the re-arranged fixture at Edinburgh as part of a double header on Friday in the Championship (8.30pm).
The meeting was previously called off in August due to the wet conditions ahead of heat one and Friday's clash will be the second of a double header at Armadale. The Monarchs face Workington first before taking on the Witches as they look to complete their fixtures and secure a play-off spot before the cut-off date.
The Witches booked their place in the end of season shootout with a win over Berwick on Thursday at Foxhall. The Suffolk side remain without Cameron Heeps and Justin Sedgmen with rider replacement at two and Workington's Thomas Jorgensen guesting for Heeps at three.
The home side sit just outside the play-off spots but look favourites to clinch the final spot with meetings in hand over fourth placed Redcar. Edinburgh are back at full strength with Sam Masters now back from injury at number one alongside Mark Riss at four.
The previous meeting at Armadale was one to forget for the Witches as they squandered a lead with three heats to go to go home pointless after a disastrous final three heats. It has not been a happy hunting ground for Ipswich, who are yet to taste victory there since dropping down to the second tier.
Team Manager Ritchie Hawkins is praying for dry weather and says it is difficult going on second in a double header.
"First off, we hope it is dry, which will be a miracle going to Edinburgh," said Hawkins. "It is tough going on second as they have had a meeting to warm up before they face us. We could potentially going there again this season so we need to go there and put in a good performance."
The boss says that he is interested to see how Jorgensen rides for the team as he looks at potential guests ahead of the play-offs.
"He is a rider that will be available throughout the play-offs if we do require a guest and it will be good to see how he goes. Hopefully he comes through the first meeting unscathed and hopefully the practice will help his performance for us."
Hawkins says the Witches' bad record at Edinburgh will not be a part of the build-up and believes he has a team of winners who can deliver a trophy to Foxhall this season.
"I don't think the boys will be thinking about that. If you win regularly somewhere you go there with confidence but with our team as it is, we know we are capable of winning anywhere on our day. We have a team of winners and they are proven. They have won championships as individuals so they know how to win, we have just got to do it as a team. It has been a long while since Ipswich Witches won a team trophy and we want that to change."
Words: Henry Chard
Edinburgh 'Parsons Peebles' Monarchs:
1. Sam Masters (c) 8.85
2. Josh Pickering 4.85
3. Ricky Wells 8.66
4. Mark Riss 6.16
5. Erik Riss 7.90
6. Max Clegg 4.30
7. Mitchell Davey 2.95

Team Manager: Alex Harkess
Ipswich 'Tru7.com' Witches:
1. Danny King (c) 9.15
2. R/R for Justin Sedgmen 6.17
3. Thomas Jorgensen (g) 6.91
4. Kyle Newman 6.13
5. Rory Schlein 8.44
6. Nathan Greaves 4.62
7. Connor Mountain 3.27

Team Manager: Ritchie Hawkins
Referee: J. McGregor
Parade: Friday, 8.30pm
Venue: Armadale Stadium, EH48 2PD
Championship Table
| | | |
| --- | --- | --- |
| Team | Pl | Pts |
| Sheffield | 30 | 76 |
| Witches | 33 | 72 |
| Glasgow | 29 | 60 |
| Redcar | 32 | 56 |
| Edinburgh | 28 | 54 |
| Newcastle    | 31 | 45 |
| Peterborough | 30 | 41 |
| Workington | 25 | 37 |
| Scunthorpe | 32 | 31 |
| Berwick | 34 | 24 |
Last five results at Edinburgh:
16.06.17 L40-48
30.09.16 L37-53
10.06.16 L39-52
14.08.15 L34-56
05.06.15 L37-53

Edinburgh Factfile
Main Sponsor: Parsons Peebles
Team Colours: Blue and Gold
Race-Night: Friday (7.30pm)
Website: www.edinburghmonarchs.co
Track Length: 260 metres
Track Record: 54.8 seconds (Craig Cook, May 30 2014)
Admission Prices:
Adults: £26 in advance
Senior: £21 in advance
Students: £21 in advance
Children (12-16): £6 in advance
Children (5-11): £2 in advance
Children (under 5s): Free
Stadium Address
Armadale Stadium, Bathgate Road, Armadale, West Lothian, EH48 2PD.
Telephone: 01501 734404
By Train: There is now a station at Armadale with a regular service from Edinburgh, about 20 minutes' walk from the station.